Donald Trump not in Situation Room for 'botched' Yemen raid that killed up to 30 civilians and one US Navy SEAL
The strike on an Al-Qaeda camp was first US special forces operation since Mr Trump's inauguration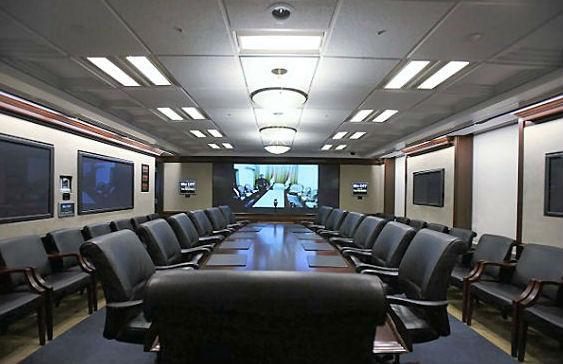 Everyone has seen it in the movies.
A secret military operation is underway in a faraway land, and as the grainy images stream in, the President – surrounded by his or her top advisors – sits and watches grim-faced in the White House Situation Room.
Yet when Donald Trump ordered his first military operation as US President, a Navy Seal strike on a suspected Al-Qaeda camp in Yemen's Bayda province that resulted in the deaths of one member of the US special forces team and up to 30 Yemeni civilians, among them an eight-year-old girl, that is not quite how things played out.
Amid claims that Mr Trump ordered the operation in the early hours of Sunday morning without sufficient intelligence, ground support or back-up, it has emerged that the President was not in the Situation Room at all.
"The President was here in the residence. He was kept in touch with his national security staff," White House spokesman Sean Spicer told reporters.
"Secretary Mattis and others kept him updated on both the raid and the death of Chief Owens as well as the four other individuals that were injured. So he was kept apprised of the situation."
It has also been pointed out that in the morning after the attack, one of the first things Mr Trump did was tweet angrily about the New York Times, writing:
Experts suggest different presidents have taken a different approach on how hands on they want to be in such situations. But as questions have emerged about who is leading America's national security policy – Steve Bannon, Mr Trump's white nationalist political advisor, has been made a member of the national security council's so-called principals committee – US media has seized on the President's absence.
Trump supporter tells journalist to 'get out of their country'
"Usually, a President goes down to the Situation Room and is presented with what they call a full package for the attack. There's a legal assessment of the legal authorities under which they're doing these," David Sanger, chief Washington correspondent of The New York Times, told PBS.
"There's a risk assessment to the commandos who would be doing it. There is a risk assessment of what could happen to civilians who are in the area."
He added: "It looks like President Trump got briefed on it, by and large, at a dinner, not in the Situation Room, not with legal advisers around."
Mr Sanger said that present along with Mr Trump were Secretary of Defence Jim Mattis, Vice President Mike Pence, and Mr Bannon.
"I think one of the questions, given how many things have gone wrong, is: would it have been different if he had been in the Situation Room and perhaps had a different set of briefings," said Mr Sanger.
The White House has insisted the operation was a success, despite the death of Chief Petty Officer Ryan Owens, a member of the Navy Seal team.
Yet reports have suggested the operation went ahead with insufficient planning. One report said that the Seal team was dropped into a reinforced Al-Qaeda base defended by landmines, snipers, and a larger than expected contingent of heavily armed Islamist extremists. Mr Trump travelled to Dover Air Force base in Delaware as Mr Owens' body was returned to the US.
The situation in Yemen
Show all 14
Colonel John Thomas, a spokesman for US Central Command spokesman, said: "Centcom asks for operations we believe have a good chance for success and when we ask for authorisation we certainly believe there is a chance of successful operations based on our planning."
Trevor McCrisken, associate professor of politics and international studies at the University of Warwick, told The Independent: "Some presidents are very hands-on and very keen to be present in the Situation Room as major operations are being carried out. Obama and Bush were fairly regular there."
He added: "My sense is that some presidents have been less enamoured with the idea of always being there."
Join our commenting forum
Join thought-provoking conversations, follow other Independent readers and see their replies