Florida region where Donald Trump held rally had 50 per cent more murders than whole of Sweden
US President confused the world by speaking about things that allegedly happened 'last night' in Sweden, after watching a discredited documentary accusing refugees of perpetuating violence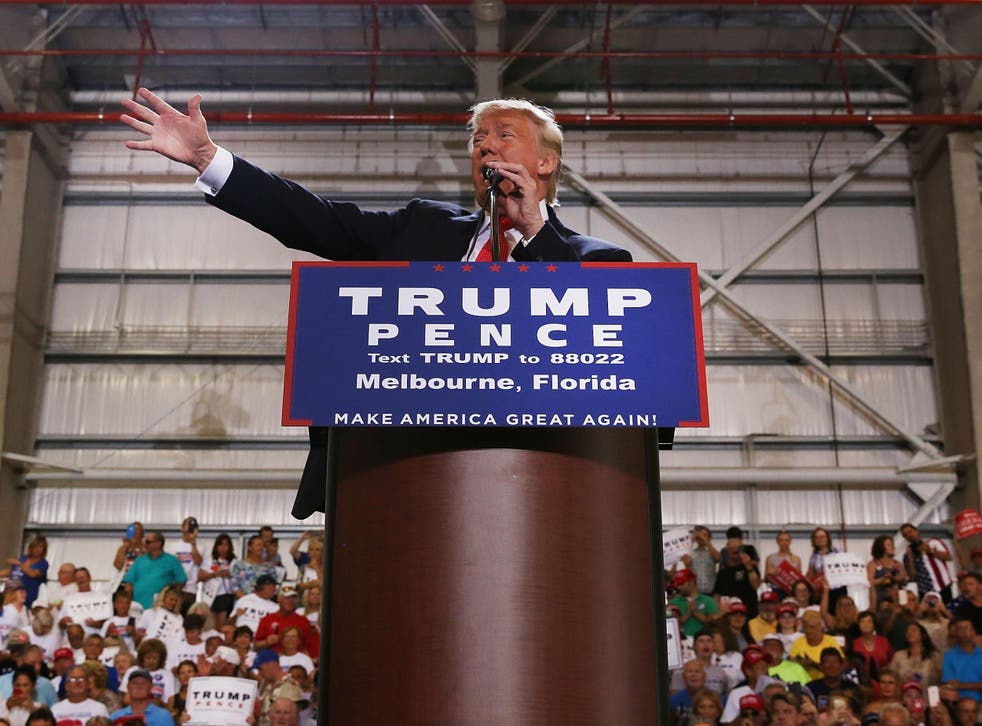 There were 50 per cent more murders last year in the part of Florida where Donald Trump spoke at a rally over the weekend, than in all of Sweden, according to former Swedish Prime Minister Carl Bildt.
The politician weighed in on the debate, after Mr Trump told crowds in Melbourne, near Orlando, that Sweden's policy of accepting large numbers of migrants was not working and suggested it had led to a spike in violent crime in the country.
Around 100 people are murdered in Sweden each year, and the level has remained relatively stable over the last three decades despite a population increase. Meanwhile, Orange County, Florida, had 167 murders in 2016.
Trump admits 'Sweden attack' comment based on debunked Fox report
Mr Bildt tweeted: "Last year there were app 50 per cent more murders only in Orlando/Orange in Florida, where Trump spoke the other day, than in all of Sweden. Bad."
Mr Trump sparked confusion and outrage with comments that alluded to sinister things that had allegedly happened "last night" in Sweden. The US President later admitted he was talking about a widely debunked Fox News report he had seen on television the night before.
But he refused to retract his point, tweeting on Monday: "Give the public a break – The FAKE NEWS media is trying to say that large scale immigration in Sweden is working out just beautifully. NOT!"
Mr Trump said his speech had been informed by a segment on a Fox News broadcast on Friday night by Tucker Carlson. Mr Carlson interviewed Ami Horowitz, producer of a film that claimed to document alleged violence committed by refugees in Sweden.
News of Mr Horowitz's documentary made headlines last year when he told conservative outlets such as Breitbart News that there were Muslim "no-go zones" in Europe.
"Over the last two years, they've taken in over 350,000 Syrian refugees," he said. "The reason why I went there was to investigate why Sweden has become the rape capital of Europe. Rape was not unknown, but relatively minor. There were few incidents of rape, let's say about 10 years ago. And rape has absolutely skyrocketed in Europe."
The New York Times reported that Swedish officials said their statistics did not justify the kind of assertions made by Mr Horowitz, and that the country had a high number of sexual assault reports, relative to other European countries, because more victims come forward, not because there was more violence.
In pictures: Orlando nightclub shooting

Show all 30
Henrik Selin, political scientist and deputy director of the Swedish Institute, a state agency dedicated to promoting Sweden globally, told the newspaper he had completed a study focusing on negative news reports about Sweden's intake of refugees.
He said there were many exaggerations and distortions, including reports falsely claiming that Sharia law was predominant in parts of the country.
Some people on social media pointed out that 2016 was an exceptionally bad year for the Orange County death rate, with the mass murder of 49 people in Pulse nightclub boosting numbers above normal.
In 2015 – a more typical year for the county – Sweden had slightly more murders than Orange County, at 112 to Orange County's 102. However, Sweden has a population of nearly 9.6 million, to Orange's 1.2 million, meaning the murder rate is still far lower.
Register for free to continue reading
Registration is a free and easy way to support our truly independent journalism
By registering, you will also enjoy limited access to Premium articles, exclusive newsletters, commenting, and virtual events with our leading journalists
Already have an account? sign in
Register for free to continue reading
Registration is a free and easy way to support our truly independent journalism
By registering, you will also enjoy limited access to Premium articles, exclusive newsletters, commenting, and virtual events with our leading journalists
Already have an account? sign in
Join our new commenting forum
Join thought-provoking conversations, follow other Independent readers and see their replies