Donald Trump repeats discredited stories about Barack Obama's Philippines trip
'You remember the Philippines, the last trip made by a president, that turned out to be not so good. Never quite got to land,' says President Trump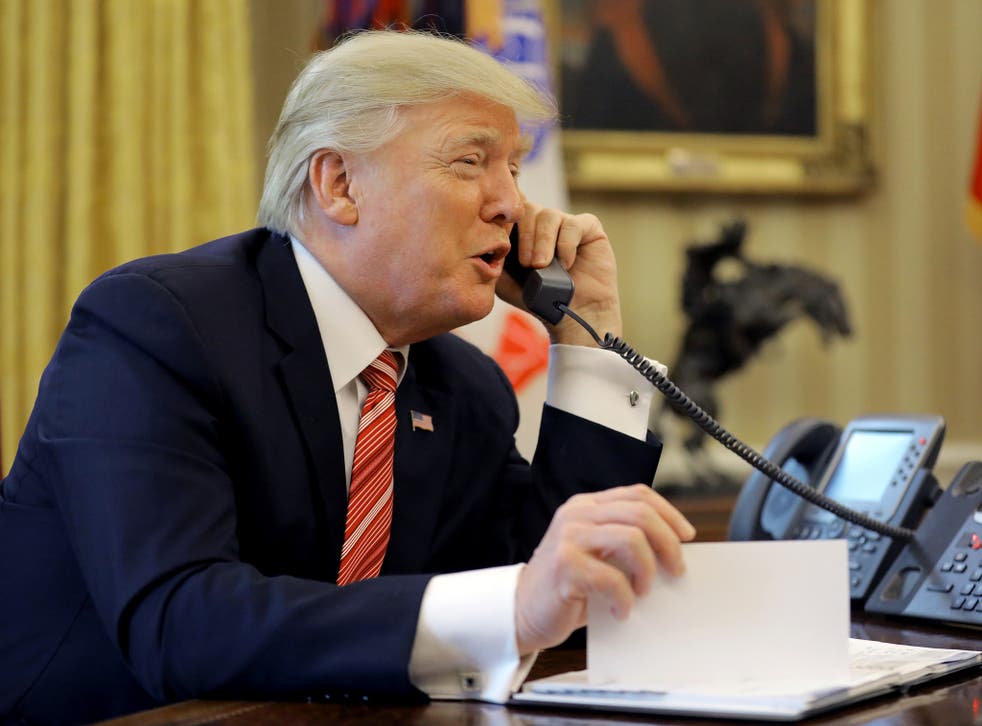 Donald Trump's political career owes a great deal to conspiracy theories. The US president's ascent into the world of politics was partially fuelled by pushing the totally erroneous theory Barack Obama was not a natural-born US citizen and it was therefore unconstitutional for him to be president.
But it appears President Trump, who propagated the so-called "birther" theory about Obama for around a half a decade, has yet to tire of fabricating falsehoods about his predecessor.
President Trump has repeatedly touted a lie about Obama being barred from even touching down in the Philipines in his Air Force One despite him never being faced with such problems.
Mr Trump's false claim Obama "didn't land" in the Southeast Asian country because of his "horrible" relationship with the country wholly misconstrues the reality of the situation.
In reality, it was Obama who decided to cancel a meeting with Philipines President Rodrigo Duterte in September 2016 after the two world leaders had a row over mass killings in the Philipine drug war.
But Obama did visit the country a year earlier – before Mr Duterte became president – and his trip was hiccup-free and free of landing problems.
President Trump has made a number of references to the falsehood about Obama in recent weeks. The billionaire property developer bragged about the "historic trip" he would soon be taking to Asia-Pacific countries in the White House cabinet room a couple of weeks ago.
While doing so, he turned his attentions towards the Philippines, saying: "You remember the Philippines - the last trip made by a president, that turned out to be not so good. Never quite got to land."
On top of this, over the weekend, Mr Trump told reporters Obama had "a rough trip" to the Philippines unlike himself.
President Trump repeated the bizarre claim about Obama at another press briefing on Tuesday, saying the Democrat's plane "came close" but was not allowed to land on Fillipino soil.
He said: "I mean, the Philippines, we just could not have been treated nicer. And as you know, we were having a lot of problems with the Philippines. The relationship with the past administration was horrible, to use a nice word. I would say 'horrible' is putting it mildly. You know what happened. Many of you were there, and you never got to land. The plane came close but it didn't land.
"And now we have a very, very strong relationship with the Philippines, which is really important…. So we've accomplished a lot."
Mr Trump met with Mr Dueterte, a highly controversial leader who has sanctioned a bloody drug war and branded Obama a "son of a whore", at an economic summit on Monday.
Mr Duterte, who is famed for his vitriolic tirades about world leaders, won last year's presidential elections on the promise of eradicating illegal drugs via an unprecedented crackdown that would see up to 100,000 people killed. Since he took office 16 months ago, police say they have killed 3,967 people. According to government data, another 2,290 people were murdered in drug-related crimes, while thousands of other deaths remain unsolved.
The world leader's row with Obama was sparked by him telling reporters the president needed to respectful and refrain from asking about the extrajudicial killings.
"Do not just throw away questions and statements. Son of a whore, I will curse you in that forum," Mr Duterte said.
Protest in Manila against Donald Trump's visit to the Philippines

Show all 14
Angered by his remarks, Obama resorted to calling off the trip, and Mr Duterte was forced to later apologise. "Obviously, the Filipino people are some of our closest friends and allies, and the Philippines is a treaty ally of ours. But I always want to make sure that if I'm having a meeting that it's actually productive and we're getting something done," he said at a news conference.
During his Monday meeting with Mr Duterte, President Trump laughed when the president branded journalists "spies". The pair were also said to have bonded over their mutual dislike of President Obama.
Mr Duterte, who has been branded the "Donald Trump of the East", went so far as to sing a love song for the US president at a dinner in Manila for leaders from Asia. He later explained the rendition was "on the orders of Donald Trump".
One of the song's verses, translated from Filipino, starts: "You are the light in my world, a half of this heart of mine."
"The relationship appears to be very warm and very friendly," Duterte spokesman Harry Roque told reporters after they met in Manila. "They've been very candid in their dealings, and it's very apparent that both of them have a person who they consider as not their best friend. They have similar feelings toward former US President Barack Obama."
Mr Trump heaped praise on Mr Duterte during a phone call in May, telling him he was doing an "unbelievable job on the drug problem."
Join our new commenting forum
Join thought-provoking conversations, follow other Independent readers and see their replies