Portland attack: Calls mount for Donald Trump to address fatal stabbing of 'brave men' who tried to protect Muslim teenager on train
Veteran journalist Dan Rather wrote on Facebook: 'I hope you can find it worthy of your time to take notice'
Rachael Revesz Comments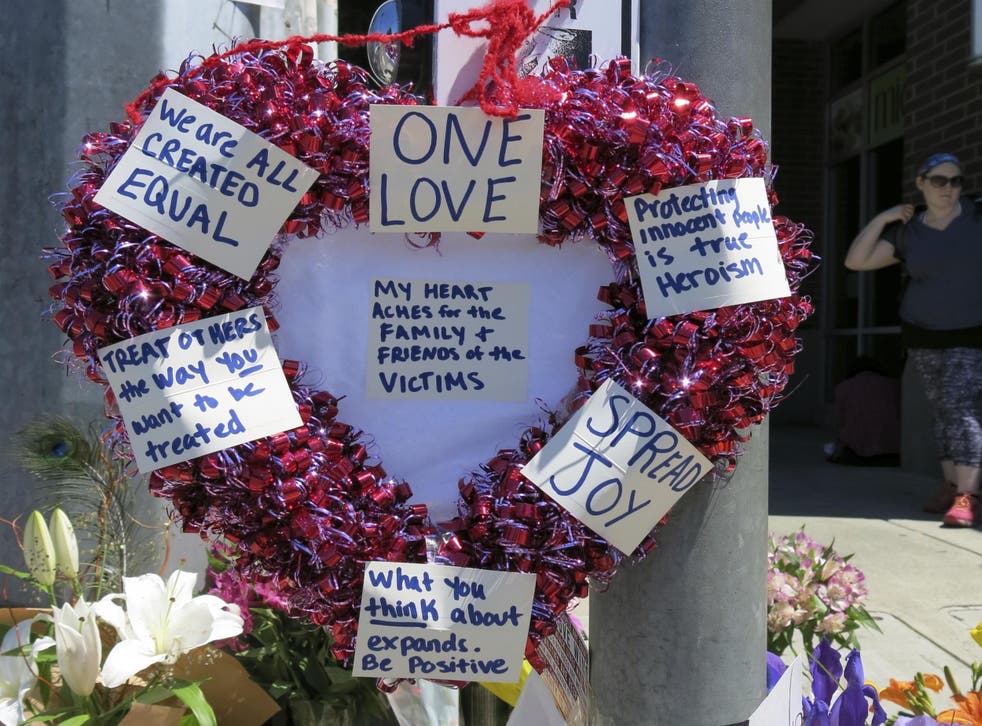 Pressure is mounting on Donald Trump to address the fatal stabbing of several men who tried to protect a Muslim teenager from being subject to a racist rant on a train.
53-year-old Ricky Best and 23-year-old Taliesin Myrddin Namkai-Meche were killed after they tried to stop Jeremy Christian from hurling abuse at two women, one of whom was wearing a hijab.
A third passenger, 21-year-old Micah David-Cole Fletcher, was wounded.
Ted Wheeler, the Portland mayor, and the FBI have condemned the killings.
The President has not mentioned the attack by Christian, a man who has been described as a white supremacist, yet Mr Trump has continued to actively use social media.
Tweets since the attack include his "big results" from the trip to Europe, "fake news" and health care, and he has even praised the newly-elected Republican representative in Montana who allegedly assaulted a Guardian journalist at a campaign event.
Veteran journalist Dan Rather made an appeal on Facebook for the President to name the "brave Americans" killed in the attack, and his post has been commented on and shared more than 340,000 times.
"I wish we would hear you say these names, or even just tweet them," Mr Rather said.
"They were brave Americans who died at the hands of someone who, when all the facts are collected, we may have every right to call a terrorist."
He added: "This story may not neatly fit into a narrative you pushed on the campaign trail and that has followed you into the White House.
"They were not killed by an undocumented immigrant or a 'radical Islamic terrorist'. They were killed in an act of civic love, facing down a man allegedly spewing hate speech directed at two teenage girls, one of whom was wearing a hijab."
The silence from the President mirrors his reaction to the fatal shooting in a mosque in Quebec, when a white student burst inside a place of worship in February and gunned down six Muslims. Mr Trump expressed his condolences to Canadian Prime Minister Justin Trudeau, but did not make a public statement or tweet about it.
Many people on social media shared the frustrations of Mr Rather.
"Call me crazy but had a Muslim killed two white Christians in Portland I suspect our president would have said something," commented writer Peter Beinart.
Shannon Watts, the founder of Moms Demand Action, a grassroots campaign to end gun violence, added: "Donald Trump has yet to mention Portland heroes, a 23-year-old and a Vet, who gave their lives to protect Muslim women from an extremist."
Best was an army veteran and father of four, and Namkai-Meche was a recent economics graduate.
Mr Fletcher was revealed to have won a poetry competition in 2013 for his poem about fighting anti-Muslim prejudice after 9/11.
Muslim communities and others joined forces to raise hundreds of thousands of dollars to support the victims' families.
Christian had posted islamophobic, anti-Semitic and white supremacist views on Facebook, and was convicted of robbery and kidnapping in 2002.
Last month he appeared at a free speech rally in Portland, threatening people who filmed him, shouting and making a Nazi salute.
Portland attack suspect Jeremy Christian at a 'free speech rally' making a Nazi salute
Police left him alone once he had handed over his baseball bat.
Register for free to continue reading
Registration is a free and easy way to support our truly independent journalism
By registering, you will also enjoy limited access to Premium articles, exclusive newsletters, commenting, and virtual events with our leading journalists
Already have an account? sign in
Join our new commenting forum
Join thought-provoking conversations, follow other Independent readers and see their replies