Donald Trump fails to mention white man who killed six Muslims in Quebec mosque
The man charged with the attack is a white 27-year-old. Mr Trump has instead focused on implementing the Muslim ban on seven foreign nations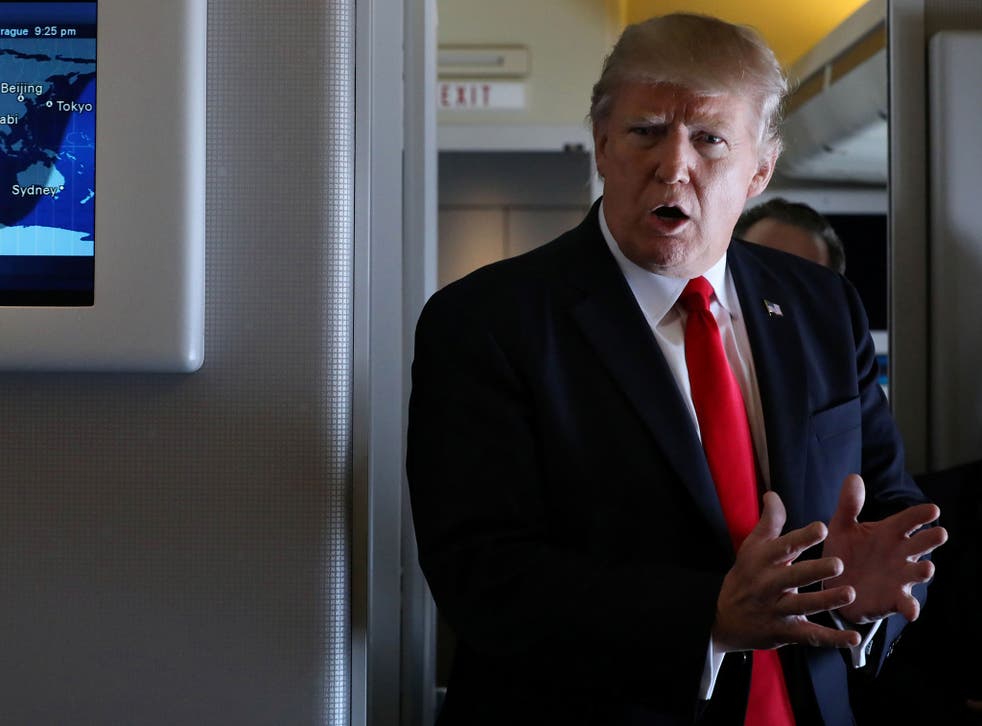 Donald Trump has failed to give a statement in one week about the white man who burst into a mosque in Quebec and shot dead six Muslims.
The man charged with carrying out the attack is French-Canadian Alexandre Bissonnette, a 27-year-old white student who supported Mr Trump and far-right French politician Marine Le Pen.
Mr Trump has not tweeted about or provided a statement on the shooting which rocked Canada and the world.
The President instead tweeted that the US needs to "get smart" following reports that a man armed with a two knives and a suitcase lunged at a French solider in the underground shopping area of the Louvre Museum in Paris, shouting "God is great" in Arabic.
The attacker is 29 years old and believed to be an Egyptian who arrived in France last month from Dubai on a visa he obtained last November, according to the Paris prosecutor. Another soldier received a minor injury but no one was seriously injured or killed during the incident.
None of these three aforementioned countries were included in Mr Trump's travel ban.
In Quebec, Bissonnette was charged with six counts of murder. He was also accused of injuring at least 17 others, five critically.
Canadian Prime Minister Justin Trudeau quickly denounced the attack, calling it an "attack on Muslims".
"We condemn this terrorist attack on Muslims in a centre of worship and refuge," Mr Trudeau said in a statement.
On Wednesday, Fox News was forced to delete a "false and misleading" tweet that claimed the suspect in the attack was of Moroccan origin, following a call from the Mr Trudeau's office for the network to remove the post.
Mr Trump's so-called Muslim ban, which barred nearly all travellers from seven Muslim-majority countries, was temporarily overturned by Washington federal judge James Robart, who said the executive order was unconstitutional.
Donald Trump fights back after judge blocks his travel ban
Following the nationwide ban imposed by the federal court, airports were advised to act as if Mr Trump's executive order "had never existed" and operations were back to "business as usual".
Around 60,000 revoked visas would be re-instated, according to the state department.
Mr Trump tweeted that the "so-called" judge's ruling was "ridiculous" and vowed for it to be overturned.
He also sent out several tweets saying the US needed to keep "evil" out of the country, and the ban was to prevent "bad people" from coming in.
The targeted countries in the executive order had not produced terrorists that had carried out attacks on US soil for years, and Syria had not produced any immigrant to the US who had been charged with the intent to carry out such an attack in more than four decades, according to a report from the Cato Institute.
In justifying the ban to protect national security, Mr Trump's former campaign manager and current counsel to the President, Kellyanne Conway, was criticised for mentioning the Bowling Green "massacre" in Kentucky which did not happen.
She alter clarified she had meant to say the Bowling Green "terrorists". Two Iraqi citizens were arrested in 2011 and sentenced to federal prison for trying to send money and weapons to al-Qaeda to kill US soldiers.
As a result the Obama administration implemented more thorough background checks on Iraqi refugees, which meant a big slowdown in the number of people from Iraq entering the country. Mr Obama did not carry out a "ban" on Iraq immigration in 2011, as has been previously reported.
The American Civil Liberties Union created a website called the "Bowling Green Massacre Victims Fund", which re-directed to their own donations page.
Mr Trump vowed that the Justice Department would enforce an emergency stay on the executive order which was signed last Friday, two days before the Quebec shooting.
Join our new commenting forum
Join thought-provoking conversations, follow other Independent readers and see their replies