Donald Trump refugee ban: UN condemns President's bar on asylum and entry from Muslim-majority countries
Warning comes after President calls for Christian refugees to be given priority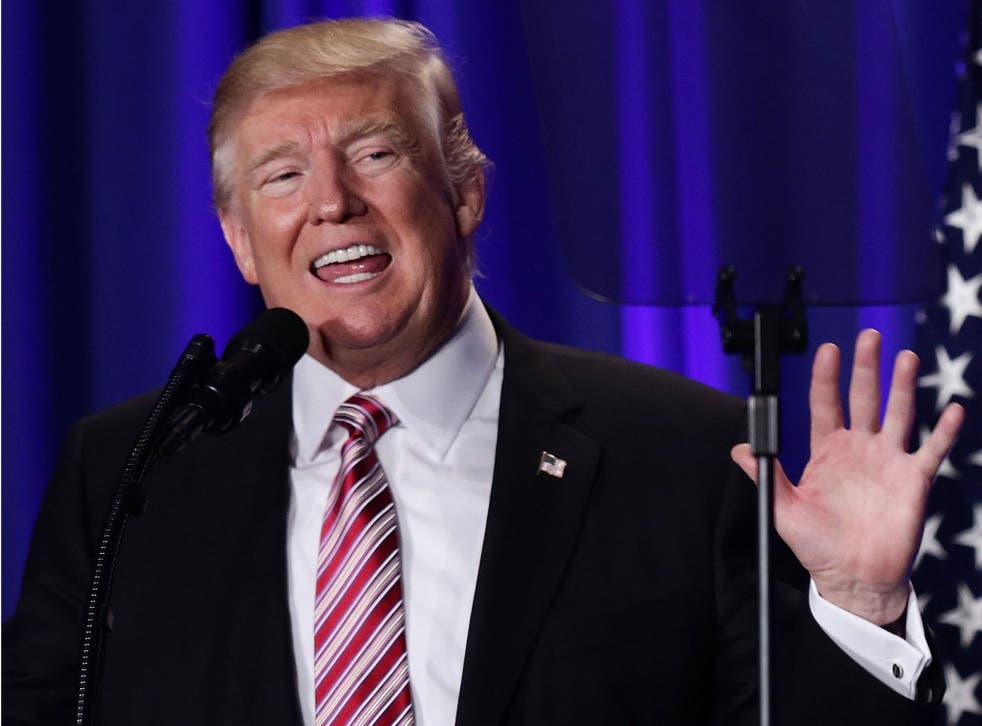 The United Nations has condemned Donald Trump's ban on refugees and order to stop Syrians and travellers from six other Muslim-majority countries entering the US amid mounting international anger.
The UN refugee agency (UNHCR) and International Organisation for Migration called on the new President's administration to continue offering asylum to people fleeing war and persecution, a right protected by international law.
"The needs of refugees and migrants worldwide have never been greater and the US resettlement program is one of the most important in the world," the two agencies said in a joint statement.
Donald Trump says General Mattis and him disagree on torture
"The longstanding US policy of welcoming refugees has created a win-win situation: it has saved the lives of some of the most vulnerable people in the world who have in turn enriched and strengthened their new societies."
The UN also cautioned Mr Trump against any move to give preferential status to particular nationalities or religions after his executive order called for minority religious groups to be fast-tracked.
He announced his support for the prospect of Syrian Christians being given priority for asylum in an interview with the Christian Broadcasting Network (CBN).
When asked if Christians would be given special status, he replied "yes", adding: "They've been horribly treated… everybody was persecuted in all fairness, but they were chopping off the heads of everybody but more so the Christians.
"And I thought it was very, very unfair. So we are going to help them."
The UNHCR and IOM urged the new administration to continue its work with the UN and other agencies to ensure "vital" resettlement programmes for people fleeing conflict and persecution, whatever their background.
"We strongly believe that refugees should receive equal treatment for protection and assistance, and opportunities for resettlement, regardless of their religion, nationality or race," a spokesperson said.
"We will continue to engage actively and constructively with the US Government, as we have done for decades, to protect those who need it most."
Refugee crisis - in pictures

Show all 27
Mr Trump has suspended all refugee admissions for 120 days as part of measures he claimed would "keep radical Islamic terrorists out of the US".
His wide-ranging executive order additionally banned Syrian refugees indefinitely until "significant changes" are made, and halved the annual cap on refugees to 50,000.
The President's action also suspends travel visas for anyone from seven predominantly Muslim "countries of particular concern", including Syria and Iraq, from entering the US for at least 90 days.
He claimed his administration needed time to develop more stringent screening processes for refugees, immigrants and visitors.
It provoked outcry from NGOs working to stem the worst ever global refugee crisis, with more than 65 million people forced to flee their homes.
Amnesty International warned the move could have "catastrophic consequences", saying some of the worst fears about a Trump presidency were already being realised.
Salil Shetty, the group's secretary general, said: "These men, women and children are the victims of the same terror President Trump claims he wants to fight against. The irony beggars belief."
The International Rescue Committee (IRC) said Mr Trump's "harmful and hasty" decision would impact thousands of innocent people, mostly women and children, awaiting resettlement to the US.
"In truth, refugees are fleeing terror – they are not terrorists," said IRC president and CEO David Miliband.
Help Refugees, a British charity working across camps in northern France, Greece and the Middle East, said news of Mr Trump's order was "devastating".
"Refugees are, by definition, people seeking sanctuary from some of the most horrific circumstances and it is the duty of compassionate and progressive nations to accept their fair share," a spokesperson said.
"Banning refugees on the basis of their religious beliefs is abhorrent."
It came months after global outcry over the Republican's campaign pledge to implement a "total and complete shutdown of Muslims entering the United States".
Around 25,000 refugees were resettled in the US between October and the end of 2016 under the UNHCR's programme for the most vulnerable, the agency said.
According to the Pew Research Centre, the numbers of Muslim and Christian refugees from all countries entering the US were around the same last year: 37,521 Christian refugees entered the US during 2016, with 38,901 Muslim refugees entering in the same period.
Before being approved for resettlement by American authorities, refugees undergo an in-depth process that includes up to 36 months of vetting – including biometric screening – by 12 to 15 government agencies including the Department of Homeland Security and intelligence services.
Join our new commenting forum
Join thought-provoking conversations, follow other Independent readers and see their replies