Donald Trump accuses Republicans of 'doing very little' to protect him during 'phony Russian witch hunt'
President takes to Twitter to mount fresh attack on own party after day at golf course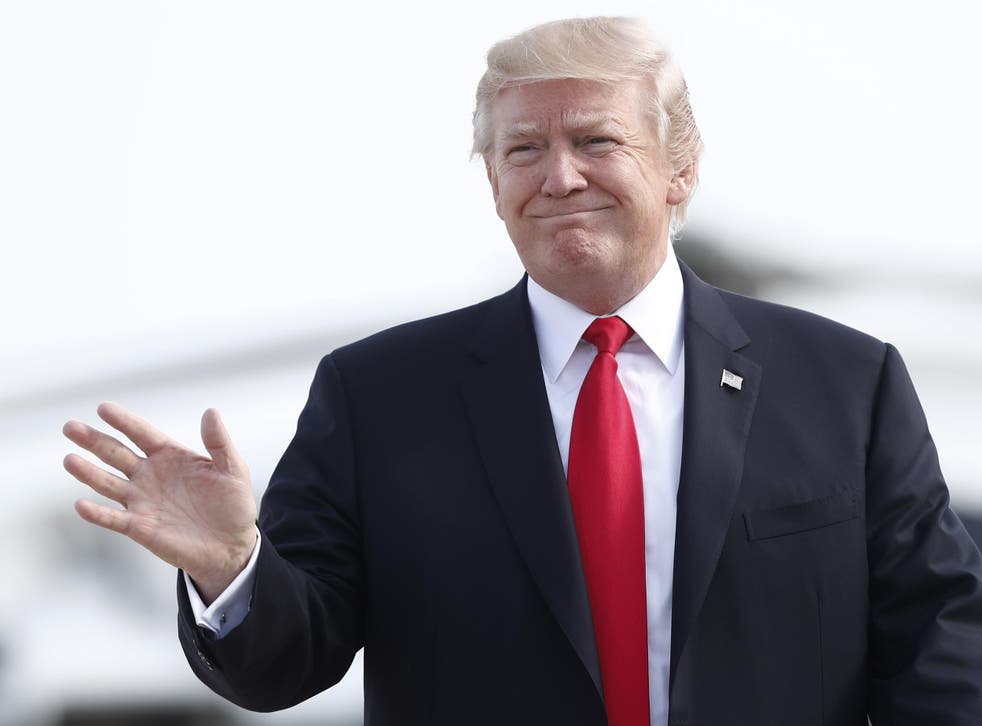 Donald Trump has accused members of his own party of "doing very little" to protect him over allegations concerning his links to Russia.
Having spent the day at the Trump National Golf Club in Potomac Falls, Virginia, he returned home to fire off a brace of tweets in his typically combative style.
"As the phoney Russian Witch Hunt continues, two groups are laughing at this excuse for a lost election taking hold, Democrats and Russians!"
Trump has power to pardon himself, claims his lawyer
He added: "It's very sad that Republicans, some even that were carried over the line on my back, do very little to protect their President."
Mr Trump did not elaborate on which Republicans he meant but many within his own party have attacked him ever since he announced his intention to seek the party's nomination, accusing him of being a political opportunist rather than a "true" Republican.
Members of the Republican party are playing in active role in the various investigations into the Trump campaign team's communications with Russian representatives ahead of the 2016 election.
Mr Trump has repeatedly said the probes are part of a "witch hunt" against him and accused the press of reporting "fake news" when they run stories on the Russia links.
US intelligence agencies have concluded that Russian-sponsored hacking and disinformation was used to influence the outcome of the election to boost the popularity of Mr Trump at the expense of Hillary Clinton.
The President, members of his family and his associates are being investigated by Special Counsel Robert Mueller, the FBI and separate Congressional panels who are all examining the possibility of collusion between the Russian government and the Trump team.
The biggest names involved in the Trump-Russia investigation

Show all 17
This week, Mr Trump's eldest son, Donald Jr, is due to give evidence to the Senate Judiciary Committee, although this will take place behind closed doors.
The President's son-in-law, Jared Kushner, is also scheduled to give evidence in private to the Senate Intelligence Committee on Monday and to the House Intelligence Committee on Tuesday.
Both Democrat and Republican leaders in the US Congress have agreed on legislation to punish Russia for its alleged interference in the election.
It would effectively prevent Mr Trump from unilaterally lifting any sanctions on Moscow, which he previously said he needed to do for the sake of diplomacy between the two nations.
The legislation, which will be voted on by the House of Representatives on Tuesday, would allow new sanctions against Russia for its annexation of Crimea in 2014 as well as its alleged meddling in last year's vote.
Many Republicans have called for the White House to take a stronger stance against Moscow and opposed Mr Trump's other policies – including his plan to repeal and replace Obamacare.
Six months into the Trump presidency, Congress has yet to pass any key legislation despite a Republican majority in both the Senate and the House of Representatives.
Senate Majority Leader Mitch McConnell is making a last-ditch bid to resuscitate the Obamacare legislation after Trump insisted that senators must not leave town for their summer recess without passing a health bill.
Join our new commenting forum
Join thought-provoking conversations, follow other Independent readers and see their replies