Donald Trump and disgraced Fox News chairman Roger Ailes reportedly no longer speaking
Mr Ailes was a key adviser to the Trump campaign until they fell out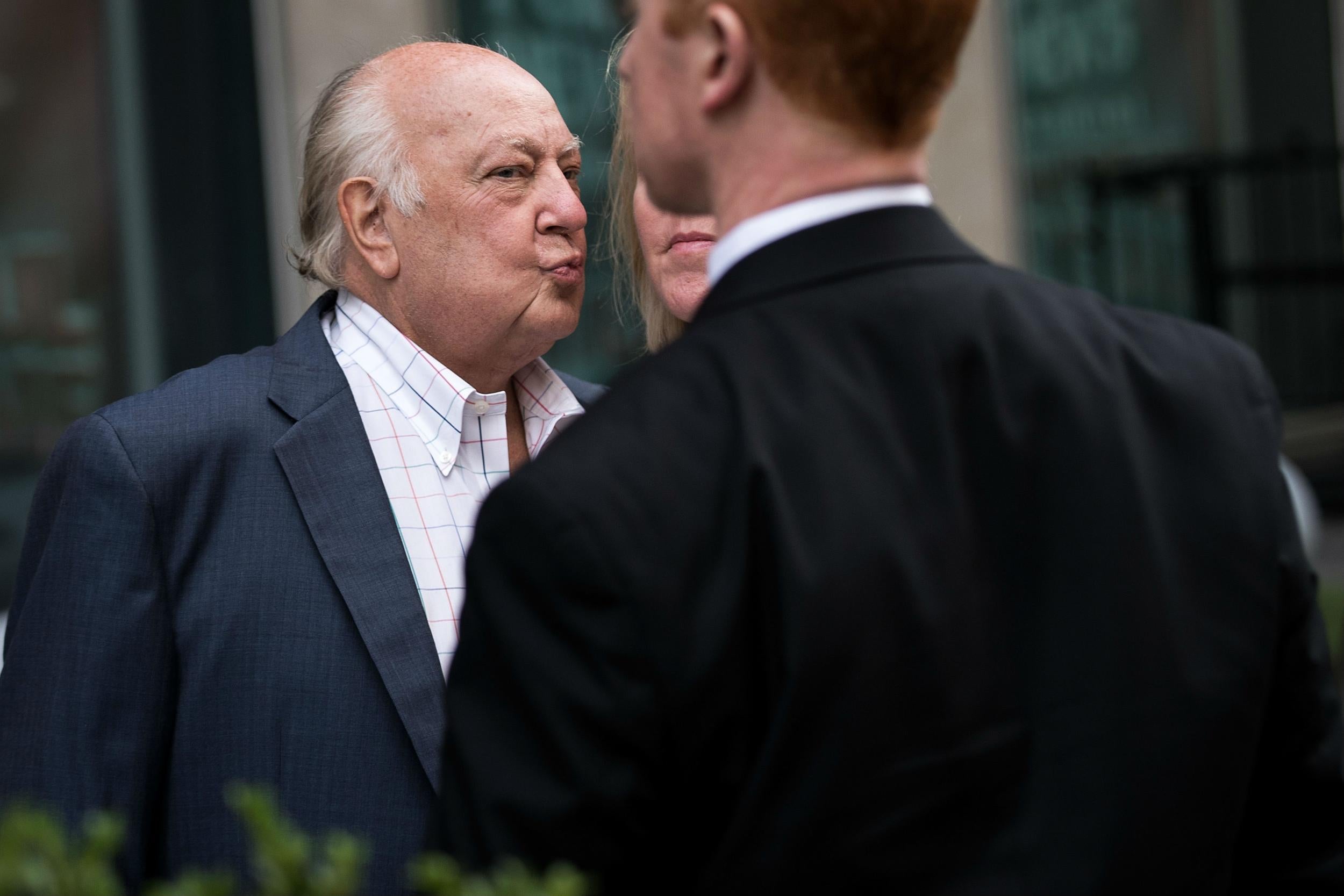 Donald Trump and Roger Ailes are reportedly no longer speaking after having a fall-out during the campaign.
Mr Trump employed the former Fox News chairman as a campaign adviser immediately after he landed a $40 million pay-out and resigned in July, following accusations of sexual harassment of more than two dozen women.
Mr Ailes denied the accusations. Fox News settled with at last three of his alleged victims, including a $20 million settlement with former anchor Gretchen Carlson.
New York Magazine's Gabriel Sherman, a journalist who is writing a short drama series based on Mr Trump and Mr Ailes' relationship, said at the Vanity Fair New Establishment summit on Tuesday that the pair are no longer speaking.
"Ailes's camp said Ailes learned that Trump couldn't focus—surprise, surprise—and that advising him was a waste of time," Mr Sherman said. "These debate prep sessions weren't going anywhere."
Mr Sherman has covered Mr Ailes and his allies since 2011, and the upcoming television series will be based on his book, The Loudest Voice In The Room.
Two years before the book was published, CNN reported that Mr Ailes had compiled a 400-page memo, circulated around Fox News, about Mr Sherman, listing his mortgage, old articles, tweets and finances.
Vanity Fair contributing editor Sarah Ellison added on the Trump side: "Even for the second debate, Ailes kept going off on tangents and talking about his war stories while he was supposed to be prepping Trump."
Trump effectively rejects US election result before votes have even been counted
It is unclear whether Mr Ailes would still be involved in Mr Trump's future projects if he is not elected, like Trump TV. It is also not known who was involved in prepping Mr Trump for the final debate on Wednesday evening.
Mr Trump has hired other controversial figures as advisers, including Steve Bannon, executive chairman of right-wing news outlet Breitbart.
His circle seems to be shrinking.
Many Republicans, including house speaker Paul Ryan, withdrew their defense or support of Mr Trump in the wake of a slew of sexual assault allegations, all of which the Republican has denied.
Mr Sherman, who is writing the drama series, said he would like to cast Anthony Hopkins as he was the "spitting image" of Mr Ailes, but said no actors had been cast yet.
The executive producer of the drama will be Tom McCarthy, whose film Spotlight won multiple Academy Awards in 2016. No network has yet accepted to screen the series.
The Trump campaign and Roger Ailes could not be immediately contacted.
Join our commenting forum
Join thought-provoking conversations, follow other Independent readers and see their replies