Rex Tillerson says US is willing to work with Russia - but only if it helps America
While the President has pledged to work with Vladimir Putin, Tillerson and Mattis have adopted a more restrained tone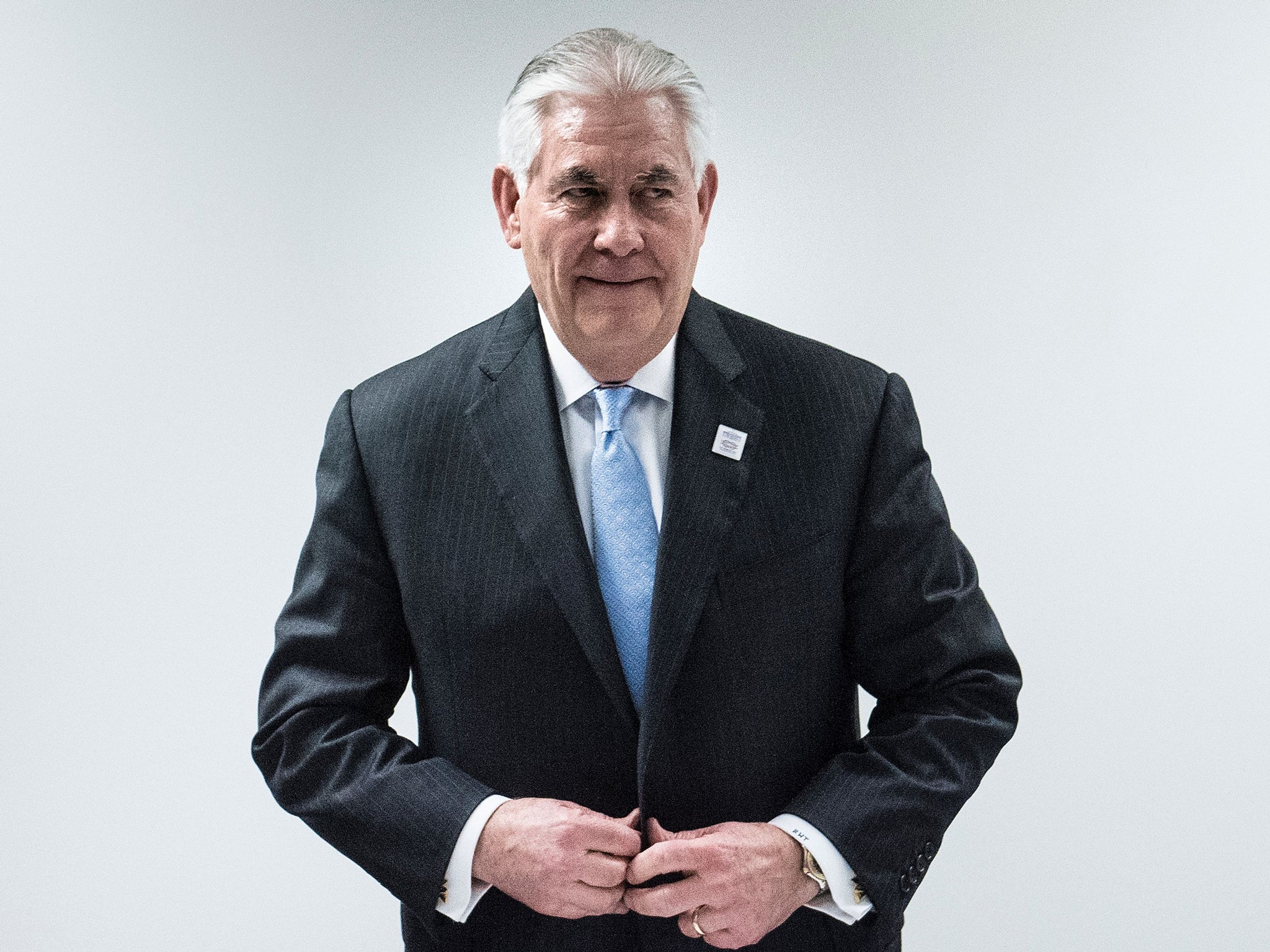 Secretary of State Rex Tillerson said that Washington was willing to work with Russia, but only in instances that would benefit the US and its allies.
The newly minted American diplomat made his international debut at a G20 foreign ministers gathering in Bonn, Germany, during which he took a more cautioned approach with regards to Russia amid questions of the White House's relationship with the country.
Mr Tillerson's remarks to Russian foreign minister Sergei Lavrov send mixed signals from the White House, as President Donald Trump has pledged to work with President Vladimir Putin – but is consistent with the administration's controversial "America First" doctrine.
The controversial orders Donald Trump has already issued
Show all 9
"The United States will consider working with Russia when we can find areas of practical cooperation that will benefit the American people," he said after meeting with Mr Lavrov.
"Where we do not see eye to eye, the United States will stand up for interests and values of American and her allies."
Much speculation has circled Mr Tillerson regarding sanctions imposed on Russia following their invasion of Ukraine and illegal annexation of the Crimean peninsula. As chief executive of Exxon Mobil, Mr Tillerson brokered an estimated $500bn deal with Russia that was frozen by the 2014 sanctions.
But the Secretary urged Russia to meet the Minsk ceasefire commitments in the region.
Mr Tillerson's somewhat firmer position on relations with Russia followed Defence Secretary James Mattis' comment that the US is not in a position for military collaboration with the Kremlin.
"We are not in a position right now to collaborate on a military level," Mr Mattis said at Nato headquarters in Brussels. "But our political leaders will engage and try to find common ground."
The US stopped military-to-military relations with Russia following the 2014 sanctions. But President Trump had repeatedly praised Russian President Vladimir Putin during his campaign, and suggested the two countries would work together to fight Isis.
At the moment, the US and Russia military communicate in Syria about air sorties, to avoid mid-air collisions, but do not cooperate further than that.
Mr Putin on Thursday called for increased intelligence cooperation with the US and NATO.
"It's in everyone's interest to resume dialogue between the intelligence agencies of the United States and other members of NATO," Mr Putin said, addressing Russia's Federal Security Service (FSB).
"It's absolutely clear that in the area of counter-terrorism all relevant governments and international groups should work together."
In Brussels, the Russian defence minister, Sergei Shoigu, also expressed a willingness to resume cooperation with the Pentagon.
But Russia's proposals come at a fraught time for the US administration. Mr Trump was obliged to get rid of his national security advisor, Michael Flynn, after it emerged he had lied about the content of a call he made to a Russian diplomat.
Meanwhile, senior Democrats have called for an independent inquiry into what links Mr Trump may or may not have to Russia.
This comes against a backdrop of alleged Russian interference in the 2016 election to try and benefit Mr Trump. Mr Trump has repeatedly downplayed US intelligence claims of Russian interference, and claimed he and his administration are the victims of illegal leaks and "fake news".
As it was Mr Mattis, had little problem saying he believed Moscow had tried to interfere in the election.
"Right now, I would just say there's very little doubt that they have either interfered or they have attempted to interfere in a number of elections in the democracies," he said.
Meanwhile in Bonn, Mr Lavrov denied that Russia had any involvement in meddling in US affairs.
"You should know we do not interfere in the domestic matters of other countries," he said.