Donald Trump suggests sanctions against Russia may be dropped if Moscow is 'helpful'
'Why would anybody have sanctions if somebody's doing some really great things?' says Mr Trump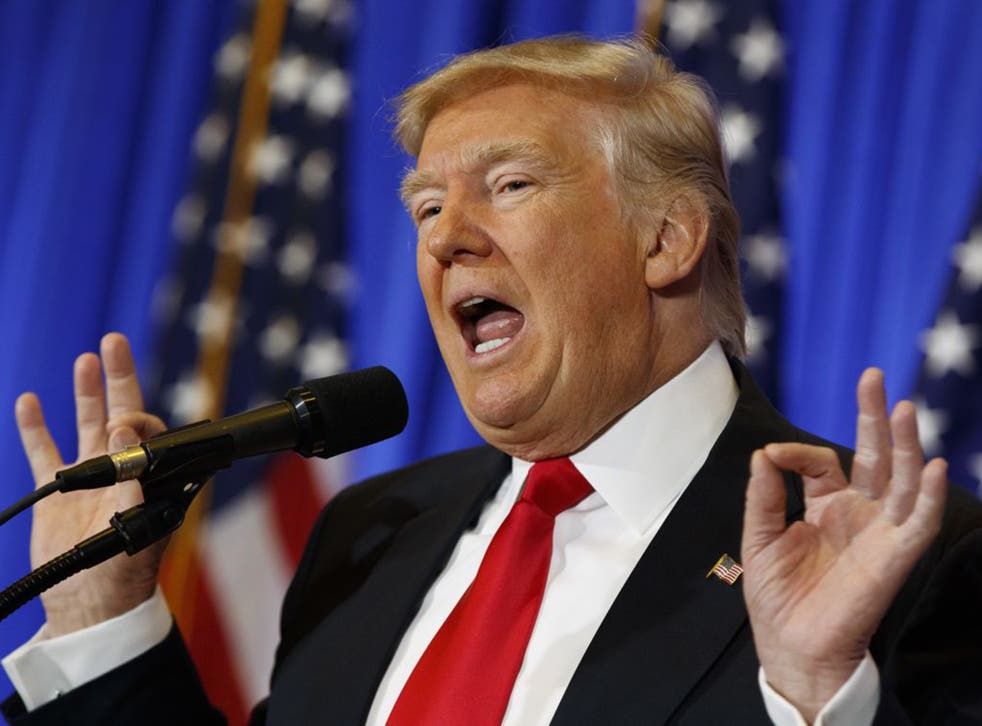 Sanctions placed on Russia by Barack Obama could be lifted if the country works with the US on battling terrorists and other goals, Donald Trump has suggested.
The President-elect told the Wall Street Journal he would keep sanctions against Russia intact "at least for a period of time", as scrutiny over his relationship with the Kremlin intensifies.
"If you get along and if Russia is really helping us, why would anybody have sanctions if somebody's doing some really great things?" he said during the hour-long interview.
Mr Trump also said he wouldn't commit to the "one China" policy on Taiwan until he sees signs of cooperation from Beijing in its currency and trade practices.
The Obama administration imposed sanctions against Russia, including the ejection of 35 suspected Russian spies from the US, late last month in response to alleged cyber attacks from Moscow.
This followed successive moves by Mr Obama and the EU to punish Russia for continued fighting in eastern Ukraine, which erupted in 2014.
Consecutive rounds of sanctions, including travel bans and asset freezing, have been imposed on Russia over the conflict and its annexation of the Crimean Peninsula, with the most recent batch to expire in January.
The Russian government has denied stoking the unrest in the face of evidence by Nato and monitors claiming to show its troops and weapons in rebel-controlled areas of the country.
An inquiry into alleged Russian hacking during the US election has also been opened by the Senate's intelligence committee, with senior figures in Trump's team set to be questioned over their Russian links, the committee chair has announced.
Mr Trump said he was prepared to meet Vladimir Putin following his 20 January inauguration, amid allegations – denied by the President-elect – that Russia may hold compromising footage of a sexual nature which could be used to blackmail him.
"I understand that they [the Kremlin] would like to meet, and that's absolutely fine with me," he told the newspaper.
Asked if he supported the "one China" policy on Taiwan that has underpinned US relations with Beijing for decades, Mr Trump told the Journal: "Everything is under negotiation including One China."
Mr Trump angered the Chinese by taking a congratulatory phone call after his election win from Taiwan's leader and questioning the "one China" policy.
The United States has acknowledged the Chinese position that there is only one China and that Taiwan is part of China.
The President-elect has said in the past he would label China a currency manipulator after he takes office.
In the interview, he said he wouldn't take that step on his first day in the White House. "I would talk to them first," he said.
"Certainly they are manipulators," he added. "But I'm not looking to do that."
Trump and Putin passionately kiss in street mural

Show all 14
But he made plain his displeasure with China's currency practices. "Instead of saying, 'We're devaluating our currency,' they say, 'Oh, our currency is dropping.' It's not dropping. They're doing it on purpose," he said, according to the Journal.
"Our companies can't compete with them now because our currency is strong and it's killing us," the Journal quoted Mr Trump as saying.
Calls to the Chinese foreign ministry spokesman's office by Reuters were not answered, and the ministry did not respond immediately to an emailed request for comment on the Wall Street Journal interview.
Additional reporting from agencies
Join our new commenting forum
Join thought-provoking conversations, follow other Independent readers and see their replies