Donald Trump may have leaked his own tax returns, George W Bush's ethics lawyer says
Richard Painter noted that the forms were marked 'client copy'
Rachael Revesz
New York
Wednesday 15 March 2017 08:41 Comments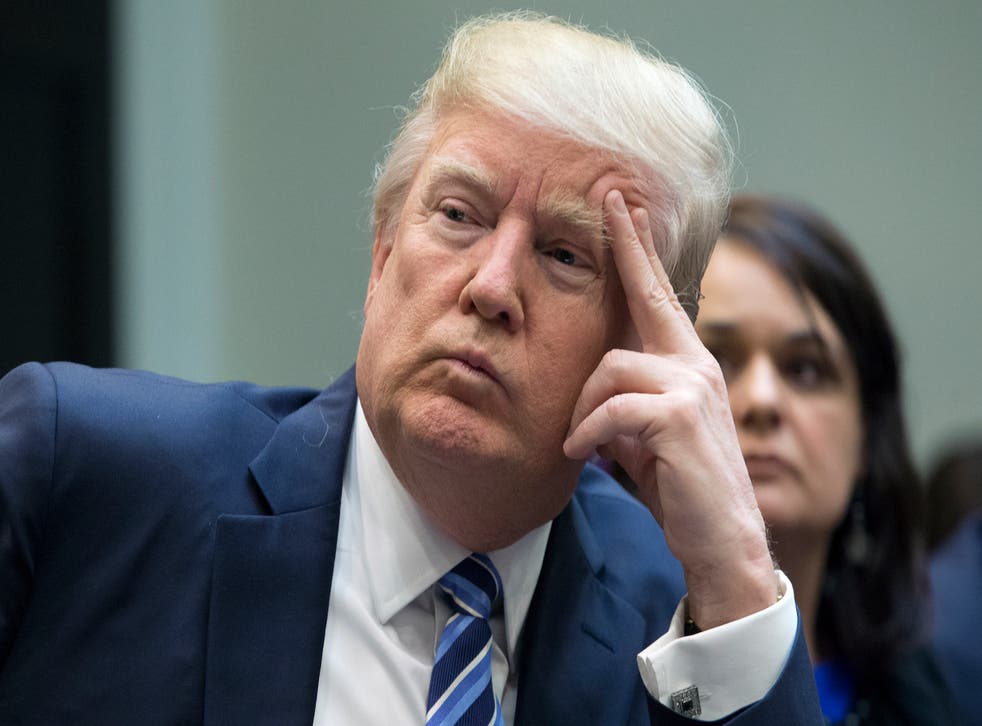 Donald Trump may have leaked his own tax returns and sent them in the mail to a journalist, George W Bush's former ethics lawyer has saod.
The first two pages of the President's 2005 tax returns were mailed to MSNBC journalist David Cay Johnston and marked "client copy", indicating they were files prepared for Mr Trump and not those sent to the Internal Revenue Service.
Richard Painter, who served as chief ethics counsel under former President Bush, wrote on twitter: "It is marked "client copy". It is not the copy filed with the IRS. Did he leak it himself? Lets see 2006-2016."
The returns showed that the businessman turned President and his wife paid $38 million in federal taxes in 2005, about a quarter of their income, and wrote off business losses of around $103 million.
The couple paid little in income tax - $5.3 million – but they paid $31 million in the alternative minimum tax, which applies to high-earners who use tax deductions.
The theory that the President mailed his own documents into the hands of the press is gaining ground.
The numbers look reasonable given a 1996 return showed that the tycoon paid no income tax that year.
"Is this a conspiracy too far to think that this was something he released himself?" CNN's Gloria Borger asked.
Mr Trump said in a debate during the campaign trail that "of course" he took advantage of a tax loophole to use a loss of around $1 billion to offset paying income tax for a decade.
Rachel Maddow reveals how she acquired two pages from an old Donald Trump tax return
The White House accused MSNBC of being "desperate for ratings" and also claimed the network "stole" the returns.
"You know you are desperate for ratings when you are willing to violate the law to push a story about two pages of tax returns from over a decade ago," the statement said.
It added: "Despite this substantial income figure and tax paid, it is totally illegal to steal and publish tax returns. The dishonest media can continue to make this part of their agenda, while the President will focus on his, which includes tax reform that will benefit all Americans."
Mr Trump has long claimed that his returns were being audited therefore he could not release them. That claim was debunked by billionaire investor Warren Buffet.
Counselor to the President Kellyane Conway said after the Inauguration that her boss would not be releasing the documents, despite a survey in January which found that 49 per cent of Mr Trump's own supporters and 74 per cent of Americans overall wanted to see them.
"He's not going to release his tax returns. We litigated this all through the election. People didn't care," she said.
Kellyanne Conway says President Trump will not release his tax returns
There is no law which demands the President reveal his tax returns, but he is the first President to not opt for transparency.
Register for free to continue reading
Registration is a free and easy way to support our truly independent journalism
By registering, you will also enjoy limited access to Premium articles, exclusive newsletters, commenting, and virtual events with our leading journalists
Already have an account? sign in
Join our new commenting forum
Join thought-provoking conversations, follow other Independent readers and see their replies