Donald Trump thinks he 'would get along very well with Vladimir Putin'
He made the comments at a press conference that reporters were told would be strictly about golf
Doug Bolton
Friday 31 July 2015 17:56 Comments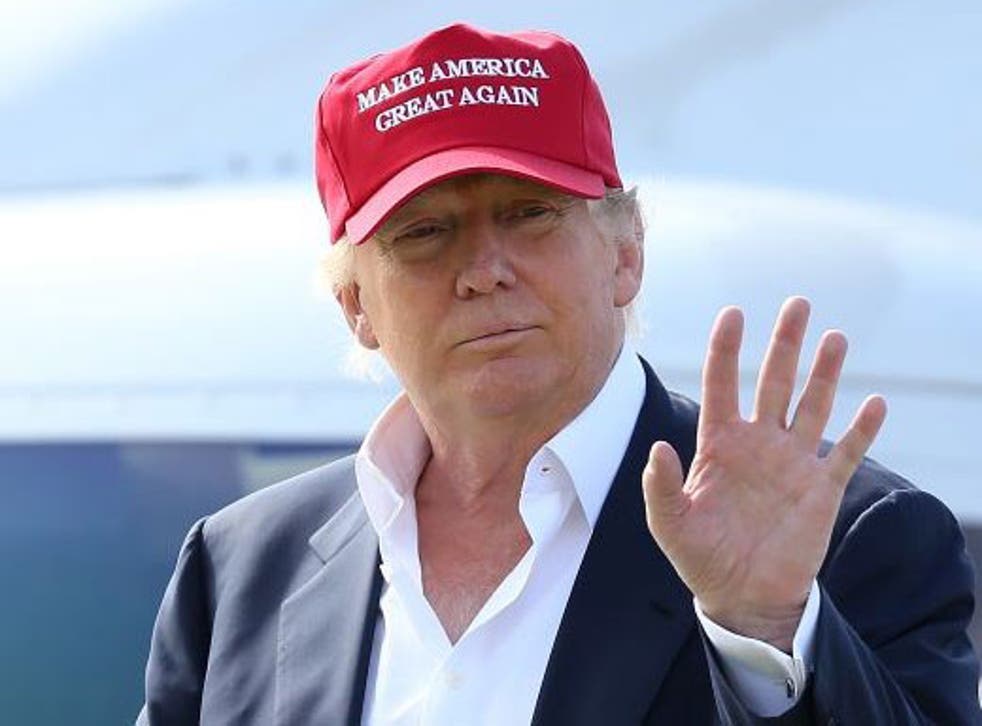 American Presidential candidate and businessman Donald Trump has said he thinks he would "get along very well with Vladimir Putin" while speaking to press in Scotland.
At his Trump Turnberry golf course in Ayrshire, the venue for the 2015 Women's Open, Trump took to the stage in a suit jacket, open-necked shirt and a red baseball cap emblazoned with the words 'Make America Great Again'.
Trump is currently topping the polls as the Republican party tries to choose its presidential candidate for the 2016 election in the presidential primaries campaign.
Speaking about America's 'special relationship' with the UK, Trump said if he was President, "I think I'd be very close with Britain."
"We would have such a great relationship with this part of the world, and I think many other parts of the world."
He then added: "I think I'd get along very well with Vladimir Putin."
"I just think so. People say 'What do you mean?' I just think I'd get along well with him."
At the conference, which reporters were told would strictly be about golf, Trump also spoke about his views on foreign policy, an area he has covered before during his nomination race with some controversial remarks on immigrants.
He said: "Certainly you want to be diplomatic, I mean we're diplomatic in our country and everyone hates us all over the world."
Donald Trump's most controversial quotes

Show all 14
"We're politically correct and the world hates the United States. The world takes advantage of the us, on trade, on just about everything. And yet, we've never been more unpopular."
The first Republican nominee debate takes place next week, and Donald Trump is sitting firmly at the top of the primary polls.
According to a recent Quinnipac poll, Trump has the support of 20 per cent of Republicans, ahead of Wisconsin Governor Scott Walker on 13 per cent, and former Florida Governor Jeb Bush on 10 per cent.
Despite Trump's numerous controversial and offensive comments, some of which would have sunk any other candidate, his popularity has only grown.
Referring to John McCain, the 2008 Republican Presidential candidate who spent five and half years in Vietnamese prison camps after his plane was shot down over Vietnam, Trump said: "He's not a war hero."
He added: "He's a war hero because he was captured? I like people who weren't captured."
Many polls since he made these comments, which some pundits said would prove his downfall, show that his levels of support across America have generally stayed steady or gone up.
Register for free to continue reading
Registration is a free and easy way to support our truly independent journalism
By registering, you will also enjoy limited access to Premium articles, exclusive newsletters, commenting, and virtual events with our leading journalists
Already have an account? sign in
Join our new commenting forum
Join thought-provoking conversations, follow other Independent readers and see their replies