Donald Trump to sign executive order signalling intention to rip up Nafta
He has already signed an order withdrawing the US from TPP
Adam Withnall
Monday 23 January 2017 13:59 Comments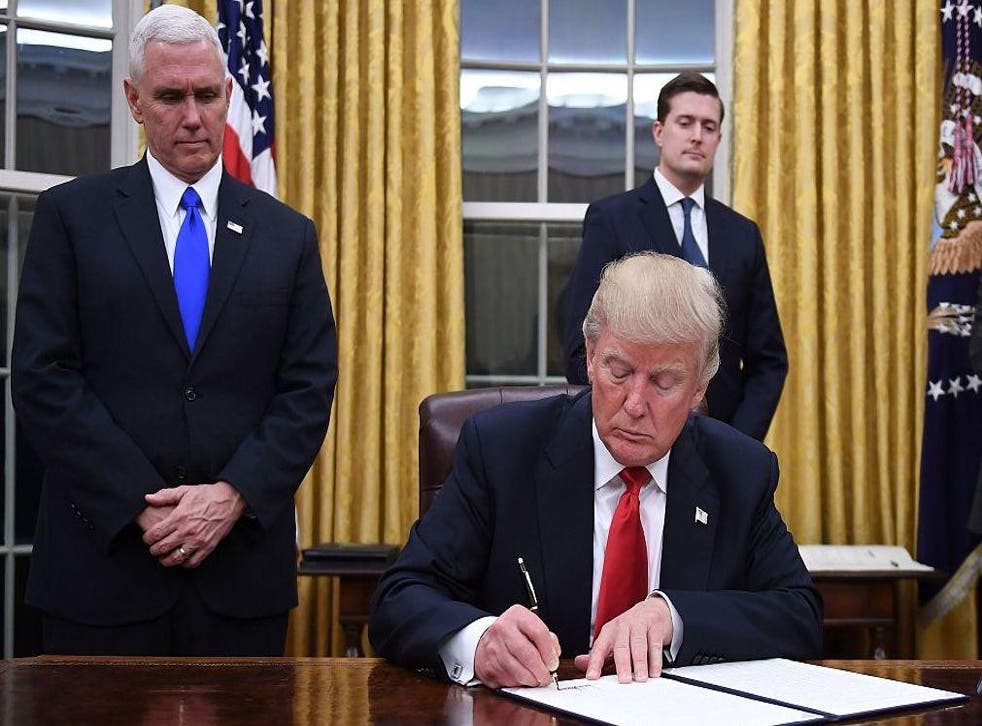 Donald Trump is expected to sign an executive order later on Monday that signals his intention to renegotiate the terms of Nafta, a free trade agreement between the US, Mexico and Canada.
The controversial free trade deal has been criticised for allowing companies to move jobs abroad, but its supporters say it provides millions of jobs in the US.
The President made it his first executive action on Monday to sign an order withdrawing the US from the Trans-Pacific Partnership (TPP), a deal among 11 Pacific Rim countries that had yet to be ratified by Congress.
Donald Trump meets business leaders on "Day One" of his presidency
He had described the TPP as "a potential disaster for our country". In its place, he said he would "negotiate fair bilateral trade deals that bring jobs and industry back".
In pictures: Women of the world march against Trump

Show all 32
On Sunday, Mr Trump revealed that he had set up meetings with Canadian Prime Minister Justin Trudeau and Mexican President Enrique Pena Nieto.
"We're going to start some negotiations having to do with Nafta," he said of his meeting with Mr Pena Nieto. Mr Trump said he will also discuss immigration and security at the border with Mexico. He has previously promised to build a wall along the length of the southern border and that Mexico will pay for it.
His chief of staff, Reince Priebus, said on "Fox News Sunday" the President would spend his first full week in office undoing some of former President Barack Obama's agenda, including signing executive orders on immigration and trade.
Mr Trump has pledged to scrap trade deals such as the pending Asia-Pacific agreement, as well as overturning Mr Obama's executive order deferring deportations for 700,000 people who were brought into the country illegally as minors.
The Nafta deal allows multinational companies to produce everything from planes to household gadgets using labour from multiple countries. It was drafted by previous Republican administrations including President George H W Bush and signed through by President Bill Clinton in 1994.
During the TV debates ahead of the 2016 election, Mr Trump called Nafta "the worst trade deal maybe ever signed anywhere, but certainly ever signed in this country".
Even supporters of keeping Nafta admit that it is in need of an upgrade. They would have it include elements of the TPP - somewhat ironically - such as rules covering digital trade and the movement of electronic business data.
But few would go so far, as Mr Trump has, as suggesting the deal should be scrapped altogether. The National Association of Manufacturers calls the deal "a boost to US competitiveness".
And in an interview with Fox News last year, the president of the US Chamber of Commerce, Tom Donohue, said: "You want to get rid of Nafta? Nafta is 14 million jobs in the United States."
Register for free to continue reading
Registration is a free and easy way to support our truly independent journalism
By registering, you will also enjoy limited access to Premium articles, exclusive newsletters, commenting, and virtual events with our leading journalists
Already have an account? sign in
Register for free to continue reading
Registration is a free and easy way to support our truly independent journalism
By registering, you will also enjoy limited access to Premium articles, exclusive newsletters, commenting, and virtual events with our leading journalists
Already have an account? sign in
Join our new commenting forum
Join thought-provoking conversations, follow other Independent readers and see their replies