Donald Trump travel ban: Syrian woman in Oscar-nominated film is barred from US ahead of awards ceremony
Hala - who fled Aleppo with her four children - will not be able to travel to America next month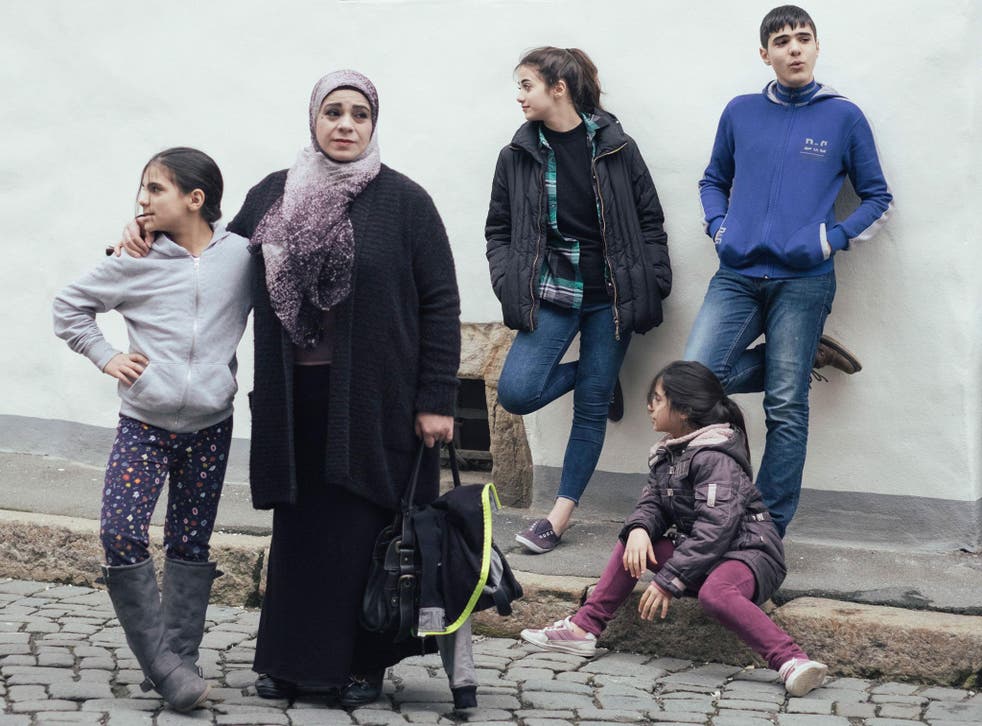 A Syrian widow who is the subject of an Oscar-nominated film has been barred from travelling to the US ahead of the awards ceremony next month, after Donald Trump implemented a travel ban on some US-bound travellers.
Watani: My Homeland, which tells the true story of a Syrian family forced to flee Aleppo for sanctuary in Germany, is nominated in the 'Documentary Short Subject' category.
But the film's protagonist, Hala Kamil, who has previously visited the US as a guest of the United Nations, will not be allowed to enter the country after Mr Trump signed an executive order barring migrants from seven Muslim-majority countries, including Syria.
Filmed between 2013 and 2016, the documentary tells the family's harrowing story after the father Abu Ali – a commander in the Free Syrian Army – was captured by Islamic State.
His wife Hala and their four children were the only family left living in a derelict part of the city and managed to escape the fighting to start a new life in a small town in Germany.
Director Marcel Mettelsiefen, who made more than 25 trips to Syria to make the film, said the US President's immigration crackdown was a "devastating blow to refugees who have already suffered so much".
Hala, who holds both a Syrian and German refugee passport, was due to fly to Washington DC on 14 February in the run-up to the ceremony, but Mr Mettelsiefen said she had been informed she would no longer be allowed to travel.
He said she had a visa and recently returned from a trip to New York, but given the ban on all Syrian nationals – including those holding a green card, which proves the right to permanent residency in the US – she was told not to travel.
"This ban is just one thing that comes on top of all the struggles she has been going through," said Mr Mettelsiefen in a phone interview with The Independent.
"The international community was not able to respond to what is happening in her country. She is very grateful for how she has been treated in Germany, she knows at least her children are safe, but she also realises how Muslims are perceived around the world, and she is very much aware and afraid."
When May met Trump - five key points from the leaders' press conference
However, the German-born filmmaker, who was speaking to The Independent from his home in Barcelona, said boycotting the Oscars was not the right thing to do.
"If you want to do a political statement, do it on stage," he said. "People in Hollywood have been very outspoken. I think we should support and unite with them."
"The times are very scary right now, and we are in a crucial moment, but if you want to approach it from the positive side, all this is creating a movement. Society is awakening, especially in the US."
In a separate statement the producer-director added: "As Trump seeks to demonise refugees and Muslim people in general, films such as Watani: My Homeland, which tell the human story of refugees become ever more important.
"We must reconnect with the common humanity of the refugee experience and we must all remember that the founding story of America is dependent upon people who have fled war, hunger and poverty in search of a better life.
The controversial orders Donald Trump has already issued

Show all 9
"Hala, the courageous mother in Watani, has been to the US as a guest of the UN but now she is rejected from this country on the cruelest basis.
"I wanted to make a film that - in these times of hate and division - showed the other side of persecution. It shows life as a refugee through the humanising eyes of children.
"These kids are the innocent, unpolitical victims of a turbulent civil war."
Reports on Saturday suggested potentially dozens of travellers from Middle Eastern and African nations caught up in the ban had been stopped at airports around the world.
Some had made it as far as the US before border officials refused them entry.
Join our new commenting forum
Join thought-provoking conversations, follow other Independent readers and see their replies