Donald Trump says he has 'tremendous respect' for women
In October, President was forced to apologise after leaked recording heard him saying he could 'grab them by the p****' because he was a 'star'
Lucy Pasha-Robinson
Wednesday 08 March 2017 16:35 Comments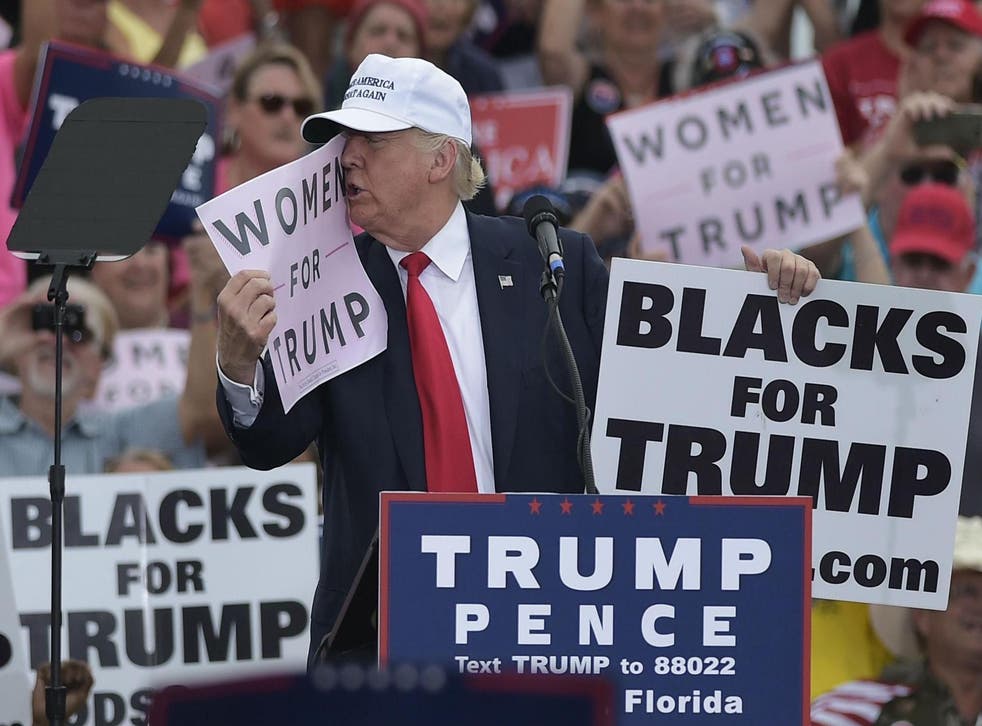 Donald Trump has said he has "tremendous respect for women" in a series of tweets to mark International Women's Day.
He described women's global contributions as "critical" and "vital to the fabric of our society and our economy".
The US President wrote on Twitter: "On International Women's Day, join me in honouring the critical role of women here in America & around the world.
"I have tremendous respect for women and the many roles they serve that are vital to the fabric of our society and our economy."
His comments come as women worldwide participate in a general strike to highlight female socioeconomic contributions.
"A Day Without a Woman" organisers said the Trump era demands a "feminism of the 99 per cent" and said the action was a sign of "rejection of the current racist and misogynist policies of Trump."
The former real-estate mogul was widely criticised during the election campaign for his objectification of women.
During the final debate ahead of polling day, Mr Trump called his democratic rival Hillary Clinton a "nasty woman."
Trump calls Clinton 'such a nasty woman'
In October, Mr Trump was forced to apologise for "causing offence" after a leaked 1995 recording exposed the Republican making lewd and crass comments about women.
Mr Trump was heard bragging he could do "whatever he wanted" with women, as he was a "star", saying he could "grab them by the p****"
"I'm automatically attracted to beautiful women — I just start kissing them. It's like a magnet. Just kiss. I don't even wait. When you're a star, they let you do it. You can do anything. Grab 'em by the p****. You can do anything," he was heard saying.
In September, he aimed a stream of inflammatory tweets at former Miss Universe Alicia Machado after she spoke out about the way he allegedly treated her following her pageant win in 1996, calling her "disgusting".
It came after Ms Clinton accused her then Republican rival of calling the model "fat". Miss Machado corroborated the claims adding Mr Trump also called her "Miss Piggy" and "Miss Housekeeping" after she won the Miss Universe pageant.
During the third presidential debate in September, Mr Trump said he was appalled by later term abortions, during which he incorrectly asserted that babies could be "ripped from the womb" up until the last day before birth.
He has also declared he would strip Planned Parenthood funding if it continued to provide abortions.
Donald Trump apologises for 'grab them by the p****' remarks, says Bill Clinton has done 'far worse'
The Republican leader was also hit with an unrelenting wave of sexual assault allegations during his campaign from more than a dozen women. Mr Trump has adamantly denied the allegations, calling the claimants "sick" and "liars" hungry for fame.
In 2015, he launched a scathing attack on the looks of his one-time Republican rival Carly Fiorina.
"Look at that face. Would anyone vote for that? Can you imagine that, the face of our next next president? I mean, she's a woman, and I'm not supposed to say bad things, but really, folks, come on. Are we serious?" he said.
The same year, he made lewd suggestions about Ms Clinton, tweeting: "If Hillary Clinton can't satisfy her husband what makes her think she can satisfy America."
In 2012 and 2015, he attacked Huffington Post editor and co-founder Arianna Huffington as "unattractive both inside and out" and said he understood why her husband had left her.
He once told an interviewer that he advises friends to be "rougher" with their wives and revealed "when I come home and dinner's not ready, I go through the roof."
He has also been accused of making an array of incestuous comments about his daughter, Ivanka.
"… she does have a very nice figure. I've said if Ivanka weren't my daughter, perhaps I'd be dating her," he told ABC in 2006.
Register for free to continue reading
Registration is a free and easy way to support our truly independent journalism
By registering, you will also enjoy limited access to Premium articles, exclusive newsletters, commenting, and virtual events with our leading journalists
Already have an account? sign in
Register for free to continue reading
Registration is a free and easy way to support our truly independent journalism
By registering, you will also enjoy limited access to Premium articles, exclusive newsletters, commenting, and virtual events with our leading journalists
Already have an account? sign in
Join our new commenting forum
Join thought-provoking conversations, follow other Independent readers and see their replies