International Women's Day: Women around the world are going on strike in show of global solidarity
Organisers say Trump era demands 'feminism of the 99 per cent' to unite marginalised around the world 'fighting the same fights'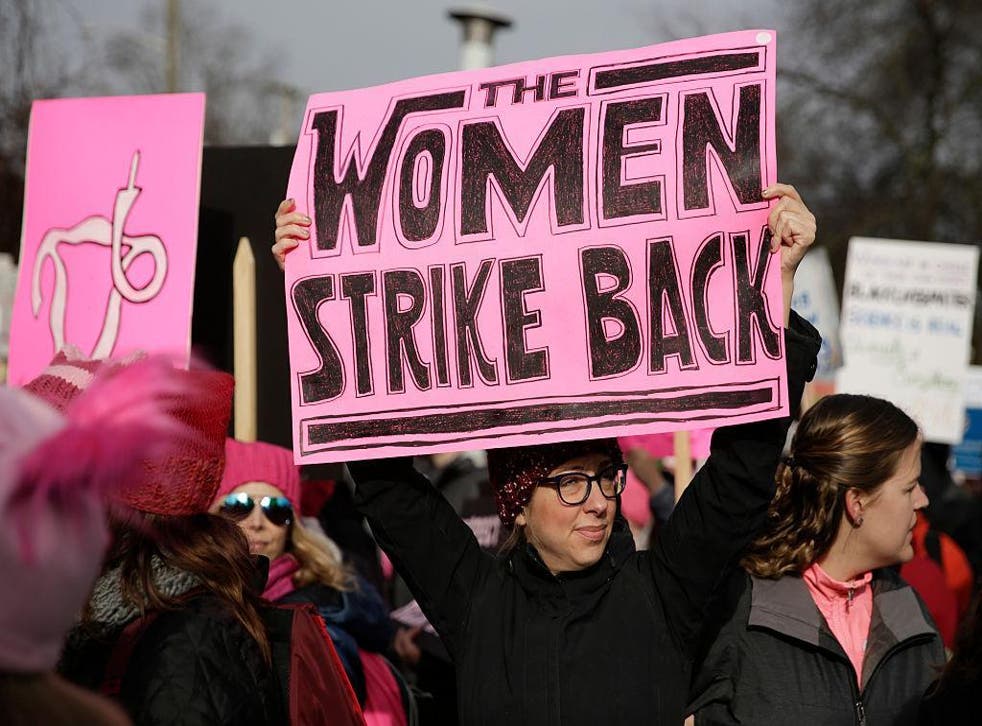 Weeks after women descended on the world's streets to protest Donald Trump's presidency, another campaign will hope to keep the global spotlight trained on gender equality.
Thousands of women will strike on Wednesday, withdrawing their domestic and industrial labour in solidarity with marginalised women around the world.
"A Day Without a Woman" will encourage workers from all sectors to participate in an international general women's strike, by walking out from offices, ignoring domestic chores and wearing red - a colour that "signifies love and sacrifice".
Strike organisers said the Trump era demands a "feminism of the 99 per cent" to unite women across the world "fighting the same fights."
"We come from many political traditions but are united in our rejection of the current racist and misogynist policies of Trump as well as the decades long neoliberal attacks on working people's lives, which created the conditions for Trump," US organisers explained.
"We believe that the solution lies in grassroots organising and the politics of solidarity across our various movements."
The walkout is set to coincide with International Women's Day, a global celebration of the social, economic, cultural and political achievements of women. The day also marks a call to action for accelerating gender parity.
The strike, expected to take place in more than 30 countries, will aim to expose the harsh reality of gender marginalisation and the devastating impact of inequality on the global socioeconomic system.
Thousands attend Women's March on Washington

Show all 18
While the financial impact of the walkout is unknown, participation on a large scale could make a considerable dent to world economies, highlighting women's global financial contribution.
University of Cambridge philosopher Sandy Grant explained she would be striking to draw attention to the continued underrepresentation of women in many fields of work.
"My protest is about who gets to do what kind of work, as well as how different people are treated as workers. As workers, women are lower paid. They are also unequally subject to, or at risk of, discrimination, sexual harassment and job insecurity," she told The Independent.
"Sadly the workplace is still a very different kind of place for women. And as a philosopher I recognise a responsibility to ask people to rethink what they are doing. Taking action along with other women, by speaking, writing, marching and striking are all ways of doing this."
Teachers in Virginia and North Carolina will join the strike, causing two US districts to close their schools that enrol 25,000 pupils in total.
For this reason, and others, the strike has also garnered criticism from those who believe it is only accessible to the privileged who can afford to take time off work.
However, A Day without a Woman does not claim to be industrial in nature. Organisers encourage both men and women to participate in whatever way they can, including by withholding their purchasing power.
The concept of withdrawing contributions, whether domestic, industrial or financial, is by no means a new concept.
The latest campaign follows a long-line of walkouts since the 1900s and more recently, a series of high-profile European protests against the gender pay gap and abortion laws.
For the last 11 years, Iceland's female workforce has walked out on 24 October at 2.38pm, the time they could leave every day if they were paid the same as their male colleagues.
The move was replicated in France in 2016 for the first time, where women left their offices at 4.34pm on Monday 7 November – the time at which they stopped being paid for 2016 in comparison to men.
The French campaign attracted global attention on social media under the hashtag #7novembre16h34, and received backing from then Prime Minister Manuel Valls and Education Secretary Najat Belkacem.
Rebecca Amsellem, founder of Les Glorieuses, who spearheaded the campaign, told The Independent: "There is a tendency to blame women for this reality, for working part-time or on zero-hours contracts, and we hope increasing awareness of the reality will help put this misconception into perspective."
In September 2016, marches took place from Paris to Phnom Penh, New York to Sydney, to protest Ireland's archaic abortion law.
Similarly, thousands of people took to Poland's streets in October 2016 to protest a near-total ban on abortion, after almost 40 years of liberal abortion legislation and access.
Three days later, the bill was voted down as a result of the public pressure.
Join our new commenting forum
Join thought-provoking conversations, follow other Independent readers and see their replies