French women go on strike to protest gender pay gap
Women in France work the equivalent of 38.2 more days each year than men for the same salary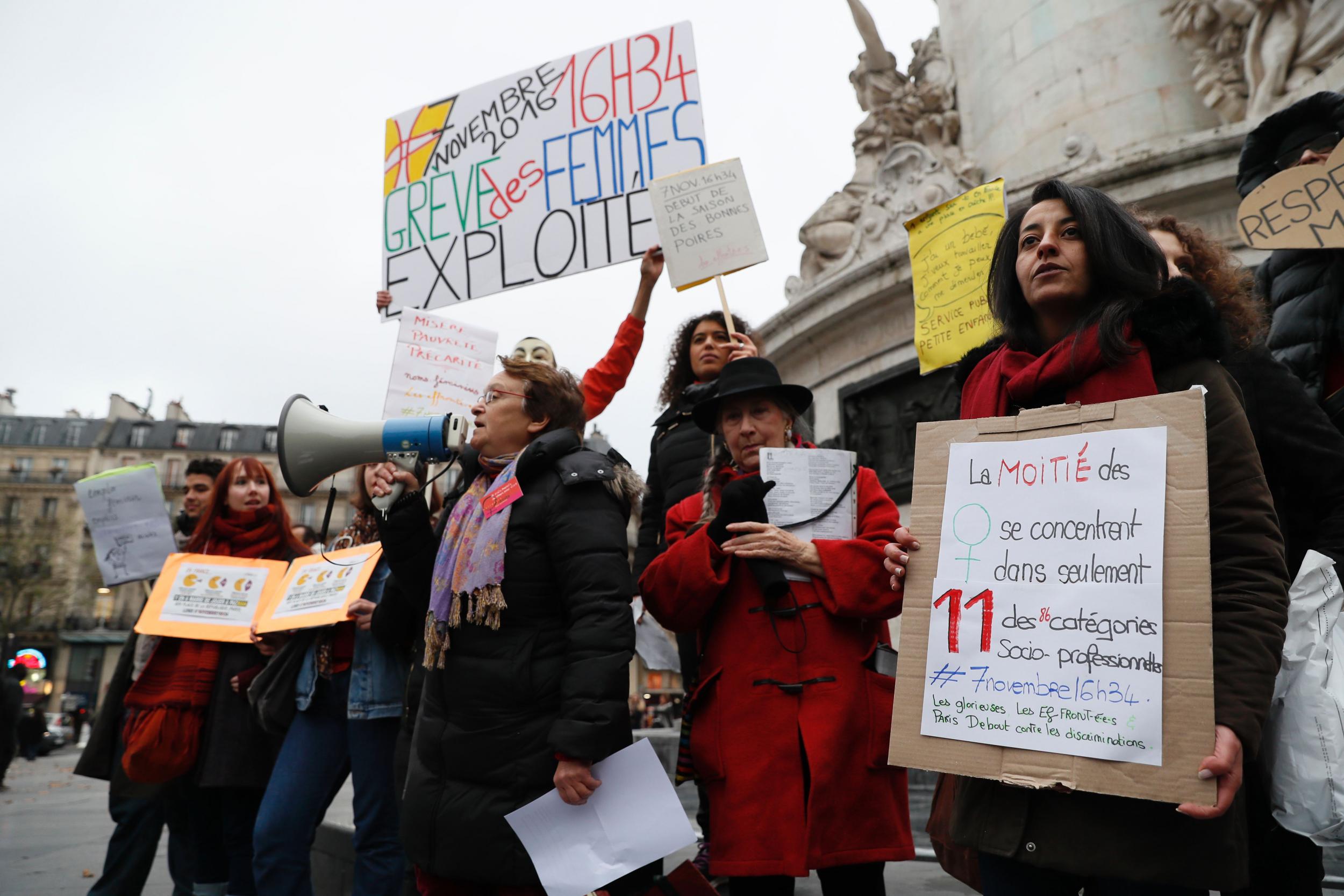 Women across France left their offices at 4.34pm on Monday 7 November – the time at which they stopped being paid for 2016 in comparison to men.
The mass walkout saw workers from all sectors take part in a new movement that is fighting to close the gender pay gap in the country.
The average French woman was paid 15.1 per cent less than a man in 2010, which means women effectively work 38.2 more days each year than men for the same salary.
Rebecca Amsellem, founder of Les Glorieuses group, who spearheaded the campaign, said it was crucial to raise awareness of the ongoing disparity between the sexes in 2016.
"We wanted to raise an awareness of inequality in the workplace so that everyone involved, whether it's women or men, can propose their own solutions to this problem – nothing about this problem is normal," she told The Independent.
"Everyone was able to participate in this campaign in their own way. We were not insisting all women walk out at 4.34pm, but perhaps that they take a break at this time, or write a post on social media or speak about it with their colleagues. Our main goal was to start a conversation."
Ms Amsellem was inspired after reading about the movement in Iceland to put an end to the gender pay gap.
For the last 11 years, Iceland's female workforce has walked out on 24 October at 2.38pm, the time they could leave every day if they were paid the same as their male colleagues.
Ms Amsellem believes much more needs to be done to address the social causes contributing to economic inequality.
"We are not a union, we are not calling for women to strike, however, there is a tendency to blame women for this reality, for working part-time or on zero-hours contracts, and we hope increasing awareness of the reality will help put this misconception into perspective," she said.
"We often see women suffering from 'star pupil syndrome' – they work hard, they do their jobs well but they don't necessarily seek out a raise or a promotion. More also needs to be done to encourage women to enter scientific fields and better-paying sectors."
The campaign attracted global attention on social media under the hashtag #7novembre16h34, and received backing from Prime Minister Manuel Valls and Education Secretary Najat Belkacem.
Mr Valls wrote: "Equality between women and men must be at the heart of the Republic. At all times."
However, Ms Amsellem said she wanted to see the Government turning its words into action.
"What we're looking for beyond this support is that they take the campaign further and that they propose real solutions to this problem," she said.
"This has the potential to go much much further."
Join our commenting forum
Join thought-provoking conversations, follow other Independent readers and see their replies