Donald Trump's 'celebrity-style' tweets helped him win US presidential election, says data scientist
'American voters are less interested in voting for qualified career politicians and are at least as likely to support someone entertaining,' says David Robinson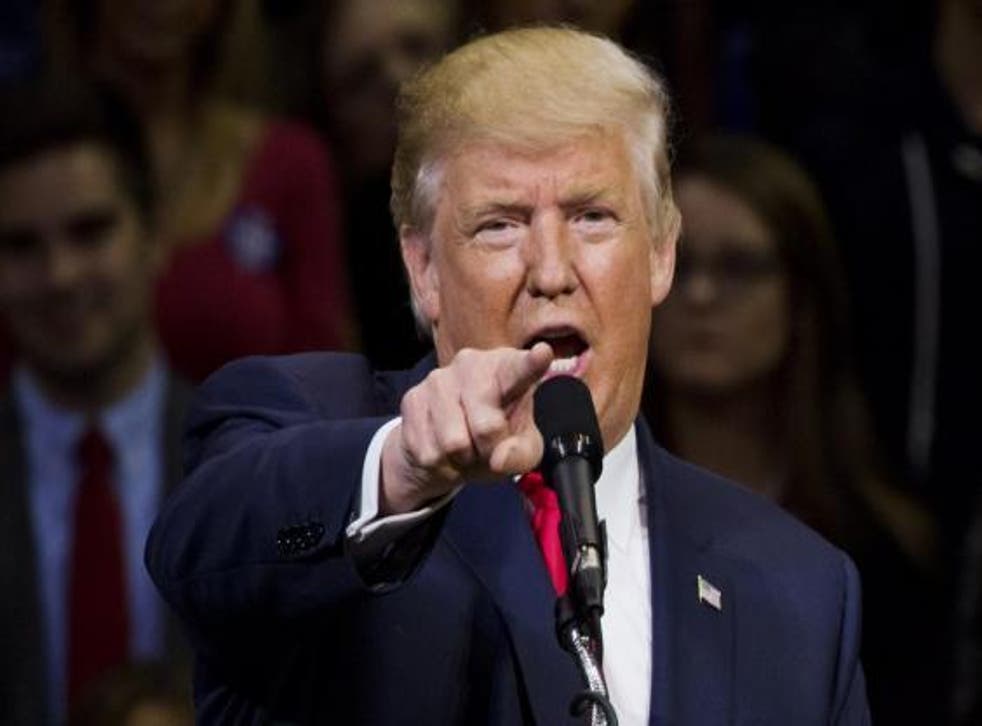 Donald Trump's tendency to use his Twitter account in the manner of a celebrity - by adopting an "off-the-cuff style" in the tweets he publishes - was a contributing factor in the billionaire's presidential victory, a data scientist has suggested.
David Robinson, who performed a statistical analysis of the the President-elect's Twitter account in August, said Mr Trump's tendency to tweet like an "entertainer" meant he was able to garner the "interest" of the American people, which in turn boosted his chances of election success.
Dr Robinson, from Stack Overflow, told The Independent: "Donald Trump is an extreme example of an outsider and entertainer. Tweeting in this fast and off-the-cuff style comes naturally to him as a part of his messaging strategy.
"I think celebrities have a long history of exceeding expectations in American elections, because they're charismatic and relatable. The most notable example is Ronald Reagan, who was famous for his folksy charm, as well as Arnold Schwarzenegger.
"These suggest American voters are less interested in voting for qualified career politicians and are at least as likely to support someone entertaining. I think Trump's Twitter activity probably did contribute to his victory."
Speaking on Sky News, the data scientist explained the stark difference between tweets posted on Mr Trump's iPhone - which is managed by his campaign team - and those posted by him on his own personal Android.
"The two Twitter accounts show very different behaviours. The Android account tweets were 50 per cent more angry, words filled with disgust and hate and fear," Dr Robinson said.
"The iPhone tweets aren't from him but his campaign, So someone else tweets things like 'Thank you North Carolina, we're going to make America great again,' while he's the one tweeting about, say, the New York Times article."
In the days before the election it was widely reported that Mr Trump's aides had taken control of his Twitter account in an attempt to present him as a confident and viable presidential candidate.
World reaction to President Trump: In pictures

Show all 29
But Dr Robinson said that based on the continuation - and indeed increase - of "unusual" tweets posted from Mr Trump's Android device since his election victory, the President-elect's "Twitter outrage" was likely to carry on into his presidency.
Dr Robinson said: "From the last week it's clear it's not going to stop. Since the election there have been only four tweets from the iPhone and 33 from the Android, and that's a bigger gap than we've seen for the entire rest of 2016.
"My opinion is that Donald Trump will never stop being Donald Trump. It's very likely that a government official will take over some tweeting on his behalf and perhaps we'll still see the same different in devices, but I think it's going to be hard to silence Donald Trump and his particular brand of Twitter outrage."
In his most recent Twitter rant the President-elect insisted he won the presidential popular vote, despite Democratic nominee Hillary Clinton having secured over two million votes more than him at the latest count.
In a tweet on Saturday afternoon, Mr Trump wrote: "In addition to winning the Electoral College in a landslide, I won the popular vote if you deduct the millions of people who voted illegally," despite the fact that there has so far been no evidence whatsoever of any widespread voter fraud.
Register for free to continue reading
Registration is a free and easy way to support our truly independent journalism
By registering, you will also enjoy limited access to Premium articles, exclusive newsletters, commenting, and virtual events with our leading journalists
Already have an account? sign in
Register for free to continue reading
Registration is a free and easy way to support our truly independent journalism
By registering, you will also enjoy limited access to Premium articles, exclusive newsletters, commenting, and virtual events with our leading journalists
Already have an account? sign in
Join our new commenting forum
Join thought-provoking conversations, follow other Independent readers and see their replies