Donald Trump praised for allowing Afghan all-girl robotics team to enter US despite twice denying them visas
Six-person group will enter ball-sorting robot in three-day international robotics competition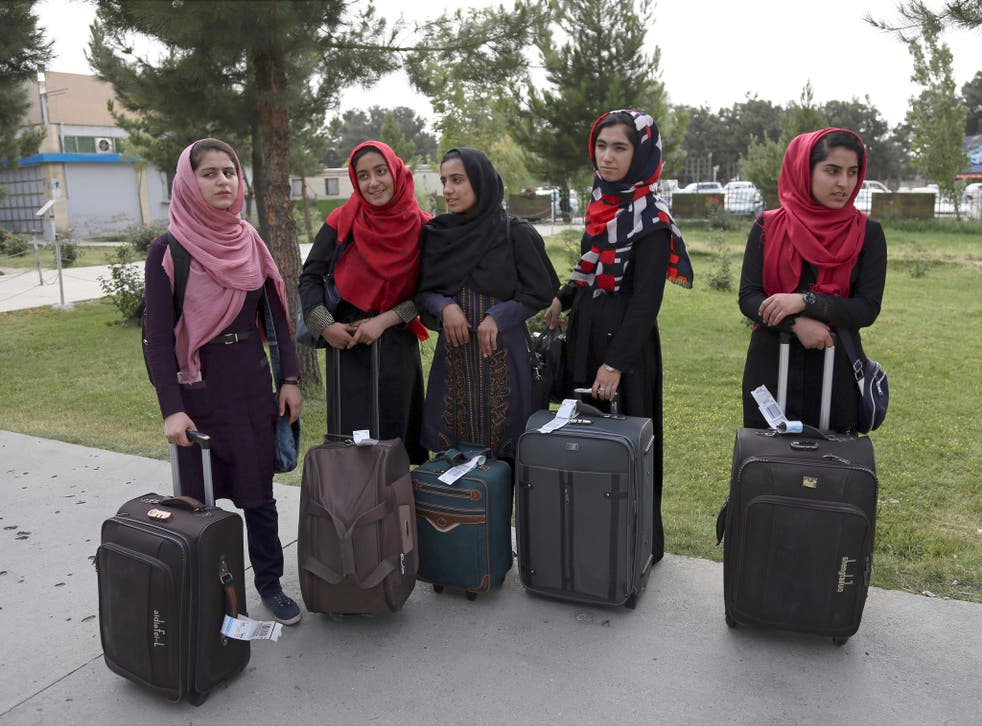 Donald Trump has been praised for allowing an all-girl robotics team from Afghanistan to enter the US, despite his travel ban making it difficult for them to receive visas.
The six-girl team and their chaperone from Herat, Afghanistan, had two visa applications refused before a last-minute intervention by the US President allowed them to travel.
Mr Trump's personal intervention in the girls' case using a rare "parole" mechanism to sidestep the visa system ended a dramatic saga in which the team twice travelled from their home in western Afghanistan through largely Taliban-controlled territory to Kabul, only for their applications to be denied on both occasions.
The team will enter their ball-sorting robot in a three-day international robotics competition in Washington DC that starts on Sunday.
Afghan Ambassador Hamdullah Mohib said: "Seventeen years ago, this would not have been possible at all.
"They represent our aspirations and resilience despite having been brought up in a perpetual conflict. These girls will be proving to the world and the nation that nothing will prevent us from being an equal and active member of the international community."
Mr Trump's counsel Kellyanne Conway also praised the decision, saying: "Thank you, @POTUS, for helping these girls. Others talk (and talk and talk). You act."
Donald Trump's international Presidential trips

Show all 22
But others accused the White House of having the "audacity" to take credit for helping the girls despite their visas being rejected twice before by US officials.
Pollster Matt McDermott wrote on Twitter: "The audacity: White House wants credit for intervening to help girls that had difficulty entering country because of Trump's own Muslim Ban!"
Another user said: "Trump is like the boy in court for murdering his parents who asks the judge for mercy because he's an orphan."
Afghanistan isn't included in Mr Trump's temporary travel ban, but critics have said the ban is emblematic of a broader effort to put a chill on Muslims entering the US.
The US would not confirm why the girls were rejected for visas, citing confidentiality.
But Mr Mohib said that based on discussions with US officials, it appears the girls were rebuffed due to concerns they would not return to Afghanistan.
Competing against entrants from more than 150 countries, the girls will present a robot they devised that can recognise blue and orange and sort balls into correct locations.
Register for free to continue reading
Registration is a free and easy way to support our truly independent journalism
By registering, you will also enjoy limited access to Premium articles, exclusive newsletters, commenting, and virtual events with our leading journalists
Already have an account? sign in
Register for free to continue reading
Registration is a free and easy way to support our truly independent journalism
By registering, you will also enjoy limited access to Premium articles, exclusive newsletters, commenting, and virtual events with our leading journalists
Already have an account? sign in
Join our new commenting forum
Join thought-provoking conversations, follow other Independent readers and see their replies