Donald Trump walks out over questions about his mafia connections during BBC Panorama interview
First Minister Alex Salmond is left in the rough over 'Great Dunes of Scotland' investment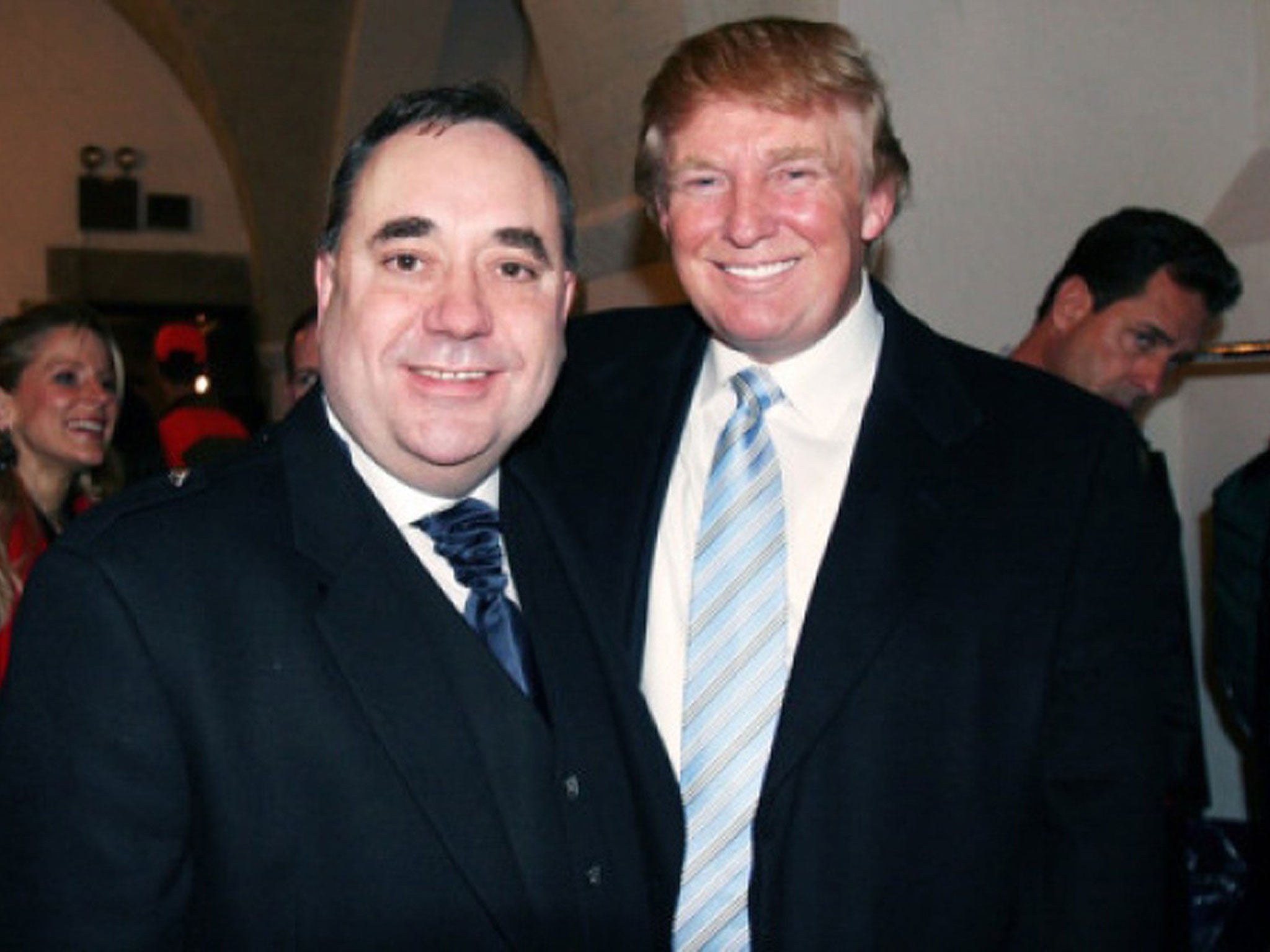 There are questions over the apparent lack of any due diligence assessment carried out on Donald Trump by Scottish ministers when considering his grand golf resort scheme, which could have revealed aspects of his business dealings that might have rung alarm bells.
A few weeks after Scottish First Minister Alex Salmond met Mr Trump's lawyer to discuss the proposals, news broke in the US about a former business associate of Mr Trump, Felix Sater – an ex-convict who had gone to prison for stabbing a man in the face with the snapped-off stem of a cocktail glass, leaving him needing 110 stitches.
Out of prison, Mr Sater went on to take part in a $40m (£27m) stock market scam in the 1990s involving four mafia families. He gave evidence against his co-accused and pleaded guilty; in return the FBI kept his role secret. Mr Sater then moved into property development, which is how he came into contact with Mr Trump.
Despite Mr Sater's previous mafia links becoming public, Mr Trump remained involved with him in a property deal in Florida for another year.
Mr Sater's LinkedIn webpage claims that he is a "senior adviser to Donald Trump". The Trump Organisation says this is not true.
It was questions about Mr Sater which led to Mr Trump walking out of an interview with the BBC's Panorama team.
"Shouldn't you have said: 'Felix Sater, you're connected with the mafia and you're fired'?" Mr Trump was asked.
In response, underlining that the link between himself and Mr Sater was merely a "very simple licensing deal", he said: "Maybe you're thick but when you have a signed contract, you can't in this country just break it… Sometimes we'll sign a deal and the partner isn't as good as we'd like but that does happen, and by the way, I hate to do this but I do have that big group of people waiting so I have leave…"
Mr Trump then walked out of the interview.
Join our commenting forum
Join thought-provoking conversations, follow other Independent readers and see their replies