Donald Trump's White House 'gags' at least three US government agencies including the EPA
Leaked memos to various media claim Environmental Protection Agency, Department of Health and Human Services and Department of Agriculture have been silenced
Peter Walker
Wednesday 25 January 2017 10:36 Comments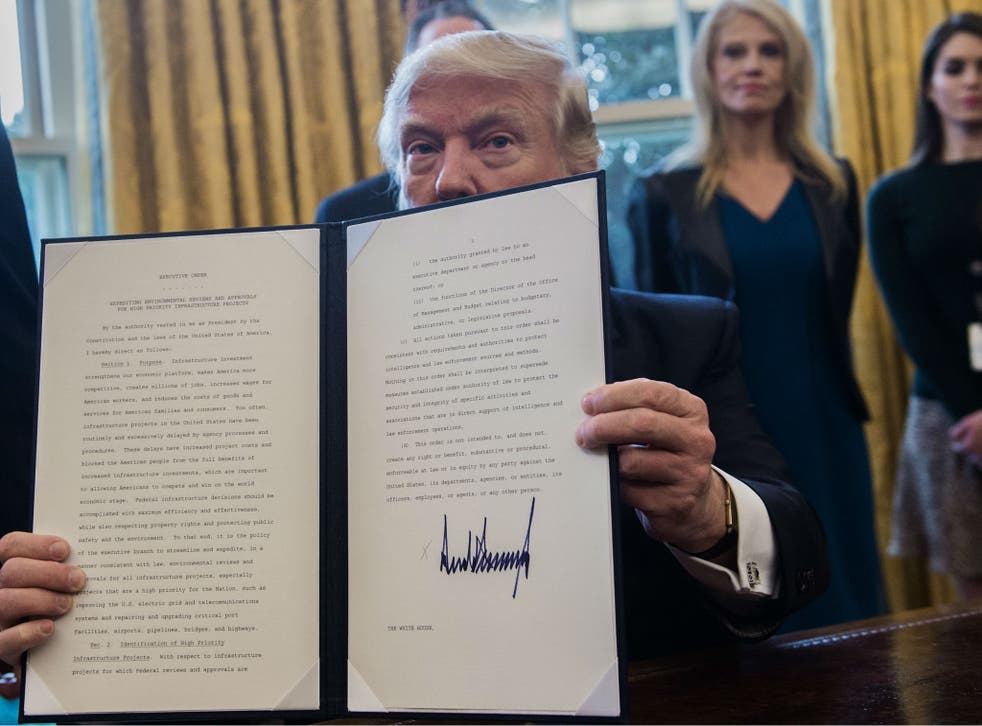 Donald Trump's administration has appeared to ban at least three Government agencies from speaking to journalists, providing documents to the public or even tweeting.
Department of Agriculture, Department of Health and Human Services and Environmental Protection Agency staff are all reportedly subject to gagging orders.
It comes amid the president's expected order to begin construction on a Mexico border wall and temporary ban on refugees.
The 70-year-old property magnate also this week signed executive orders to advance construction of controversial pipelines and for the global abortion funding ban.
The Environmental Protection Agency (EPA)
As well as the prohibition of social media posts, an order reportedly handed down this week, it has been claimed the EPA has been ordered to freeze all grants, contracts and other agreements until further notice.
A memo sent to EPA staff said there should be no press releases sent to "external audiences" and that "no social media will be going out".
The letter, published by the Huffington Post, also says that a digital strategist will be drafted in to oversee the agency's social media and that "existing, individually controlled social-media accounts may become more centrally controlled".
It also orders no new posts be made to any agency blogs, that staff send a list of external speaking arrangements, that "incoming media requests be carefully screened", and no new documents be uploaded to any public website.
Department of Health and Human Services (HHS)
Employees were told not to publish any new documents or correspondence in any public forum, including the Federal Register, and not to discuss any documents or rules with public officials until it is reviewed by the administration, according to the Huffington Post.
The Centers for Disease Control and Prevention (CDC), an arm of the health department, cancelled a major climate change summit without explanation just a couple of weeks before Mr Trump was sworn in.
Donald Trump believes 'millions voted illegally' says Sean Spicer
An ex-CDC director said he did not bother buying a plane ticket to the February conference once Mr Trump was elected in November.
Department of Agriculture (USDA)
Staff at the USDA's Agricultural Research Service received a memo on Monday telling them not to provide any documents to the public including press releases and social media, according to BuzzFeed News.
The email told employees, including about 2,000 staff scientists, that "starting immediately and until further notice", they could not release any documents or post on social media.
An official statement from the USDA however said: "This internal email was released without departmental direction, and prior to departmental guidance being issued.
World news in pictures

Show all 50
"ARS values and is committed to maintaining the free flow of information between our scientists and the American public."
White House spokesman Sean Spicer refused to comment on the reports, but said: "I don't think it's any surprise that when there's an administration turnover that we're going to review the policy."
An HHS spokesman said: "Contrary to erroneous media reports, HHS and its agencies continue to communicate fully about its work through all of its regular communication channels with the public, the media and other relevant audiences. There is no directive to do otherwise."
The Independent has contacted the other two agencies for further comment.
Register for free to continue reading
Registration is a free and easy way to support our truly independent journalism
By registering, you will also enjoy limited access to Premium articles, exclusive newsletters, commenting, and virtual events with our leading journalists
Already have an account? sign in
Join our new commenting forum
Join thought-provoking conversations, follow other Independent readers and see their replies