Donald Trump's staff get him to agree to policies by saying 'Obama wouldn't have done it'
President only agreed to botched Yemen raid because military officials said predecessor would never do it, intelligence sources say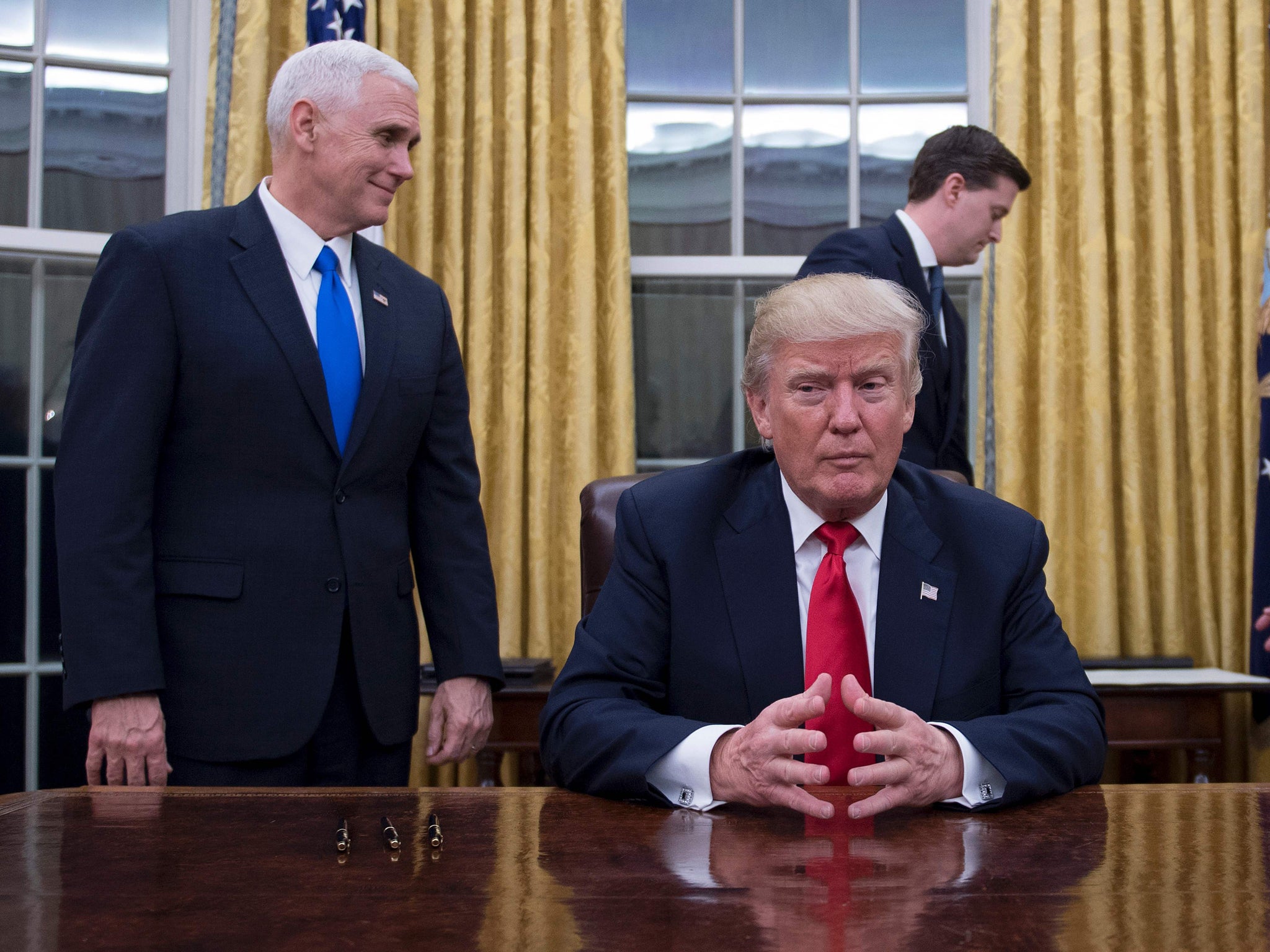 Military officials got Donald Trump to agree to the botched Yemen raid by suggesting Barack Obama would never have had the courage to do it, it has been reported.
The raid, which had been planned for two months before Mr Trump's arrival in the Oval Office, killed 30 civilians and one US Navy SEAL but failed to kill its alleged target, al Qaeda leader Qassim al Rimi.
The raid on a suspected al Qaeda camp in a remote village in Yemen's central Bayda province on 29 January was Mr Trump's first military operation as Commander in Chief and the White House insisted it was "a successful operation by all standards".
Trump claims 'Obama likes him, but probably won't admit it'
It is currently unclear how al Rimi escaped or if he was even at the site at the time of the raid but he later released a video taunting Mr Trump as a "fool".
Mr Obama had reportedly been told about the plan to kill al Rimi, who took over control of the Yemeni affiliate of the terror organisation in 2015, but held off approving it because his advisors had wanted to wait until a moonless night which would not have happened again till after he left office, the New York Times reported.
But Defence Secretary, General James "Mad Dog" Mattis, and the chairman of the Joint Chiefs of Staff, General Joseph Dunford, reportedly convinced Mr Trump to go ahead with the raid by suggesting Mr Obama would never have been so bold as to actually go through with it.
They suggested that the death of al Rimi would be a "game changer" in the fight against al-Qaeda, according to a senior White House official.
World reaction to President Trump: In pictures
Show all 29
A senior US intelligence official told NBC News that "almost everything went wrong" once the raid got underway and people in the targeted house had been alerted to their presence by something – possibly a barking dog, drones or walkie-talkie chatter and the raiding force on the ground soon came under fire.
Chief Petty Officer William "Ryan" Owens of SEAL Team 6 was mortally wounded and it was later revealed an eight-year-old US citizen Nawr al Awlaki, daughter of American-born al Qaeda leader Anwar al Awlaki, was also killed in the raid.
Despite the alleged failure to kill their target, who has been described as the third most wanted terrorist in the world, the Pentagon insisted that it was able to retrieve "materials and information that is yielding valuable intelligence".
Join our commenting forum
Join thought-provoking conversations, follow other Independent readers and see their replies