Drill, Barack, drill: Obama to open up US East Coast for oil exploration
Environmentalists outraged, but White House hopes decision will help get climate change bill through Senate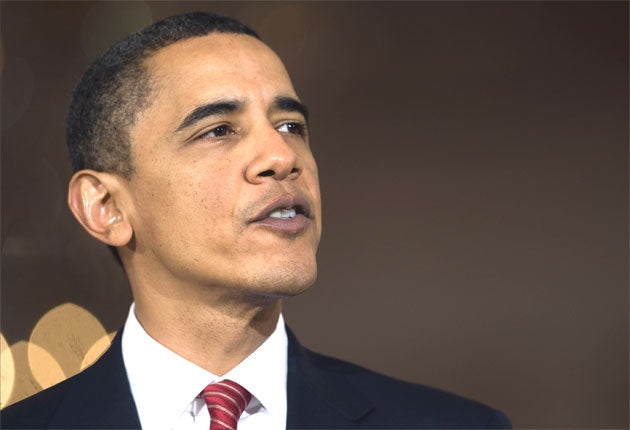 Barack Obama earned the instant anger of environmentalists and many of his core liberal supporters yesterday by declaring his intention to open vast areas of off-shore waters for future drilling for oil and gas, reversing decades-old policies of leaving the waves to fish, gulls and holidaymakers.
The highly controversial plan, unveiled at Andrews Air Force Base, could, over time, give multinational energy companies access to the seabed along much of the eastern seaboard from Delaware all the way south to Florida, in eastern areas of the Gulf of Mexico and off the North Slope of Alaska.
While the President often derided Republicans during the 2008 campaign, including Sarah Palin, for holding out offshore drilling as an answer to escalating petrol prices with their rallying cry "Drill, baby, drill", he has been dropping hints for months of his intention to shift position.
The White House is hoping it may help garner Republican support in the push to get a climate change bill through the US Senate. His aides pitched the change as just one part of a wider effort to reduce US dependence on foreign oil. "This is about giving energy security the American people," press secretary Robert Gibbs said, pointing out that the US is currently about 60 per cent dependent on foreign oil. Mr Obama, he was swift to add, is equally supporting solar and wind options and the construction of new nuclear electricity plants.
The impact would be seen first in a swathe of ocean territory off the coast of Virginia where leases will be put up for sale to energy companies within two years. No new drilling has been permitted in US Atlantic waters for two decades. Meanwhile, government geologists will begin assessing the viability of exploration in other areas along the eastern seaboard.
"This is not a decision that I've made lightly," Mr Obama said, standing in front of a jet fighter that will fly with biofuel. "But the bottom line is this: given our energy needs, in order to sustain economic growth, produce jobs, and keep our businesses competitive, we're going to need to harness traditional sources of fuel even as we ramp up production of new sources of renewable, home-grown energy."
"There will be those who strongly disagree with this decision, including those who say we should not open any new areas to drilling," he added. "But what I want to emphasise is that this announcement is part of a broader strategy that will move us from an economy that runs on fossil fuels and foreign oil to one that relies more on home-grown fuels and clean energy."
The retort from environmentalists was swift. "Is this President Obama's clean energy plan or Palin's 'Drill, baby, drill' campaign?" asked Greenpeace executive director Phil Radford. "While China and Germany are winning the clean energy race, this act furthers America's addiction to oil. Expanding offshore drilling in areas that have been protected for decades threatens our oceans and the coastal communities that depend on them with devastating oil spills, more pollution and climate change."
Other groups reacted in a similar way. "Offshore drilling, especially as close as four miles from Florida's Atlantic beaches, tastes bad no matter which president from whatever party is serving it," said Mark Ferrulo of Environment Florida. "The President's support doesn't change the facts: expanded drilling won't lower gas prices and it represents a dirty and dangerous activity that risks catastrophic damage to our beloved beaches."
"This is stunning. Baffling," said the environmental website Grist. "Obama appears to be taking a major step toward siding with carbon-polluting industries in the battle to defend the energy status quo."
It is not an all-out cave-in to the fossil fuel industry, though, nor to conservatives. The ban will remain for the Pacific coast from California to Washington, where political opposition has been strongest, and a planned sale of leases in the environmentally sensitive Bristol Bay area of Alaska will be cancelled.
Moreover, while areas available for exploration in the Gulf of Mexico will be greatly expanded – contingent on approval by the US Congress – officials said that a buffer will be imposed off the Florida and Alabama shorelines to ensure that rigs will not be visible from land.
Emphasising the need for a broader retooling of energy policy, Mr Obama also announced the introduction of thousands of hybrid cars to the federal fleet while revealing that new rules on fuel economy standards for cars will be finalised today. "This rule will not only save drivers money; it will save 1.8 billion barrels of oil," Mr Obama said. "That's like taking 58 million cars off the road for an entire year."
But the political backdrop is the pending attempt to get the climate change bill through a very reluctant US Senate. Already passed by the House of Representatives, the final version may or may not include a cap-and-trade system designed to enable the meeting of American emission ceilings. The passage of some kind of climate law will be crucial to Mr Obama's credibility on the issue on the world stage.
With yesterday's announcements on offshore drilling, Mr Obama may have availed himself of a crucial bargaining chip, particularly with Republicans in the Senate, whose support for the climate change bill will be crucial if it is ever to pass. However, 10 Democratic senators representing coastal states recently signed a joint letter expressing fervent opposition to an expansion of offshore exploration.
Join our commenting forum
Join thought-provoking conversations, follow other Independent readers and see their replies