El Chapo's son Jesus kidnapped by rival cartel from Mexico restaurant
Authorities say the kidnappers belong to dominant Mexican criminal group the Jalisco New Generation cartel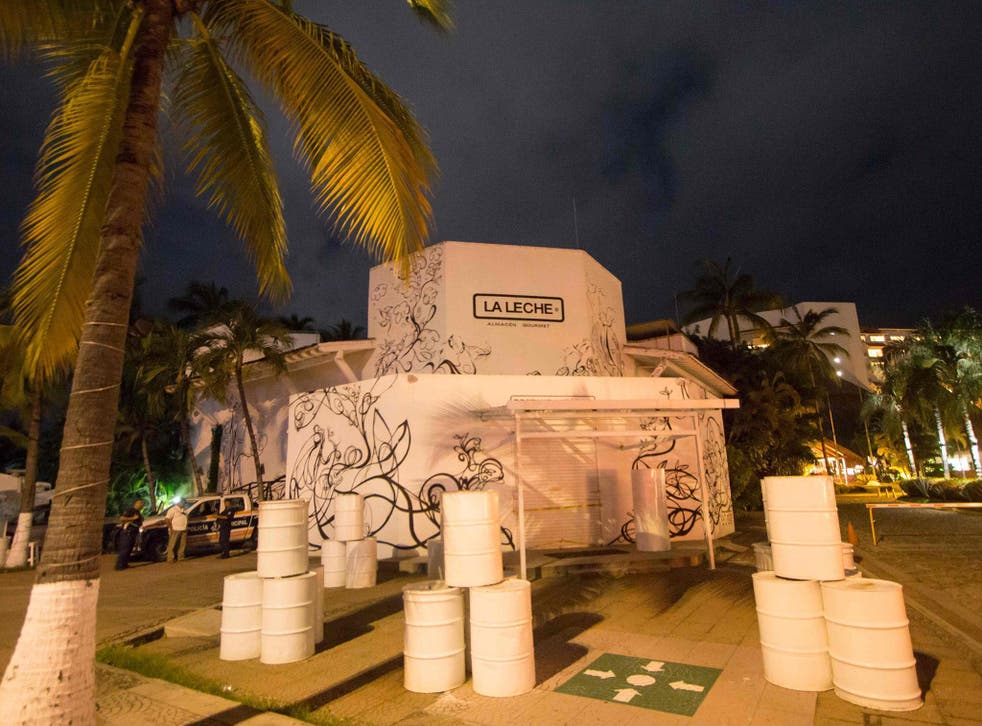 One of the sons of imprisoned drug lord Joaquin "El Chapo" Guzman has been kidnapped by gunman from a Mexican beach resort along with five other men.
Seven armed assailants burst into an upmarket restaurant in the resort in Puerto Vallarta on Monday with "long guns" and violently took the men who had been dining in a large group.
Jesus Alfredo Guzman Salazar, the 29-year-old son of Guzman, has been confirmed by authorities as one of the abducted men.
It was thought that another of Guzman's sons, Ivan Archivaldo Guzman, may have been among the group of men who were marched out of the restaurant. Authorities have identified four of the six men who were taken, but have not commented on whether Ivan could be one of the two people yet to be identified.
At a news conference, Jalisco state Attorney General Eduardo Almaguer said: "The person by the name of Jesus Alfredo Guzman Salazar, age 29, is the son of Joaquin Guzman Loera."
His abduction "has been confirmed by what was found in the vehicles and what security agencies found and the forensic examinations performed," he said.
The assailants have been identified as belonging to the dominant criminal group in the state, the Jalisco New Generation cartel, according to the state attorney, while the victims are all believed to be from the rival Sinaloa cartel headed by Guzman in the neighbouring state of Sinaloa.
Ivan is understood to have assumed control of parts of the Sinaloa cartel's drug operation since his father was re-arrested in January, but the Jalisco cartel has grown quickly to rival Sinaloa's power. Experts said the kidnapping could be the latest in a string of attacks against Guzman's family, perhaps suggesting the drug lord has lost control of his cartel.
Mexican Government release video documenting El Chapo's capture
Camera footage reviewed by authorities showed nine women and seven men were dining together at the time of the abduction.
"The subjects enter, control the diners, separate the women to a side and violently take them (the men)," the Attorney General said.
"They resisted; however, these criminals who arrived did it with a certain violence with long guns."
He said that the one man escaped and authorities have not located any of the women who were left behind, nor have there been any demands for ransom.
"We have not received a single report from anyone to help locate these people who were (kidnapped)," Mr Almaguer added.
Additional reporting by Associated Press
Register for free to continue reading
Registration is a free and easy way to support our truly independent journalism
By registering, you will also enjoy limited access to Premium articles, exclusive newsletters, commenting, and virtual events with our leading journalists
Already have an account? sign in
Register for free to continue reading
Registration is a free and easy way to support our truly independent journalism
By registering, you will also enjoy limited access to Premium articles, exclusive newsletters, commenting, and virtual events with our leading journalists
Already have an account? sign in
Join our new commenting forum
Join thought-provoking conversations, follow other Independent readers and see their replies