El Salvador jails raped teenager for 30 years under murder laws after she said she suffered miscarriage
Lawyers for the 19-year-old said she did not know she was pregnant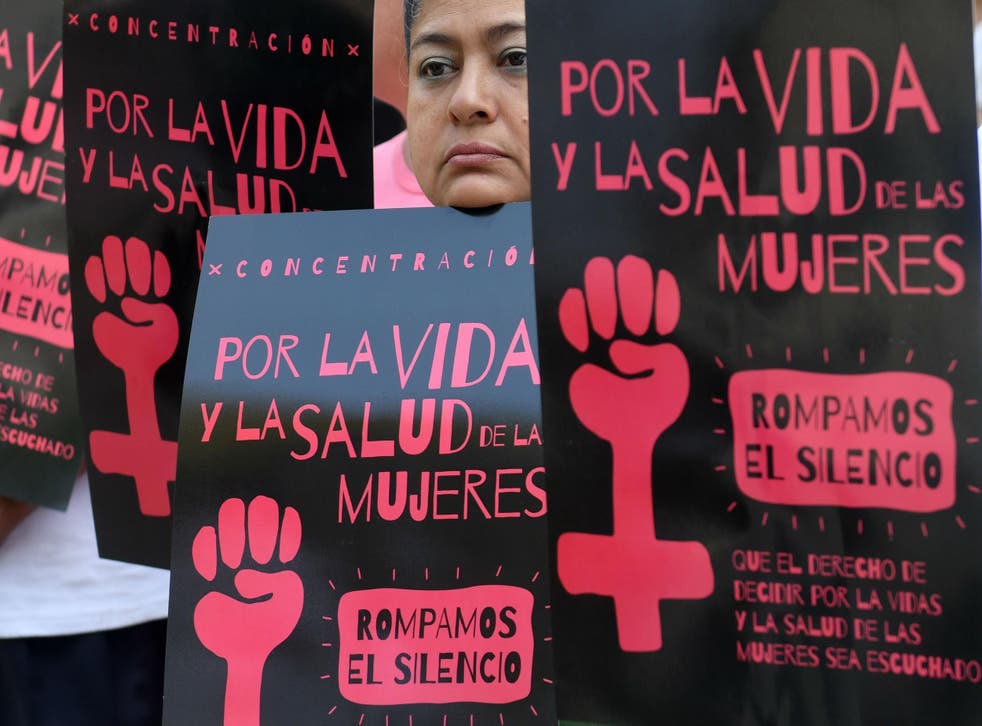 A teenager has been jailed for 30 years after suffering what her lawyers said was a miscarriage, after she was raped a year ago.
A court in El Salvador, a country that has perhaps the world's most strict laws on reproductive rights, found that Evelyn Beatriz Hernández Cruz, 19, had killed her baby by throwing it into a latrine pit after she gave birth. It convicted her of aggravated homicide.
Activists say the sentence is simply the latest in a series of cases in which women are sent to jail, frequently for 30 or 40 years, after suffering miscarriages. Lawyers for the teenager are to file an appeal.
"The judgment sentencing Evelyn to 30 years in prison shows how in El Salvador justice is applied without direct proof, without sufficient evidence that clarifies what a woman has done," said Morena Herrera, Executive Director of the Citizen's Group for the Decriminalisation of Abortion.
"In this case, Evelyn did not kill her newborn child. She simply experienced an obstetric emergency and the state prosecutor has badly interpreted the facts and unfortunately the judge hasn't listened to the witnesses that told her there was no direct proof."
In a statement, she added: "We're going to appeal this decision. Luckily, we still have recourse within the judicial system that - as we've demonstrated in other moments - can be effective so that women unjustly sentenced like Evelyn can regain their freedom."
Salvadorean activist gives her thoughts on Donald Trump
Prosecutors told the court that the teenager had aborted the feotus who thrown its remains into a latrine at her home in Cojutepeque, 25 miles east of the country's capital, San Salvador.
One of the teenager's lawyers, Dennis Muñoz, had argued his client had an out-of-hospital birth in April last year because he did not even know she was pregnant and had confused labour pains with stomach ache.
"We think it's important that this injustice is known in El Salvador - that because of a prejudice, for being a woman, for having a stillbirth that she didn't have control over - she was convicted," said Mr Muñoz.
World news in pictures

Show all 50
The case has played out against the backdrop of an ongoing fight for reproductive rights in the Central American nation. There are a small handful of countries that do not permit abortion under circumstances. Activists say, no country prosecutes the law with as much aggression as the staunchly Catholic El Salvador.
Prior to 1998, abortion was permitted in cases of rape, incest, where a foetus was injured or if the mother's life was in danger.
That year, under pressure from the church and right wing politicians, the law was changed to remove any exceptions whatsoever. Some estimates have suggested that between between 1998 and 2013, more than 600 women have been jailed after being accused of having had an abortion.
Late in 2016, a bill was introduced in the El Salvador Assembly that would decriminalise abortion in cases where a pregnancy puts the life and health of the woman at risk, a medical diagnosis where the foetus cannot survive, a pregnancy resulting from sexual violence or human trafficking.
El Diario De Hoy reported that Mr Muñoz will file an appeal. He said he was ultimately prepared to take the case to the country's Supreme Court if he had to.
Amnesty International said the episiode underscored the need for El Salvador to repeal its "retrograde anti-abortion law".
"El Salvador's anti-abortion law is causing nothing but pain and suffering to countless women and girls and their families," said Erika Guevara-Rosas, the group's Americas Director. "It goes against human rights and it has no place in the country or anywhere."
Join our new commenting forum
Join thought-provoking conversations, follow other Independent readers and see their replies