'San Francisco will end up like Detroit': Why Elon Musk and tech CEOs are fighting lawsuit on homeless crisis
Litigation centers on definition of who counts as 'involuntarily homeless,' Josh Marcus reports
Wednesday 30 August 2023 23:20 BST
Comments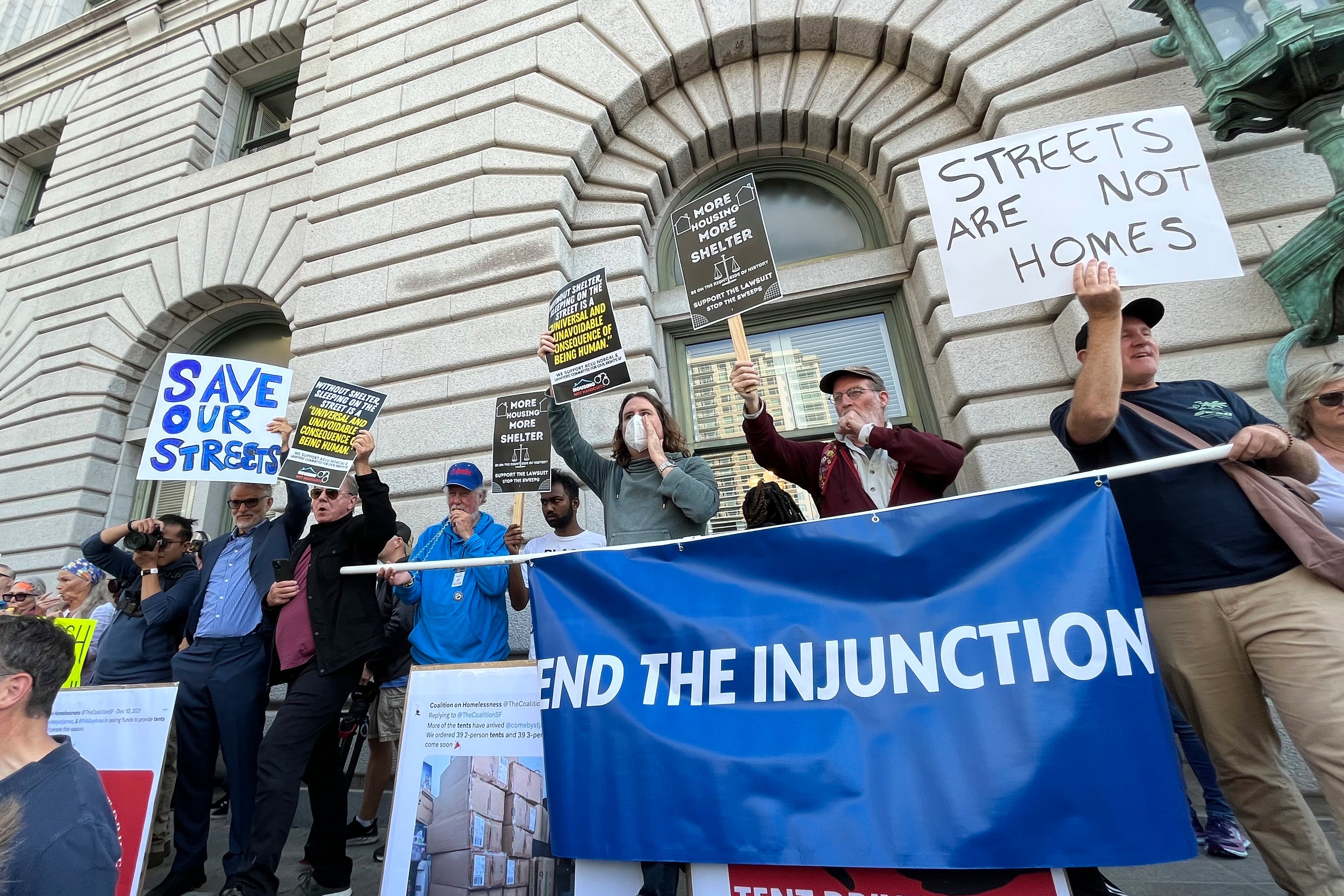 Last year, before his headline-dominating acquisition of Twitter, Elon Musk confessed to being in a state of something like homelessness, though that term doesn't quite feel right for someone now worth more than $257bn.
"I don't even own a place right now, I'm literally staying at friends' places," he said at the time. "If I travel to the Bay Area, which is where most of Tesla's engineering is, I basically rotate through friends' spare bedrooms."
Ninth Circuit Court considering San Francisco's homeless crisis
Even though Mr Musk very publicly moved to Texas a few years ago, he still frequently, albeit sometimes inaccurately, weighs in on the state of San Francisco and its well-documented public safety issues.
Over the weekend, he made perhaps his biggest gesture yet, threatening to go to "war" with the "snakes" supporting a lawsuit challenging San Francisco's homelessness policies.
"They want war? Let's give it to them," Mr Musk wrote on X. "We cannot let these snakes win or San Francisco will end up like Detroit."
The "snakes" in question? The global law firm Latham & Watkins, LLP, which has been assisting a coalition of housing advocacy groups, as well as the ACLU of Northern California, who are suing San Francisco, alleging the city is conducting sweeps of unhoused people without offering them adequate shelter.
Mr Musk, one of San Francisco's most high-profile corporate tenants, floated the idea of asking his companies to cease working with the firm and encouraging other CEOs to do the same.
The Independent has contacted Latham for comment.
He's not alone in siding with the city against the groups.
Garry Tan, a prominent earlier investor in startups like Instacart and Coinbase, who now leads Silicon Valley's prestigious Y Combinator startup incubator, has called the lawsuit "madness" and a sign of "vast corruption" in San Francisco in social media posts of his own.
The lawsuit is more than just fodder for pontificating tech elites online, though.
It could change the way the city interacts with its estimated population of nearly 8,000 unhoused people.
On any given night, San Francisco homeless shelters can have a waiting list of hundreds of people. As of Wednesday morning, 466 were waiting for a spot. And even more people may be staying on the street.
The city's most recent "point-in-time" count showed that more than half of the 7,754 homeless people counted in 2022 were unsheltered.
In September, a group of advocacy organisations called the Coalition on Homelessness sued the city, alleging its homelessness sweeps and other enforcement actions were violating the Martin v Boise ruling, a federal Ninth Circuit appeals decision that declared it illegal to penalise homeless people on government property without offering them adequate shelter.
In December, a judge issued a temporary injunction, halting encampment sweeps, prompting outrage from city officials, who appealed. The case is now before the Ninth Circuit.
The lawsuit has exposed the fractious nature of housing politics in California, where different sides can have vastly different visions of what thoughtful, progressive policy looks like.
City leaders and their supporters argue that the city should be allowed to continue to conduct sweeps because shelters often do have vacancies and some unhoused people refuse shelter offers entirely.
California governor Gavin Newom has previously slammed the injunction as "preposterous" and "inhumane."
He celebrated Mr Musk for calling attention to a "key issue" with his boycott threat.
"California has made record investments — $15.3[bn]," the governor wrote on X. "But federal courts block local efforts to clear street encampments — even when housing and services are offered. Courts must also be held accountable. Enough is enough."
The mayor of San Francisco has gone even further, claiming the Coalition on Homelessness has held the city "hostage" for decades during a round of recent protests in front of the Ninth Circuit.
City Attorney David Chiu has alleged that the advocacy coalition won't stick by comments it made in court seeming to exempt those who refuse shelter from the injunction's pause on sweeps.
"It is unfortunate and telling that Plaintiffs are unwilling to confirm in writing what they told the Court," he said in a Tuesday filing. "It does not make sense that a person who rejects a shelter offer or has a shelter bed but chooses to maintain a tent on the street should be considered 'involuntarily homeless.'"
However, advocates argue that the city shelter system is not adequate to house the numerous people on San Francisco streets each night, so further sweeps amount to inhumane treatment.
"[The City] insists on a charade that the City makes valid shelter 'offers' to unhoused individuals when the entire shelter system is at capacity, 400 individuals are waiting patiently on a waitlist to shelter to no avail, and the City itself doesn't know if any shelter will become available on a given day when it continues to threaten the enforcement of laws enjoined by the district court's injunction," Zal Shroff, an attorney representing the Coalition on Homelessness, recently told CBS News Bay Area. "We should expect better from our political leaders. San Francisco deserves better."
A trial over the future of the injunction could take place in April 2024.
Join our commenting forum
Join thought-provoking conversations, follow other Independent readers and see their replies