Eric Trump compares leaking President's tax returns to 'third world practice'
Donald Trump's son said it was 'dangerous' to publish the documents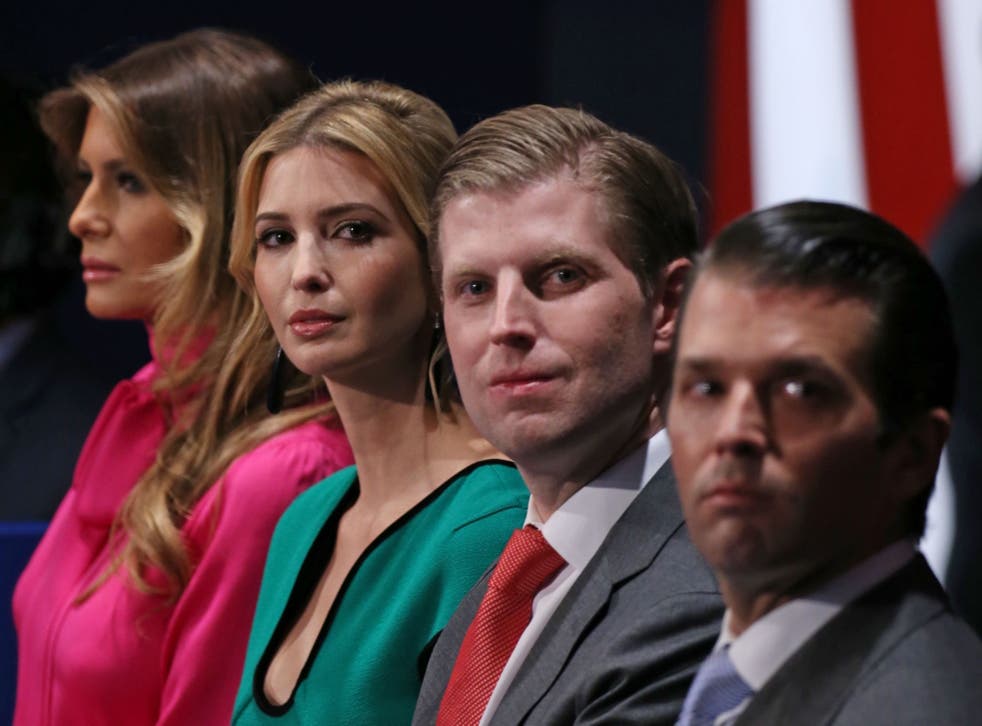 Donald Trump's son has railed against the anonymous leak of his father's tax returns from 2005, claiming that journalists obtaining and publishing the documents was "scary", "dangerous" and a "third world practice".
In an interview with Fox News, Eric Trump said: "It's really sad that we're in an environment where tax returns are leaked by whoever it may be.
"Just think about how dangerous that is, how third world, that is, of a practice."
He was referring to MSNBC's The Rachel Maddow show, which last week published the President's two-page tax return from 2005.
The returns were reportedly sent in the post to Pulitzer-winning journalist David Cay Johnston from an anonymous sender, and speculation swirled it was sent by the President himself to clear his record.
The newly appointed executive Vice President of the Trump Organisation added: "When personal information is being put out by people for political agendas, as a civilian it's actually scary to me."
Donald Trump Jr tweeted his "thanks" to Ms Maddow after the show.
"Thank you Rachel Maddow for proving to your #Trump hating followers how successful @realDonaldTrump is & that he paid $40mm in taxes!"
The President's sons and his wider family have been criticised for failing to give concrete evidence that his father does not have conflicts of interests as President whilst still standing to benefit financially from his business empire, and for racking up millions of dollars of taxpayers money on security costs as they travelled the globe, opening hotels and golf courses since the Inauguration.
Rachel Maddow reveals how she acquired two pages from an old Donald Trump tax return
His father said reports that his tax returns just turned up in the mailbox of the journalist were "fake news" and that nobody had heard of the award-winning Mr Johnston. The White House issued a scathing response, claiming the "dishonest media" had an "agenda" and that it was "illegal" to steal and publish the returns.
An ABC/Washington Post survey in January found that 49 per cent of Mr Trump's own supporters wanted to see the President's tax returns, but Mr Trump and his aides insisted for months that the returns were under audit and therefore not able to be released – a claim that was widely debunked.
The President also claimed that only journalists wanted to see the returns, and one could "learn very little" from a tax return.
The two pages from 2005 showed the President had paid little in income tax and had instead paid millions in Alternative Minimum Tax – a special rate applied to high earners who make frequent use of tax deductions.
Kellyanne Conway says President Trump will not release his tax returns
The documents from 2006 to 2016 would show, if any, evidence of the President's ties to Russia, which he has flatly denied. His son shared that sentiment with Fox News.
"It actually infuriates me," he said.
"We have no projects in Russia. If we had projects in Russia, you'd have our name on those projects. We're not exactly bashful about hiding our name. We like having our name on our buildings, including Trump Tower."
There is little indication that Mr Trump will release his returns for the succeeding decade, which would shed further light on his business dealings and potential tax avoidance.
The now-President admitted during a debate on the campaign trail that he "of course" took advantage of a tax loophole which allowed him to avoid paying income tax for almost a decade after making a near $1 billion loss in 1995.
Mr Trump's adviser and former mayor of New York City, Rudy Giuliani, described Mr Trump as a "genius" for avoiding tax in this way.

Join our new commenting forum
Join thought-provoking conversations, follow other Independent readers and see their replies