Eric Harris shooting: Footage shows Tulsa reserve deputy fatally shoot unarmed black man after 'mistaking' gun for Taser
Tulsa Police said the fatal shooting was an 'inadvertent mistake'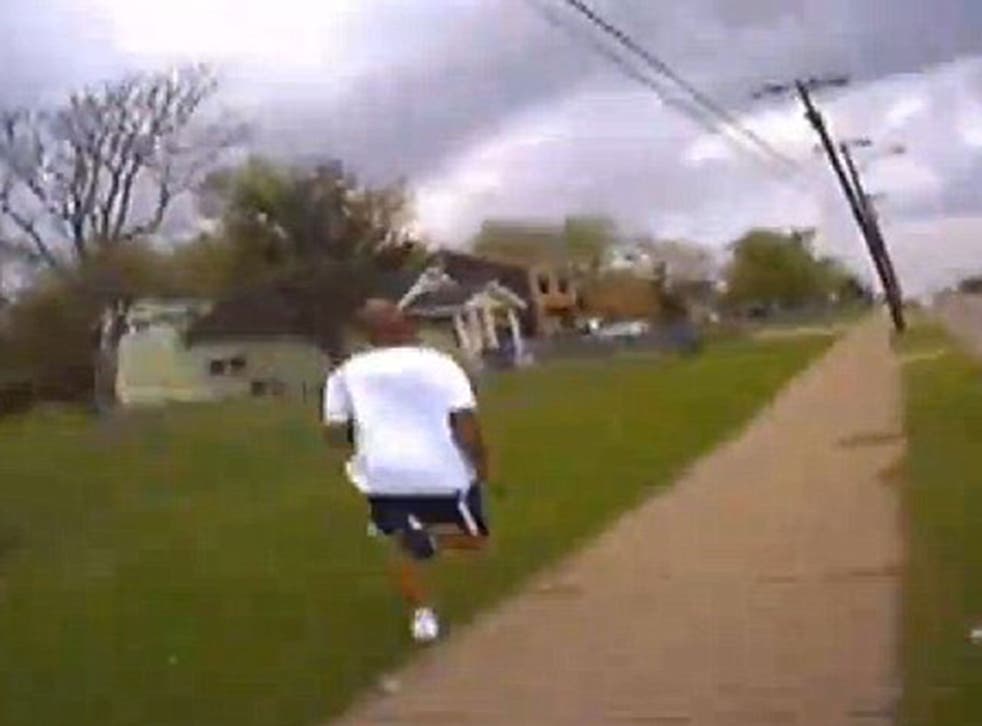 Video has been released of the moment a reserve police officer in Oklahoma shot and killed an unarmed black man after he claims to have mistaken his gun for a Taser.
Just a week after video emerged of Walter Scott being fatally shot by a police officer in North Carolina, disturbing police bodycam footage shows 73-year-old reserve deputy Robert Bates shoot 44-year-old Eric Courtney Harris as he is being restrained on the ground in Tulsa, Oklahoma.
Bates later told police that he believed he was using his Taser stun gun and not his handgun when arresting Harris.
In the video that was released on Friday, police are captured pursuing Harris in a patrol car before exiting the vehicle and tackling him to the ground.
A gun shot is then heard coming from Bates' gun, and the insurance executive is heard saying, "I'm sorry, I shot him."
Despite complaints by the wounded Harris that he is having problems breathing, officers continue to pin him to the ground by kneeling on his head.
One officer tells Harris that he should "Shut the f*** up" and telling him that he "shouldn't have f***ing run away".
Bates was pronounced dead approximately one hour later.
Sheriff's Capt. Billy McKelvey said that the arresting officers were not aware that Harris had been shot and called for medical assistance as soon as they realised.
In pictures: Walter Scott shooting

Show all 12
As a reserve deputy assigned to the violent crimes task force, the 73-year-old who works as an insurance executive, has "the full powers and authority" of a deputy while on duty.
Commenting on the incident, McKelvey called the shooting an inadvertent mistake, and Police Sgt. Dave Walker said that police "would not investigate the death unless the sheriff's office asked them to, and they have not asked us to."
Bates told the Tulsa World: "It was me," following the shooting.
Adding: "My attorney has advised me not to comment. As much as I would like to, I can't."
Harris's death is the latest in a long list of black males to have died after incidents with the police.
Last year, the deaths of 18-year-old Michael Brown in Ferguson, Missouri and New York father-of-six Eric Garner sparked protests across the US with many questioning the use of fatal force by US police forces.
Register for free to continue reading
Registration is a free and easy way to support our truly independent journalism
By registering, you will also enjoy limited access to Premium articles, exclusive newsletters, commenting, and virtual events with our leading journalists
Already have an account? sign in
Register for free to continue reading
Registration is a free and easy way to support our truly independent journalism
By registering, you will also enjoy limited access to Premium articles, exclusive newsletters, commenting, and virtual events with our leading journalists
Already have an account? sign in