'Eric Sheppard Challenge' flag desecration divides Americans online
A string of social media challenges and counter-challenges about flag desecration have taken over the US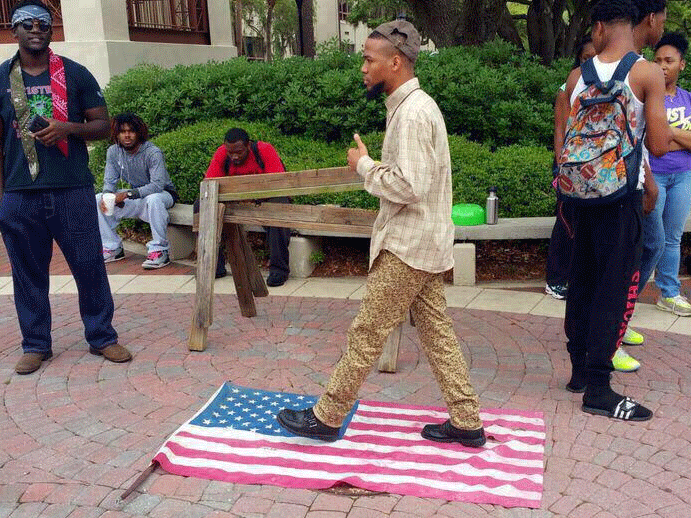 A social media battle over racism and civil rights has sprung up in the US after political activists started posting images online of them stamping on American flags.
The so-called 'Eric Sheppard Challenge' began after Eric Sheppard, a member of the black nationalist New Black Panthers Party, appeared in a photo walking on an American flag at a protest against racism at Georgia's Valdosta State University on 17 April.
Sheppard has described himself as a "terrorist towards white people" in a video, where he lays down his views on race and equality in America.
Shortly after Sheppard's protest, police found a backpack on the university campus containing a firearm. They claim they have "unmistakable evidence" that it belongs to Sheppard. A warrant was issued for his arrest for bringing a weapon into a school zone, and he has been on the run.
Since the original protest, his supporters have posted videos and pictures online of themselves doing the 'Eric Sheppard Challenge', in which they walk, stamp and dance on American flags.
The most popular of these was posted by Erica Walker, who appears in a video holding a sign that says #EricSheppardChallenge. She dances and jumps on the flag, before signing off by shouting "F**k your flag" at the camera.
Her video has been shared and viewed tens of thousands of times, and has prompted many imitations by people protesting against what they see as racism in American society.
There has been a wave of protests and riots across the US in recent months, due to a string of young, often unarmed, black men being killed by police. Many of the protests and riots, like the most recent in Baltimore, were over specific incidents of police violence, as well as racism across society.
Desecration of the flag is technically against federal law in the US - however, it is not enforced and the Supreme Court has ruled that enforcing it with punishment would infringe on Americans' first amendment right to free speech.
However, it is a thorny issue that regularly crops up in America, as the flag is highly respected and revered by many Americans.
In response to the 'Eric Sheppard Challenge', many counter protests have occurred, sometimes at planned flag-trampling protests, but mostly online.
In yet another challenge, Bryce Wagoner posted a video online of his very own 'American Flag Challenge', in which he tells viewers to "go get a flag, put it in your front yard, display it proudly and show that you're proud to be an American."
Yet another proud American, Dakota Meyer, who has won America's highest military award, the Medal of Honour, started a campaign of his own, against those that he thinks are "disgracing what this country stands for."
He encouraged people to post patriotic images on social media with the hashtag #NeverOutgunned, telling supporters to show that "we love our country and we love it more than anything in the world."
The counter-challenge seems to be much more popular online, with far more videos and pictures of people proudly flying their flags appearing online than people trampling them.
However, the battle seems far from over. The riots in Baltimore have mostly subsided, after being sparked by the death of Freddie Gray, a black man who died from injuries sustained during his arrest by Baltimore police.
A police investigation found that Gray was innocent of any crime, and the six police officers involved with the arrest face charges of murder, manslaughter, assault, and misconduct in public office, which has quelled public anger.
After Freddie Gray: Baltimore unrest in pictures

Show all 22
Join our new commenting forum
Join thought-provoking conversations, follow other Independent readers and see their replies