EU referendum: How the US views Brexit – from John Oliver to Donald Trump
John Oliver turned his US comedy show into a festival of Brexit - and Boris Johnson - derision
David Usborne
New York
Monday 20 June 2016 21:42 Comments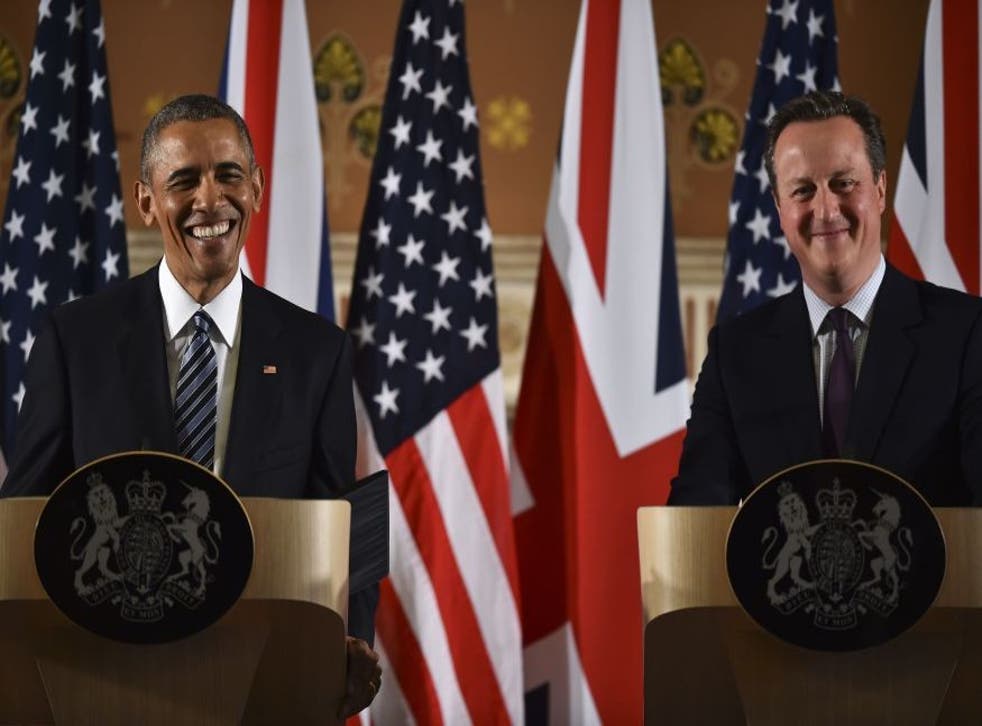 Even while its citizenry remains largely oblivious, the ruling institutions of the United States - its government, military and economic powerhouses - are united in their desire to see Britain resist the populist appeal of Brexit and opt instead to remain within the European Union.
It has not gone unnoticed among the American political classes that in the run-up to Thursday's referendum vote, the so-called 'establishment' in Britain - the ruling conservatives of Prime Minister, David Cameron, certainly, but also the leadership of the opposition Labour Party - has been buffeted by some of the same forces unleashed by Donald Trump in the United States.
Indeed, insert Britain in Mr Trump's slogan, Make America Great Again, and you'd have a serviceable rallying cry for the Leave campaign. The nativist-populist-nostalgic messaging travels across the pond rather easily.
Add to that the other ingredient of the political season - voters' impatience with being told what to think - and the overlap between the two political phenomena becomes more striking still.
Laurence Fink, CEO of the investment giant BlackRock, observed on Monday that if the vote in Britain is close it's surely because its electorate is angry, just as it is in the United States. Directed at politics- (and politicians-) as-usual, it's a fury fed by a deep anxiety about what the future holds. Even if Remain prevails, Mr Fink said, the Government will have to move swiftly to offer economic relief.
"The UK has to begin a major fiscal policy expansion, especially in infrastructure," he told CNBC, the business news channel, seeing a parallel between the angst in Britain and "what's going on here in our election cycle."
While Wall Street, the multinational boardrooms of Manhattan and President Barack Obama's advisors may be Brexit-fixated this week - for every poll released in Britain there is an accompanying change in direction in the main Wall Street share indexes (mostly upwards this week so far) - the term has not made it into the American vernacular. It sounds, the British comedian John Oliver surmised on his weekly HBO cable show, like a disastrous brand of health bar. (SurelyWheetabix was somehow on his mind.)
Indeed, with a 13-minute discourse on the current state of Brexit this past Sunday, Mr Oliver may have offered Americans the least opaque explanation of what it is all about so far.
"Polls suggest my homeland is on the edge of doing sometime absolutely insane," he offered on his latest edition of Last Week Tonight with a look of man appalled. "And yet on some level I actually kind of understand, because there is an inmate British desire to tell Europe to go f*** itself."
His scorn for the Leave campaign, however, was impressive. It is being led, he declared, by a former mayor of London named Boris Johnson, "a man with both the look and the economic insights of Bamm Bamm from the Flintstones".
The staunchest call on Britain to end its flirtation with resumed isolation of course came from President Obama himself on his visit to London in April. Leave the bloc, he said, and the UK could expect to be at the back of the queue seeking new trading arrangements with the United States. How much his comments hurt or helped Mr Cameron remains a point of debate.
Hillary Clinton has been similarly robust supporting the status quo. "Hillary Clinton believes that transatlantic cooperation is essential, and that cooperation is strongest when Europe is united," her top policy advisor, Jake Sullivan, told The Observer in April. "She has always valued a strong United Kingdom in a strong EU. And she values a strong British voice in the EU."
Britain's gradual integration into Europe has rendered the term 'the special relationship" more and more meaningless. Yet ironically it would become simply inaccurate were it now to leave the Union. That was the clear implication of Mr Obama's comments in London; Britain wouldn't magically matter more again to the United States. It would matter far less.
Clearly, the anxiety also extends into the realm of military and security cooperation. Murmurs from Berlin and Paris in recent days about the need for some new sort of joint defense initiative between them should Britain step away will only leave the US defense community even more unsettled about the impact of Brexit on European security and the chill it would cast on Nato.
"The UK is such an important member of the alliance," Lt-Gen Ben Hodges, head of the US Army in Europe, recently told the BBC. "It is a leader in the alliance. It is a leader in Europe. The most reliable trusted friends and allies we have are all European countries and so what goes on here is of strategic interest to us," he said.
"Anything that undermines the effectiveness of the alliance has an impact on us, and so if the EU begins to become unravelled, there can't help but be a knock-on effect for the alliance also."
That corporate and financial America should be similarly concerned is also of little surprise. Figures excoriating Brexit include the investment guru Warren Buffett and Jamie Dimon, the CEO of J.P. Morgan, whose bank has about 16,000 employees in Britain. "In my opinion, it is a terrible deal for the British economy and jobs," Mr Dimon said of Brexit. Mr Buffett was slightly more sanguine, but still concluded, "I hope they don't do it."
Mr Trump may better represent how ordinary Americans feel out about Brexit. When asked recently to comment on it by journalist Michael Wolff, he replied. "Huh?" That was followed by, "Hmm". Finally he seemed to cotton on. "Oh yeah, I think they should leave," he said.
As it happens, Mr Trump will be in Scotland this Friday to open a new golf course, by which time the fate of Britain's relationship with the EU may have been determined. He will surely draw new strength and encouragement if it is a win for Brexit, because he will see in it confirmation that people everywhere are in the same sort of mood, determined to overturn the applecarts.
For those still on the fence in Britain, this might almost be worth keeping in mind. Don't like the sound of Mr Trump? Vote Remain!
Register for free to continue reading
Registration is a free and easy way to support our truly independent journalism
By registering, you will also enjoy limited access to Premium articles, exclusive newsletters, commenting, and virtual events with our leading journalists
Already have an account? sign in
Join our new commenting forum
Join thought-provoking conversations, follow other Independent readers and see their replies