Image of NFL player burning US flag revealed to be a fake
Conservative social media accounts are sharing the viral image and accusing NFL players of disrespect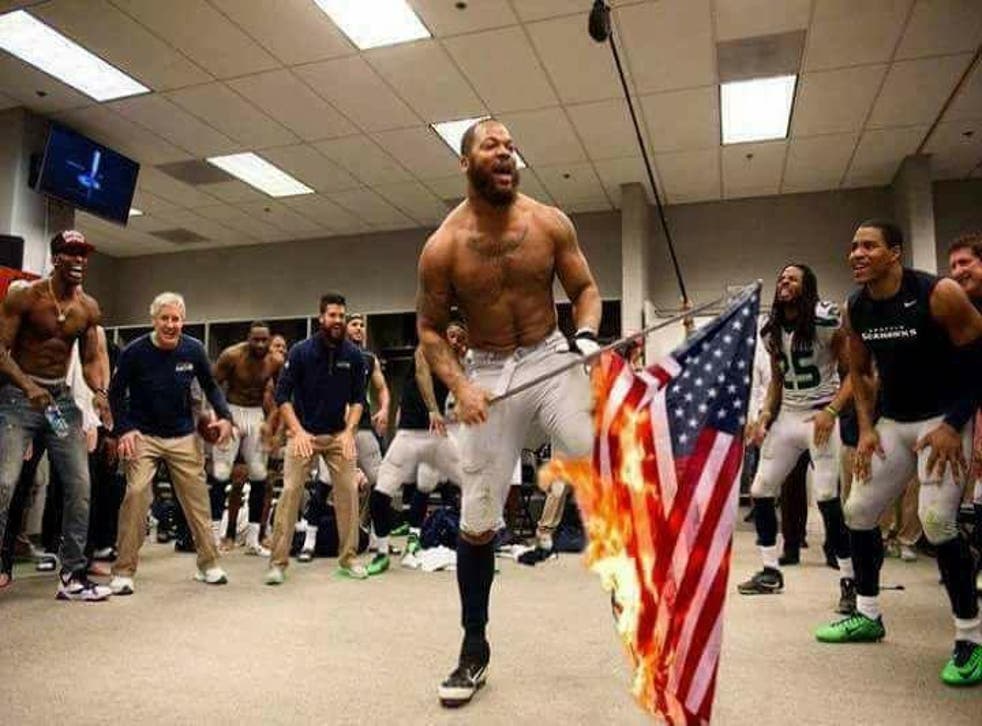 An image of an NFL player burning the American flag in a locker room has gone viral despite being completely fake.
The doctored photograph, which has been shared thousands of times on social media, shows Seattle Seahawks defensive end Michael Bennett fervently burning the flag.
His teammates and head coach Pete Carroll can be seen enthusiastically cheering him on in the background.
While most of the scene in the image is real, the flame has been superimposed on the original photo which was shared from the American football team's official Twitter account in January 2016.
Conservative social media accounts shared the Photoshopped image and used it to accuse the athletes of disrespect and argue they should be sacked.
"Look at the elation on their faces. Does it look like the Seahawks care about America or what that flag represents?" asked one on Twitter.
"You may be a bad man on the football field but burning the flag that I shed my blood to honour would be just cause to whack you upside your ignorant head," said another.
Nevertheless, even some of those who were against the NFL were able to discern that the image was fake, noting that sprinklers would be going off it had been real.
Iran's 'Trumpism' contest

Show all 10
"I'm pretty sure the sprinklers would be going off if this was real. I'm done with the NFL even if it is Photoshopped. Enough is enough," said one.
The fake image follows President Donald Trump's call for NFL owners to fire any "son of a b****" who refuses to stand for the national anthem.
"Wouldn't you love to see one of these NFL owners, when somebody disrespects our flag, to say, 'Get that son of a b**** off the field right now. Out! He's fired. He's fired!'" Mr Trump said at an Alabama rally last weekend.
For over a year some NFL players have chosen to sit out of the national anthem to protest the killing of black people by police officers. The movement was sparked by Colin Kaepernick who started refusing to stand as a protest against police brutality and racial injustice while playing for the San Francisco 49ers.
Ironically, Mr Trump's barbed remarks generated greater attention to the protests and prompted even more members of the NFL to join in.
On Friday, President Trump claimed NFL teams are "afraid of their players" and so can't respond to the recent protests by American football players. "Owners are "in a situation where [they] want to do something. But they are "afraid of their players, if you want to know the truth," he told Fox News.
Register for free to continue reading
Registration is a free and easy way to support our truly independent journalism
By registering, you will also enjoy limited access to Premium articles, exclusive newsletters, commenting, and virtual events with our leading journalists
Already have an account? sign in
Register for free to continue reading
Registration is a free and easy way to support our truly independent journalism
By registering, you will also enjoy limited access to Premium articles, exclusive newsletters, commenting, and virtual events with our leading journalists
Already have an account? sign in
Join our new commenting forum
Join thought-provoking conversations, follow other Independent readers and see their replies