Father of Koch brothers helped build Nazi oil refinery, book claims
With a net worth of more than $40bn apiece Charles and David Koch are America's wealthiest private political donors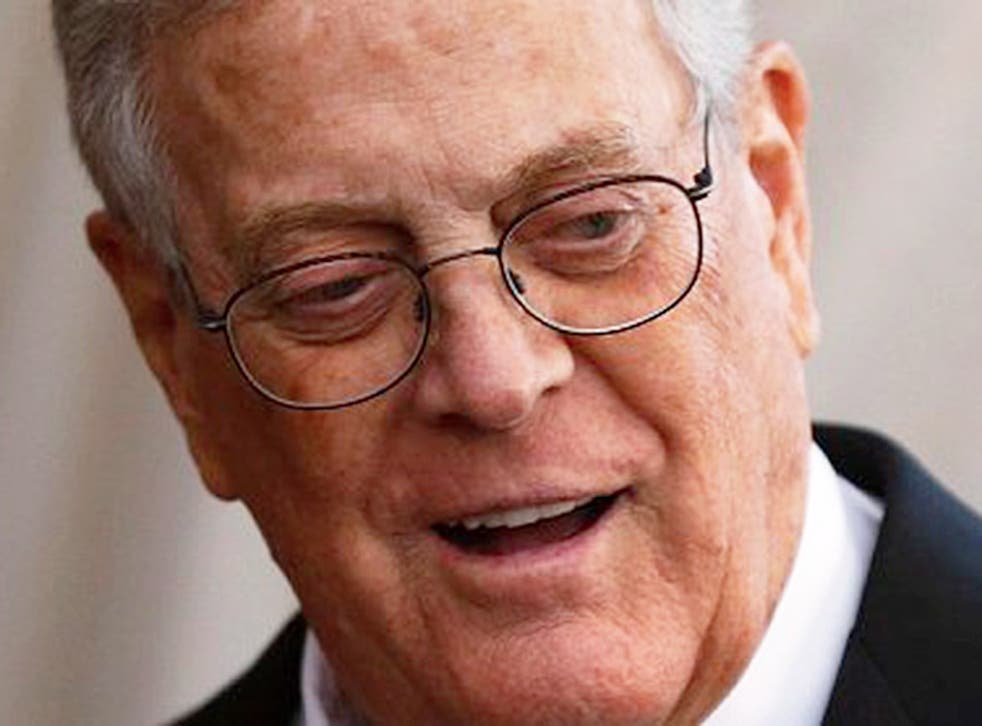 The father of billionaire right-wing industrialists Charles and David Koch, who have come to personify the unchecked power of private money in US politics, helped to build an oil refinery for the Nazis, a new book has claimed.
With a net worth of more than $40bn (£28bn) apiece, the Koch Brothers – Charles, 80, and David, 75 – are America's wealthiest and most influential private political donors. They have long backed efforts to deregulate campaign financing, and have said their network of conservative contributors will spend close to $900m on the 2016 US presidential race.
In her new book, Dark Money, journalist Jane Mayer claims their father, Fred Koch, the founder of their firm Koch Industries, helped to build the third-largest oil refinery in Nazi Germany in the run-up to World War Two. Mr Koch was hired for the project by William Rhodes Davis, an American oil-man and Nazi sympathiser, and its construction was personally signed-off by Adolf Hitler.
Work on the vast refinery near Hamburg began in 1934, Ms Mayer writes, reporting that Fred Koch was so impressed by the discipline of German workers that he hired a Nazi governess for his children. The refinery would later be vital to the Third Reich's military endeavours, supplying fuel for the planes of the German Luftwaffe. It was eventually destroyed by the US military in 1944.
Ms Mayer was not granted interviews with Charles or David Koch for the book. A spokesman for Koch Industries said in a statement that the brothers and their employees had yet to read it, adding: "If the content of the book is reflective of Ms Mayer's previous reporting of the Koch family, Koch Industries or Charles's and David's political involvement, then we expect to have deep disagreements and strong objections to her interpretation of the facts and their sourcing."
15 Facts You Didn't Know About Hitler

Show all 15
Dark Money traces the history of those wealthy Americans whose funding fuelled the rise of the modern conservative movement, among them Richard Mellon Scaife, a banking heir said to have donated more than $1bn to conservative causes before his death in 2014. Details of Ms Mayer's book, which is due to be published on 19 January, were first reported by the New York Times.
In building a network of conservative donors to filter campaign cash not only to national candidates, but also to state and local politics, the Kochs have driven an anti-government, anti-tax agenda that bolsters their business interests while purporting to be in the public interest, Ms Mayer suggests.
During the Obama administration, the brothers and their allies have used their political weight to block climate change legislation, badmouth Obamacare and back the rise of the Tea Party movement. Yet in an interview with the Financial Times last week, Charles Koch said he had been "disappointed" by the candidates being fielded for this year's Republican presidential nomination.
Dark Money also details the battle behind the scenes of Koch Industries, between Charles and David Koch and their siblings Frederick, 82, and William, who is David's twin. In the book Ms Mayer reportedly describes a sealed deposition from 1982, in which William Koch recalled having joined Charles and David in a blackmail plan to wrest any control of the business from their eldest brother, by threatening to tell their father that he was gay, before Fred Koch Sr's death in 1967.
Join our new commenting forum
Join thought-provoking conversations, follow other Independent readers and see their replies