Female Mexican mayoral candidate 'decapitated' in state that saw disappearance of 43 students
Aidé Nava's husband was murdered last year and her son was abducted in 2012 in the violent state of Guerrero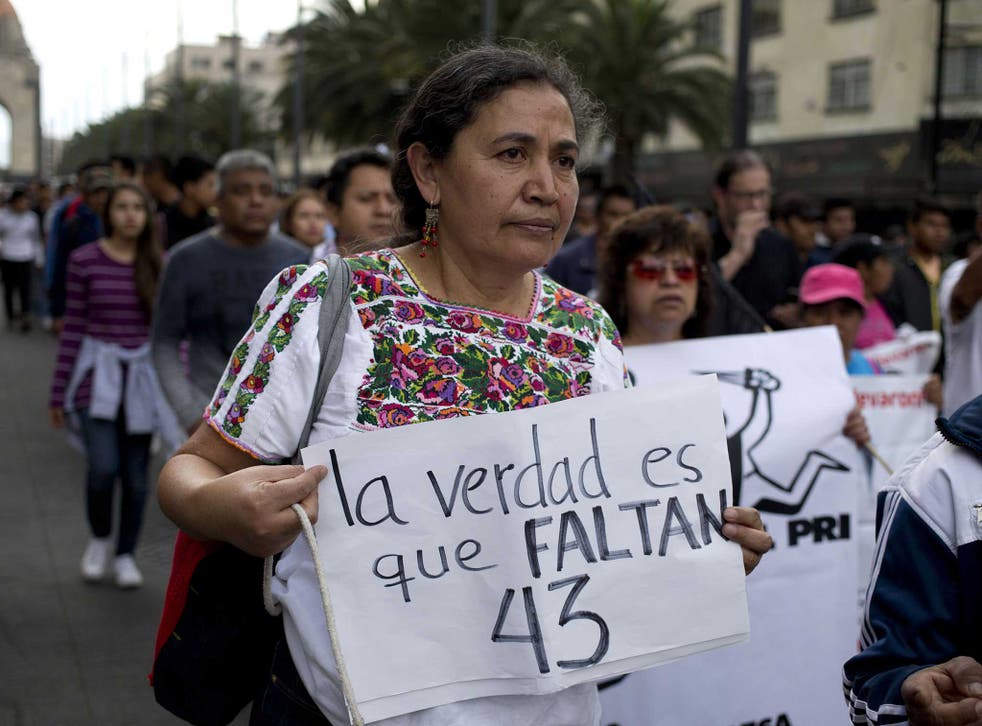 A female mayoral candidate for the Mexican town where 43 students disappeared has been killed and her body reportedly found decapitated by the side of a road.
Hours after Aidé Nava was abducted by a group of armed men, her corpse was discovered on Tuesday night on dirt road in the Mexican state of Guerrero, state prosecutors confirmed yesterday.
A note next to the body, written in red ink and signed "Los Rojos" – one of the main criminal groups in the state, threatened similar treatment for any politician who did not "fall in line".
Mrs Nava, whose husband was murdered last year following the abduction of their son two years before, was attending a small political event with local supporters when she was kidnapped on Monday night.
The 42-year-old, who announced her intention to run only last weekend, was seeking the mayoral candidacy of the left-wing Democratic Revolution Party in the town of Ahuacuotzingo.
Her husband Francisco Quiñónez, who was shot dead in 2014, served as the town's mayor between 2009 and 2012. The couple's son was also abducted in the same year.
Guerrero chief prosecutor Miguel Angel Godínez told Milenio TV that he could not confirm that Mrs Nava had been beheaded as local media have reported, but added: "It is a very unfortunate and important case that we have to treat with a great deal of care."
Protests in Mexico over 43 missing students

Show all 13
The violent state, infamous for the disappearance and suspected massacre of 43 trainee teachers last year, is one of several Mexican states holding elections for local positions on 7 June.
President Enrique Peña Nieto is struggling to make inroads against the criminal gangs that control many areas such as Guerrero.
The murder of 43 students in September last year was seen as a tipping point, with thousands taking to the streets in across Mexico to protest police collusion and inaction.
Federal prosecutors allege the students were abducted by Iguala's police force, who turned them over to a drug gang that killed them and incinerated their bodies. This version of events has been disputed by outside observers, who challenge there are significant gaps in the prosecutor's version of events.
The parents of the killed students have pledged to prevent elections in Guerrero.
Additional reporting by Reuters and Associated Press
Register for free to continue reading
Registration is a free and easy way to support our truly independent journalism
By registering, you will also enjoy limited access to Premium articles, exclusive newsletters, commenting, and virtual events with our leading journalists
Already have an account? sign in
Register for free to continue reading
Registration is a free and easy way to support our truly independent journalism
By registering, you will also enjoy limited access to Premium articles, exclusive newsletters, commenting, and virtual events with our leading journalists
Already have an account? sign in
Join our new commenting forum
Join thought-provoking conversations, follow other Independent readers and see their replies