Mexico's largest university hosts feminism conference without a single female panellist
Event at National Autonomous University of Mexico intended to celebrate gender activist Marta Lamas ridiculed online as 'pinnacle of mansplaining'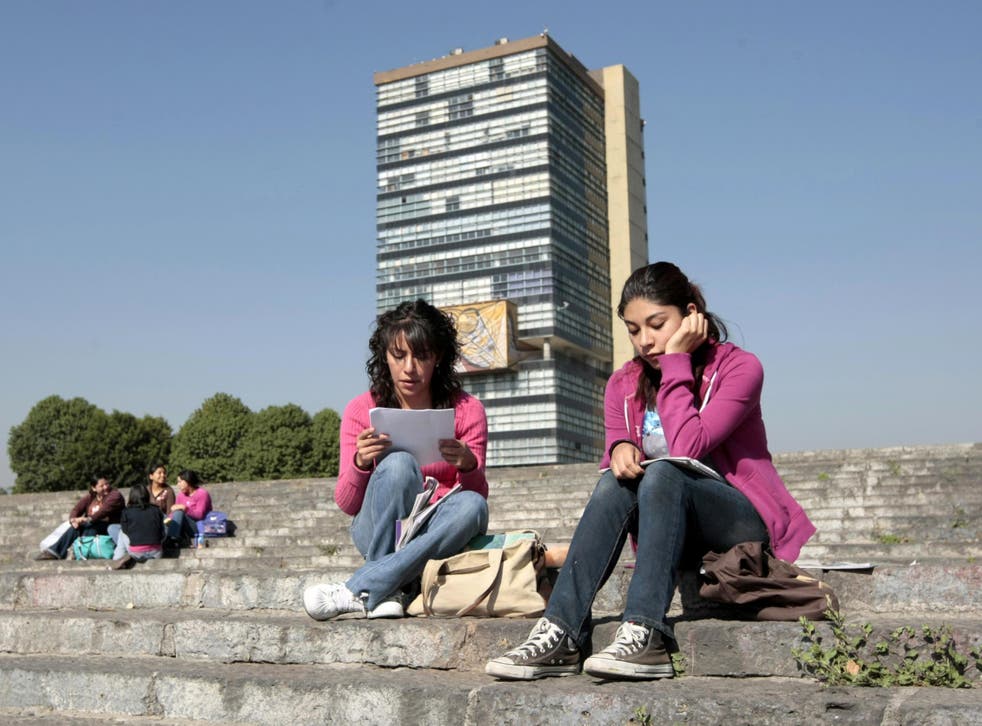 This week, Mexico's biggest university began advertising a conference on feminism. There would be two panels, exploring big issues such as law and economics. The organisers had thought of everything, right down to the cheerful pink fliers used to alert students.
They'd thought of everything, it seems, except including a woman.
The fact that all 11 members of the session's two panels are male sparked a fierce outcry on social media.
It turns out, though, that the gender imbalance was by design.
The event will be moderated by Marta Lamas, one of Mexico's most prominent feminists. Called "Marta Lamas in dialogue with XY," a reference to the male chromosome, it will feature spirited debate. Lamas called the event's structure "different and provocative." I have spent 48 years discussing feminism on panels only with women," she told the BBC. "And this time I thought, 'Okay, let's see what men have to say'... I am trying to change the world for men, too."
Lamas helped pick the panels. And while she said she expected some blowback, she wasn't prepared for the online outrage. On Twitter, one woman called it the pinnacle of "mansplaining." Another asked, "What's next? A conference on racism with only white people?"
"Feminism for dummies: we don't have a single representative, there are many of us and we're very diverse. Invite many women to your debates," tweeted the feminist blogger Ana González.
The event was organised by the humanities department of the National Autonomous University of Mexico, in honour of Lamas's 70th birthday. The anthropologist and political science professor has written several books on gender discrimination, abortion and prostitution. She also founded a feminist magazine called Fem in the 1980s and led a successful effort to decriminalise abortion.
The university did not immediately respond to queries about the event. But allies of Lamas, like reproductive rights advocate Regina Tames, urged people to calm down. "It's an event where male allies and friends are going to honour Marta," Tames argued on Twitter.
Women in Mexico have long struggled with questions of representation. Even today, it's not uncommon to find panels, businesses and leadership boards run entirely by men. That's prompted one group, Con Nosotras, to call on public speakers to boycott all-male forums.
World news in pictures

Show all 50
"It's good that this has created debate about the issue," co-founder Susana Ochoa told The Guardian. "I think their intention was good but it wasn't communicated appropriately."
She said she hoped the outcry would inspire Mexicans to do some soul-searching about why it's so important to include women in public debate. "Women have not been represented in this country for a long time," she said.
The Washington Post
Register for free to continue reading
Registration is a free and easy way to support our truly independent journalism
By registering, you will also enjoy limited access to Premium articles, exclusive newsletters, commenting, and virtual events with our leading journalists
Already have an account? sign in
Register for free to continue reading
Registration is a free and easy way to support our truly independent journalism
By registering, you will also enjoy limited access to Premium articles, exclusive newsletters, commenting, and virtual events with our leading journalists
Already have an account? sign in
Join our new commenting forum
Join thought-provoking conversations, follow other Independent readers and see their replies