Ferguson Missouri riots: Police use rubber bullets and tear gas as new witness says Michael Brown was shot while 'backing away with hands up'
As anger over black teenager's death escalates, Barack Obama has been criticised for staying away on holiday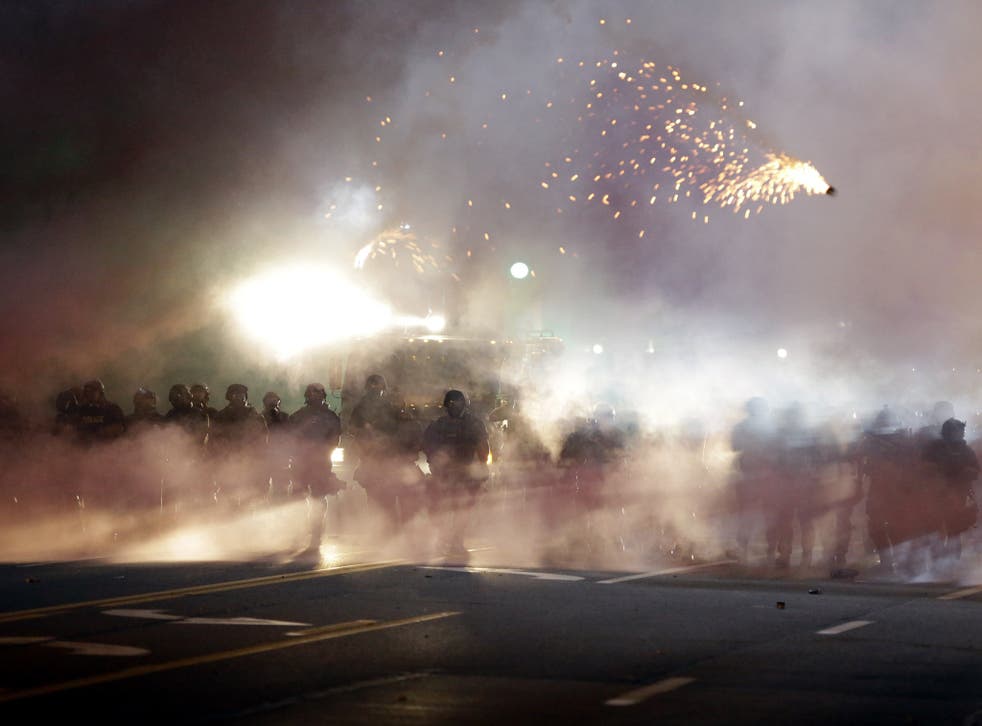 Police have begun using tear gas, stun grenades and rubber bullets on those protesting the shooting of an unarmed black teenager in Ferguson, Missouri, as another witness said Michael Brown was backing away with his hands up as an officer repeatedly fired at him.
The situation in the suburb of St Louis has rapidly deteriorated following largely peaceful vigils on Tuesday night, and has led to calls for Barack Obama to cut short his golfing holiday to Martha's Vineyard in Massachusetts.
Last night some protesters were seen hurling rocks at the heavily-armed and camouflage-wearing police units, while there were reports of young men preparing what appeared to be petrol bombs in a bus shelter.
Angry protests have taken place in Ferguson every night since Saturday, when the 18-year-old was shot to death in what police say was a struggle over a gun in a police car.
A new witness, Tiffany Mitchell, told CNN she was watching when Mr Brown and an officer, who has not been named, were "tussling through the window".
Ms Mitchell said the officer was pulling the teen in as he struggled to get away, and then "a shot was fired through the window".

"The kid finally gets away and he starts running. As he runs, the police get out of his vehicle and he follows behind him shooting," Mitchell said, adding that Brown turned around and put his hands in the air.
"The cop continued to fire until he just dropped down to the ground and his face just smacks the concrete."
Another witness, Dorian Johnson, has said that Brown was not struggling with the officer and had his hands in the air when he was shot multiple times in the head and chest.
Schools in the district around Ferguson have cancelled all classes until Monday, while national figures ranging from the civil rights activist Reverend Al Sharpton to the President himself have issued statements calling for calm.
Mr Obama was briefed on Wednesday night about the events unfolding in Ferguson by a team that included the US Attorney General, Eric Holder, the White House said.
In pictures: Michael Brown shooting

Show all 32
While it has been said that the President could do more to calm the situation, an official at the White House came in for special criticism for tweeting about a party Mr Obama was attending as another night of unrest got underway in Missouri. The post has since been deleted.
A common theme among protesters has been the "brutality" of the heavily armoured police, who on Wednesday night also arrested two journalists while shutting down a McDonald's branch from which they were reporting.
Ferguson police chief Thomas Jackson said that the protests represented "an opportunity to fix what's wrong" with race relations in the town. While around two-thirds of the 21,000 population are black, the vast majority of the 53=strong police force is white.
Meanwhile, police in California were investigating a separate incident of an officer fatally shooting an unarmed 25-year-old black man in Los Angeles.
On social media, groups claiming to be associated with the Anonymous hacker activist group called for nationwide protests and threatened to reveal personal information about Ferguson police officers.
The Ferguson police said there have been attempts to hack their website, which suffered a temporary disruption, and that the cyber-threats prompted their decision not to release the officer's name.
Join our new commenting forum
Join thought-provoking conversations, follow other Independent readers and see their replies