Finding the names for America's shame: What happens to the immigrants crossing the US-Mexico border without documents who never make it past the Arizona desert?
A film made by Gael Garcia Bernal tells the story of Dilcy Martinez, a Honduran who died 20 minutes' drive from a new life in Tucson – and highlights the work of the project which identifed his remains. Tim Walker reports from Arizona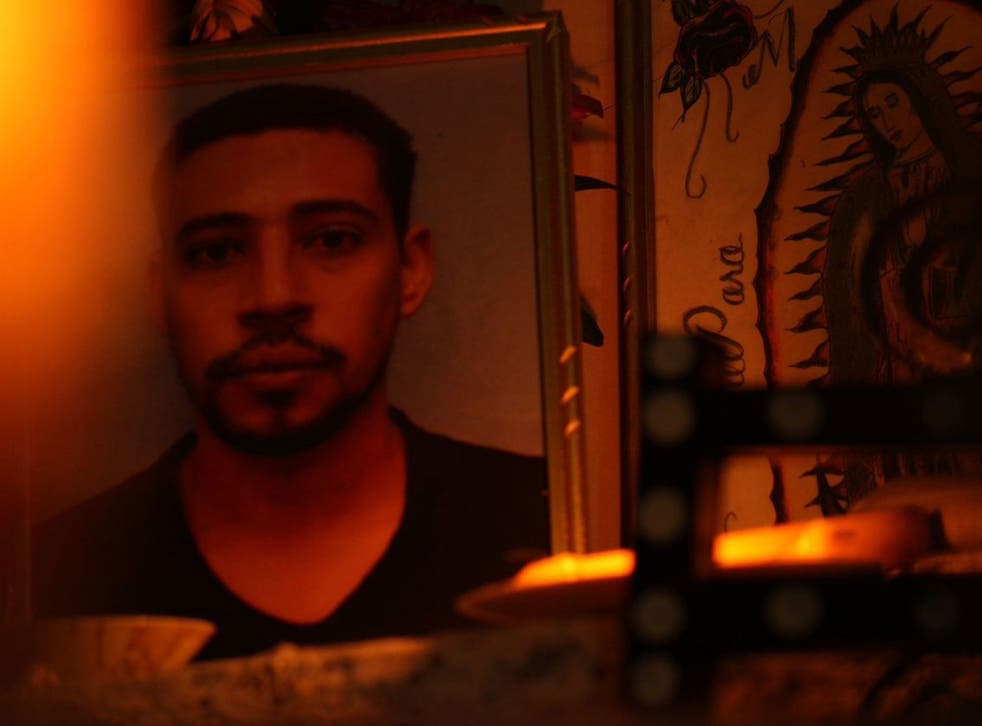 On a blistering hot day in the summer of 2010, the body of a 29-year-old man was found beneath a tree outside Tucson, in shade that had proved insufficient to save him from the punishing elements of the Arizona desert. Fully clothed, but with nothing to identify him except a large tattoo across his chest, which read "Dayani Cristal", investigators soon surmised that he was one of the thousands of undocumented migrants who slip across the US-Mexico border every year.
The man, later identified as Dilcy Yohan Sandres Martinez, had spent weeks travelling the perilous route from his home in Honduras, through Mexico and over the US border to find work to support his family. He died 20 minutes' drive from downtown Tucson. The story of his fatal journey is the subject of Who Is Dayani Cristal?, a documentary by the Mexican actor Gael Garcia Bernal and British filmmaker Marc Silver, released in the UK this weekend.
Though Martinez is the film's absent protagonist, its heroes are those who finally put a name to his remains: the staff of the Missing Migrant Project, based at the office of the Pima County medical examiner in Tucson. Led by anthropologist Robin Reineke, the project compiles information on migrants last seen heading for the border. Working with families, forensic investigators and consulates, they try to find the missing among the unidentified bodies, often using the scantest of details: a wedding ring; a missing tooth; a tattoo.
The border is currently at the heart of a humanitarian crisis. More than 52,000 migrant children have crossed into the US since October 2013, most fleeing violence in Central America. Yet Pima County has been the site of a slow-burning disaster for more than a decade. According to the National Missing and Unidentified Persons System, Arizona has more unidentified bodies than any state except New York and California. More than 75 migrant remains have been found so far in 2014. In 2010, the year Martinez died, 225 were found, 55 in July alone.
Experts say the phenomenon can be traced to the years immediately before and after 9/11, when the US Border Patrol's budget ballooned, bringing a vast investment in walls, weapons and surveillance, specifically in urban areas such as San Diego and El Paso, where undocumented migrants had traditionally crossed the border. Though the total number of migrants has fallen, the number of migrant deaths shot up as they started to cross in more and more remote areas.
Some brave the Sonoran Desert, which straddles Arizona and the Mexican state of Sonora; many are defeated by its extreme conditions. Between 1990 and 1999 the Pima County medical examiner received an average of 12 bodies of border crossers per year. Since 2001, that annual average has increased to 164: more than any other single jurisdiction in the entire US.
"The problem is in trying to stem a flow of humanity that's not going to be stemmed by putting up walls," Reineke says. "Until you have something more structural and political that addresses why people are leaving their countries in the first place, they are going to come no matter what – and if you treat it as if the problem is the border, that's a deadly recipe."
As the death toll leapt, the families of missing migrants began to call the office of the medical examiner directly. "The missing person's family members may be in the United States illegally, so they may not want to interact with law enforcement," explains Dr Gregory Hess, Pima County's Chief Medical Examiner. "They may be from Central America and have no idea who to contact … So we get calls about missing persons – but we're not a law enforcement agency, and we didn't have the staff here to collect that information and handle it."
Instead, the office's forensic anthropologist Dr Bruce Anderson kept notes on what the families said about missing loved ones, hoping to find their features among the growing number of remains. Some are identified by DNA, others with dental records. Pima County has standardised a technique for securing fingerprints from mummified bodies. Often, the remains are no more than a skull and bones. Martinez's body was found largely intact, but in the desert, says Hess, "You can go from death to near-skeletal remains in two weeks."
In 2006, Reineke arrived in Tucson to begin a postgraduate degree in anthropology under Anderson, who quickly handed her his stack of notes. Thus the Missing Migrants Project was born, and Reineke, who had expected to be an academic, became an activist.
"You can tell that Robin feels the issue of immigration on such a deep level. Her humanity is very powerful," says Silver, the director of Who Is Dayani Cristal? "What a horrific job it must be, when the best of days are when you can tell someone that you've found their dead relative. I have so much respect for the work that she and everyone else at the medical examiner's office do. This problem was thrust upon them. It was just a regular morgue with normal statistics – until all these people began to be funnelled through the desert."
After Silver's film premiered at the Sundance Film Festival in 2013, Reineke was able to raise funding to co-found the Colibrí Centre for Human Rights, dedicated to helping families learn the fate of their loved ones. To date, Colibrí and the medical examiner's office have identified some two-thirds of the migrants. "Two-thirds is good, but it means there are still hundreds of unidentified bodies in Tucson," Reineke says. "It's heart-breaking to see the number of families who are in despair."
Martinez's body was eventually returned for burial in Honduras, where he left behind a wife and three children. They are one of many such families with whom Reineke and her colleagues have developed deep and lasting relationships. And yet, Reineke admits, she is not always comfortable with the place she holds in their affections. "They're just so grateful – sometimes too grateful," she says. "It's an awkward position to be thanked for bearing such painful news."
Join our new commenting forum
Join thought-provoking conversations, follow other Independent readers and see their replies