Flakka: What is the 'zombie drug' blamed for face-eating attacks?
Drug similar to the 'bath salts' can cause 'excited delirium' but probably does not cause cannibalism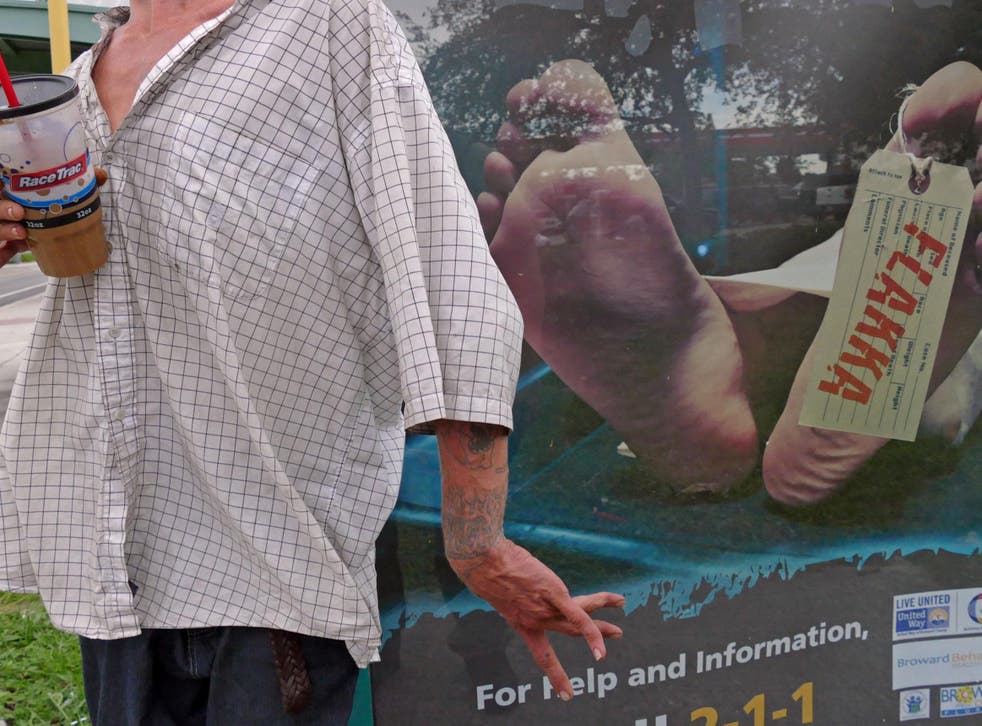 When police in Florida pulled a 19-year-old student away from the bodies of his two alleged victims – one of whom he had reportedly bitten in the face – they knew what to blame.
They had seen it before, in the shape of attacks carried out by drug users under the influence of flakka or bath salts, a powerful man-made drug.
"When you see a case like this where someone is biting off pieces of somebody's face, could it be flakka? The answer is it absolutely could be a flakka case," Martin County Sheriff William Snyder said, adding that the suspect from the Monday night double-murder case was "abnormally strong".
Mr Snyder added that the suspect, Austin Harrouff, had no previous criminal record and no clear motive in the alleged attacks of Michelle Mishon, 53, and John Stevens, 59.
Investigators are still working to determine whether or not the suspect had flakka in his system, the sheriff's suspicion highlights a larger problem with man-made hallucinogens sweeping South Florida.
World's 10 deadliest street drugs

Show all 10
What is 'flakka'?
According to the Texas Poison Centre Network, flakka – or alpha-pyrrolidinopentiophenone (alpha-PDP) – is a drug mostly manufactured in China for roughly $5 per dose. The drug is sold in white or pink crystal chunks, which are "foul-smelling", according to the US National Institute on Drug Abuse. It is sometimes called "gravel" because it resembles the small stones in the bottom of fish tanks.
Flakka is a psychostimulant drug in the synthetic cathinone family, known colloquially as "bath salts", and it was probably developed as a legal high in response to other drugs being criminalised. It is in the same group as the drug mephedrone and was only recently banned in the UK and in the US. It is a stimulant, which increases alertness, attention and energy, according to the National Institute on Drug Abuse. Stimulants – which also include cocaine and ecstasy – are often referred to as "uppers".
Does flakka turn people into cannibals?
Bath salts were first linked to a man cannibalising another man in Florida in 2014. This turned out to be false speculation: a post-mortem examination revealed the man didn't have the drug in his system at the time, but it had already triggered mass hysteria.
The latest attack and speculation, however, seem to reinforce the idea that cannibalism is symptomatic of taking drugs like bath salts or flakka. But the incident itself is isolated, and it remains unclear whether or not Harrouff was actually on flakka.
The TPCN explains that the active chemical can cause "excited delirium", which results in hyperstimulation, paranoia, and hallucinations that can lead to "violent aggression". Given the availability and widespread distribution of the drug, however, if it turned users into cannibals, there would be more reports of such instances publicly available.

Why are we hearing so much about flakka now?
Like synthetic marijuana in New York City, flakka emerged in public consciousness in 2015 after a viral video on YouTube, titled "Flocka [sic] is Destroying USA", depicted a young woman dancing in the rain. Since then, other videos showing people with erratic behaviour were soon attributed to the drug. However, none of these videos actually show people taking the drug.
The drug's similarity to bath salts reinforced the media speculation that they would give somebody "superhuman strength" – an unconfirmed side effect critics say was used to justify forceful arrests.
Is flakka deadly?
But although its dangers may have been exaggerated, taking the drug is risky - it is addictive and can cause fatal overdoses.
"Many users didn't like the bad effects they had from the drug," Jim Hall, an epidemiologist in the Centre for Applied Research on Substance Use and Health Disparities at Nova Southeastern University told People. "but nonetheless were very compelled by compulsion to keep using the drug, as it's addictive."
In Broward County, Florida, some 60 people died by the end of 2015 – only 14 months after the drug began taking its hold on the area.
A 37-year-old woman, identified only as Stephanie, described her addiction to NBC News.
"I remember having seizures and having just continued paranoia and feeling like people were chasing me and following me and talking about me," she said. "And I still suffer from nightmares and have to take medication for that."
Register for free to continue reading
Registration is a free and easy way to support our truly independent journalism
By registering, you will also enjoy limited access to Premium articles, exclusive newsletters, commenting, and virtual events with our leading journalists
Already have an account? sign in
Register for free to continue reading
Registration is a free and easy way to support our truly independent journalism
By registering, you will also enjoy limited access to Premium articles, exclusive newsletters, commenting, and virtual events with our leading journalists
Already have an account? sign in