Flint water crisis: We do not know where all the lead pipes are, says Governor
Almost $200 million of extra funding for the water crisis in Flint is 'not enough' to fix all the lead pipes, say critics
Rachael Revesz
New York
Thursday 11 February 2016 17:00 Comments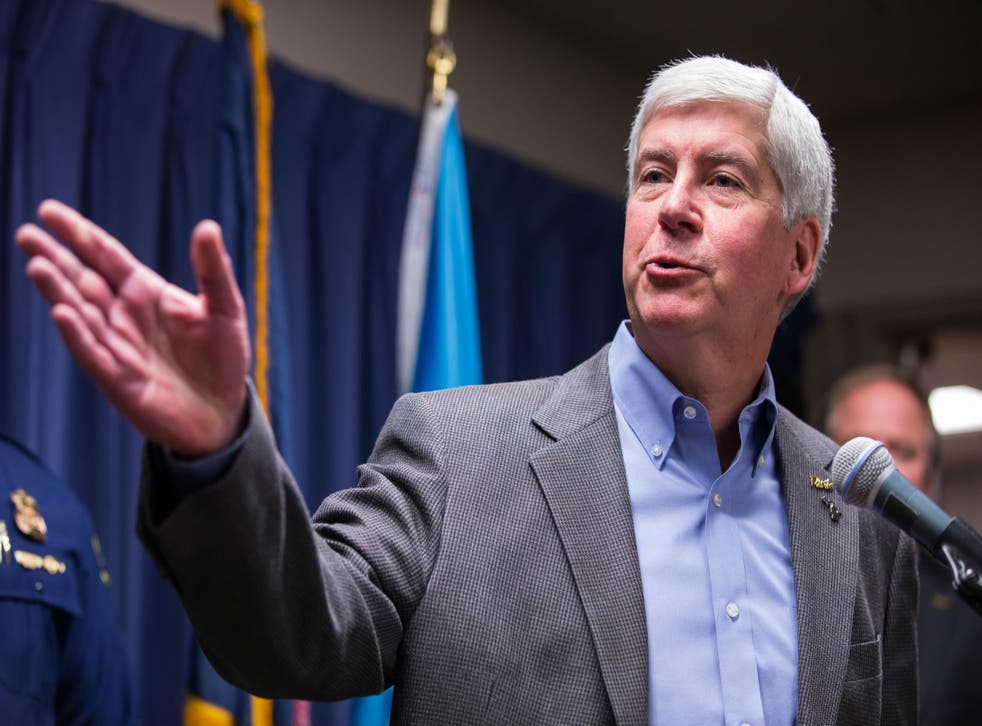 The $195 million in extra funding allocated to Flint, Michigan to resolve its polluted water supply is not enough to fix all the lead pipes, say critics, while the Governor has admitted that authorities do not know where all the lead pipes are located.
Michigan Governor Rick Snyder announced that the extra funding, to be spent over 2016 and 2017, includes a $50 million reserve fund, delivering safe drinking water and food, as well as providing treatment, testing and education - bringing total funds to Flint of $232 million since the crisis began last year.
Governor Synder's total budget for Michigan was $54.9 billion and the mainstay of the funds will be allocated to finance failing schools in Detroit over the next 10 years.
Flint Mayor Karen Weaver also said this week that $55 million of the funds would be used for a "fast start" plan to replace lead pipes in Flint, which are responsible for contaminating the water supply. Pregnant women and families with children will be higher priority, as reported by Jezebel.
But Governor Snyder said fixing all the pipes would not be "the best approach to start with", pointing to recommendations by "hero" Dr Marc Edwards at Virginia Tech university who is leading the research team to solve the water crisis. Dr Edwards previously told The Independent that authorities knew about this crisis at least a year ago.
The first step, said Governor Snyder in an interview with MSNBC, is to start testing the water in 400 sites to locate the lead piping.
"We don't even know where all the lead pipes are. We know 5,000 lead service lines, we have 25,000 that are not, we have 25,000 that are unknown."
Authorities will sign a contract this week to start mapping the pipes before replacing them "in a thoughtful fashion", he said.
Democrat candidate Hillary Clinton had accused governor Rick Snyder of poisoning people to save money.
"That's not accurate. This was a terrible tragedy and it really goes to multiple levels of government," responded Governor Snyder.
He insisted that authorities told citizens not to drink water from the tap since October 2015.
The Independent reported that hundreds of prisoners in the local jail were forced to drink poisoned water in Flint from October to mid-January.
Register for free to continue reading
Registration is a free and easy way to support our truly independent journalism
By registering, you will also enjoy limited access to Premium articles, exclusive newsletters, commenting, and virtual events with our leading journalists
Already have an account? sign in
Join our new commenting forum
Join thought-provoking conversations, follow other Independent readers and see their replies