Gun control efforts stalled in Orlando following largest mass shooting in US history
Democrats in Florida struggling to pass protections in a state still scarred by the attack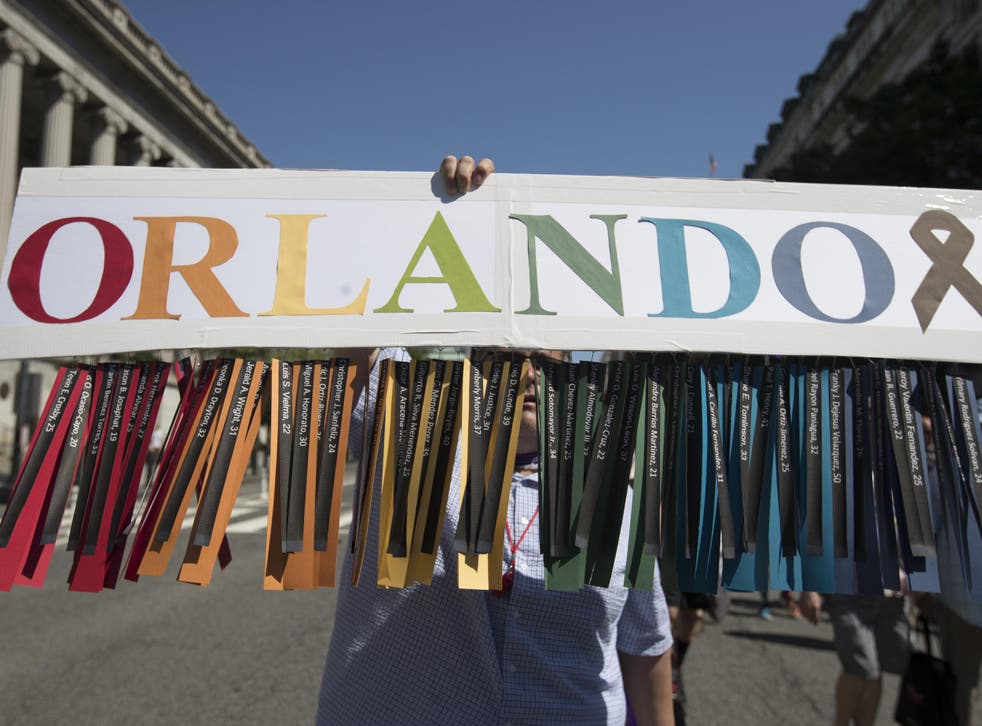 A year after 49 party-goers were gunned down by a man with a assault-style rifle at the Pulse Nightclub in Orlando – the worst mass shooting in modern US history – Democrats in Florida say just about every attempt to pass gun control legislation in the wake of the massacre has been blocked.
"These types of weapons are the gold standard of mass murders," said State Representative Carlos Guillermo-Smith, who sponsored an assault weapons ban in tandem with a state senator.
With these rifles, "folks who have a really troubling history of hatred and bigotry and homophobia have been able to carry out their attacks successfully on the groups and the communities they most hate".
That is certainly true for Omar Mateen, the gunman who attacked Pulse who pledged allegiance to Isis before the attack.
Mateen, who had previously been investigated by the FBI on two occasions, walked into a gun store and bought a Sig Sauer MCX just nine days before the killings. He later returned for a larger magazine so he could fire more rounds in rapid succession without reloading.
Although the background check performed would have ran his name against the FBI's central watch database, Mateen's name was removed from that list in 2014.
Mr Guillermo-Smith wasn't a member of the state legislature when the Orlando 911 dispatch received a call at 2.28am on 12 June from the man who would go on to commit the atrocity. But on the campaign trail in 2016, he pledged to do his best to do something about it.
The first bill he introduced as a newly minted congressman was an assault weapons ban, alongside a similar bill from State Senator Linda Stewart.
"It was dead before it was even introduced," Ms Stewart told The Independent of her bill.
In pictures: The world mourns Orlando shooting victims

Show all 30
Neither chamber in Tallahassee even allowed the assault weapons ban to have an open hearing for discussion. When Ms Stewart tried to urge her colleagues to allow discussion on her bill, she was met with blank stares.
"If it were up to central Florida and central Florida only, it would pass," she continued, "but the problem is we have to sell it to all of the elected officials and we still have a very big National Rifle Association (NRA) push for anything that we file. It doesn't matter what it is, just anything that deals with guns or the restriction of any kind of guns."
In the past year, Democrats in the Florida legislature have introduced a series of gun control measures that aim at restricting firearms but none of those ended up as laws. They face a formidable opponent in the form of the NRA's most prominent and effective lobbyist Marion Hammer, who Ms Stewart says can be seen in nearly any hearing that discusses guns or gun control.
Efforts by Ms Hammer and other pro-gun advocates have led to Florida being one of the worst states for gun crime in the country, Ms Stewart and Mr Guillermo-Smith said. Guns are easy to come by and, as exemplified in the Orlando shooting, that can have deadly consequences.
But, with that picture of lax gun laws and an effective pro-gun lobby as a backdrop, Mr Guillermo-Smith said that this past legislative year has actually been something of a victory for gun control advocates in one simple way: Orlando made it difficult for anyone to loosen legislation, so things didn't get worse.
"The gun safety advocates saw this past legislative session as a victory and the reason why is because all of the gun lobby's – all of the bills that the gun lobby pushed was defeated," he said.
"It's a win. They didn't get anything they wanted in this last legislature, which is kind of a sea change. I know that Pulse was a reason why the gun lobby was denied everything on their wishlist."
Both Floridians said they plan continue their push in the new legislative session. The NRA did not respond to requests for comment on this story.
Join our new commenting forum
Join thought-provoking conversations, follow other Independent readers and see their replies