Sheriff's Office received almost 50 calls about Florida shooting suspect and his brother, report claims
Sheriff's office facing criticism over response to school shooting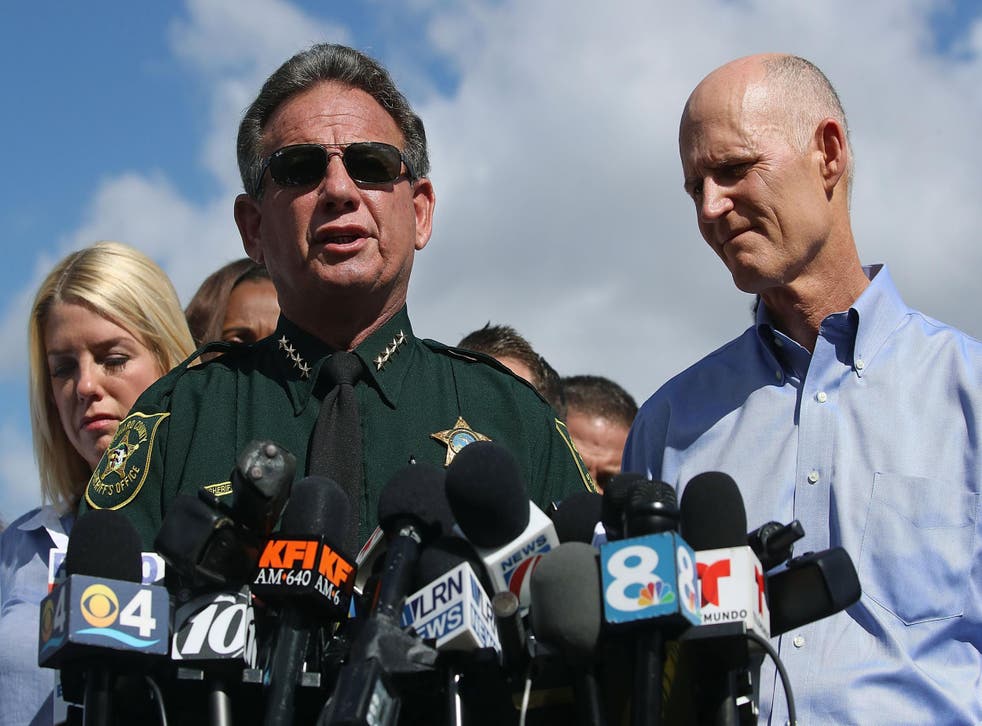 The Broward County Sheriff's Office responded to nearly 50 calls about Nikolas Cruz or his brother in the 10 years before he allegedly opened fire on his former Florida high school, new records reportedly show.
Call logs obtained from the sheriff's office show authorities received 45 calls relating to Mr Cruz or his brother from 2008 to 2017, according to CNN. The reasons for the calls range from "domestic disturbance" to "missing person" to "animal abuse".
The number is significantly higher than the sheriff's office has publicly admitted. Responding to initial reports that his office had failed to respond to warning signs, Sheriff Scott Israel told reporters that his office had been involved in 23 calls involving Mr Cruz or his brother in the years before the shooting.
A press release issued later that week echoed this sentiment.
"Since 2008, BSO responded to 23 incidents where previous contact was made with the killer or his family," the press release said. "STOP REPORTING 39; IT'S SIMPLY NOT TRUE."
The sheriff's office did not immediately respond to a request for comment on the discrepancies.
Florida shooting – in pictures

Show all 10
Records previously released by the sheriff's office show officers responded to reports that Mr Cruz had ingested gasoline in an attempt to kill himself, and that he had posted on Instagram saying he wanted to "shoot up the school". The FBI also received multiple tips about Mr Cruz, including one woman who told them: "I know he's going to explode".
Mr Cruz has been charged with 17 counts of premeditated murder for the 14 teenagers and three adults who died during the Marjory Stoneman Douglas High School shooting. He has not entered a plea, but the public defender's office has said he will plead guilty if the death penalty is taken off the table.
Donald Trump: Florida school deputy 'did a poor job' and lacked 'courage'
The sheriff's office has also come under fire over reports that multiple deputies stood outside of the school on the day of the shooting, instead of entering and engaging with the shooter. One deputy, Scot Peterson, has already resigned from the department, though he claims he remained outside because he thought the shots were coming from outdoors.
Mr Israel has resisted calls for him to step down in the wake of the shooting, saying he cannot be held responsible for one officer's actions.
"Leaders are responsible for the agency, but leaders are not responsible for a person," he told NBC 6. "I gave him a gun. I gave him a badge. I gave him the training. If he didn't have the heart to go in, that's not my responsibility."
Join our new commenting forum
Join thought-provoking conversations, follow other Independent readers and see their replies