Florida shooting: Marjory Stoneman Douglas high school resumes classes for first time since massacre
With apprehension, students filed past flowers, photos, and memorials to resume their classes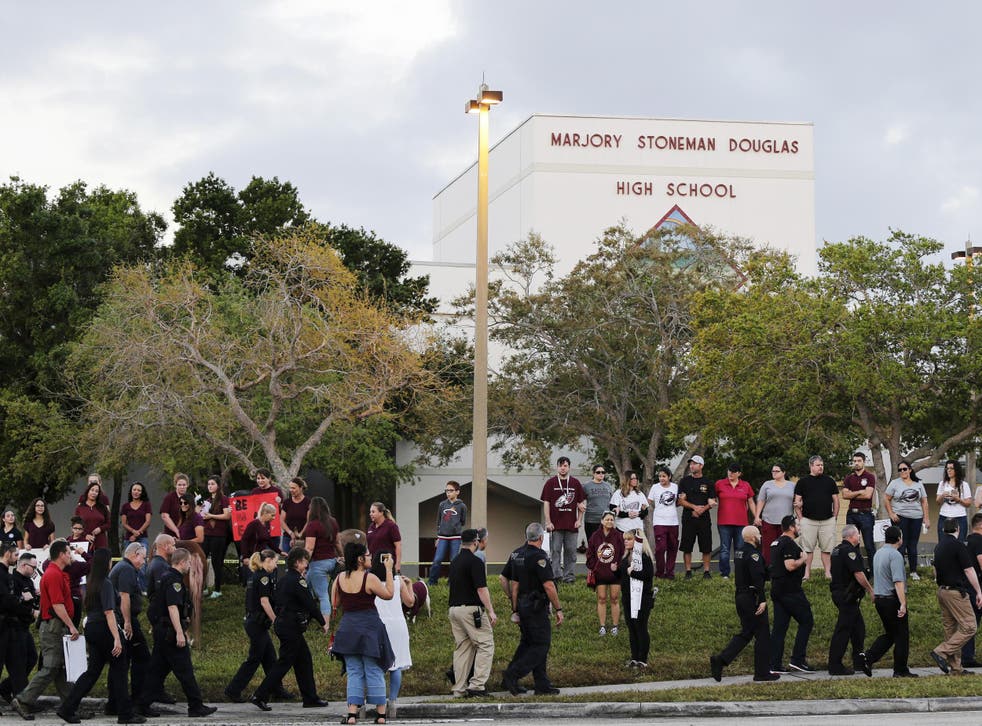 Class is back in session two weeks after a gunman opened fire on students at Marjory Stoneman Douglas High School, killing 17 students and faculty.
Returning students walked past flowers and photographs on their way inside, memorials to their 14 peers and three administrators who lost their lives on Valentine's Day. Students were given carnations as they returned to their routine. A long line of cars formed early at the school in Parkland, Florida, guided by police past dozens of television trucks camped out to observe the resumption of daily life.
"When I walk in there, I'm going to replay the whole thing in my head. But we have to come back here and try to learn," Madison Geller, a junior, told the Associated Press. "This week we will try to be comfortable and get back into the same routine."
Samantha Grady, a junior who was injured in the attack and whose best friend was killed, said she was worried to return.
"But, I know I have to… start. I have to face it head-on," Ms Grady told CNN about an hour before classes were to resume. "I have a lot of feelings about (starting the day in fourth period), because that was the class where my friend was… I'm just going to see how I end up dealing with it."
For many in the sea of students wearing maroon — a colour of the school — Wednesday, the return to classes follows after two weeks fighting to ensure that their sorrow would be the last time that a high school community feels the pain of a mass shooting.
Florida shooting – in pictures

Show all 10
Almost immediately after the shooting, survivors began organising in honour of their fallen classmates, forcing a sustained national dialogue on gun control in America that has resulted in rare legislative movement in the Florida Legislature to limit the ability of young people to purchase rifles.
On the federal level, the students' efforts have been met with promises from President Donald Trump to raise the age threshold to buy weapons, and to ban "bump stock" accessories that can be used to make semi-automatic rifles fire at near-automatic rates. Some Washington politicians, feeling pressure, have promised a review of background checks to try and ensure guns do not make it into the hands of criminals or the mentally unstable.
Their organising has put a pinch on corporate America, too, with major brands distancing themselves from the National Rifle Association — the leading gun lobby in the United States — in response to the demands for action from the teenagers. And, one of the leading retailers of weapons in the United States, Dick's Sporting Goods, announced Wednesday that they would no longer sell assault-style rifles in their stores.
"Based on what's happened and looking at those kids and those parents, it moved us all unimaginably," Edward Stack, the CEO of the company, said on ABC's Good Morning America. "To think about the loss and the grief that those kids and those parents had, we said, 'We need to do something.'"
But, for the students returning to Stoneman Wednesday, their first impressions were likely those of heavily armed police outside — a testament to the reality that guns are still easily attainable in America, and that promises and debates are not enough to keep guns out of the hands of would-be killers who might consider a repeat of the Valentine's Day events.
One of the students who has become a leader in the anti-assault rifle campaign that was spurred by the carnage, David Hogg, told reporters that the was scared Wednesday morning seeing a photo of a police officer carrying a rifle outside of the school.
Still, the thousands of the students returned in spite of that lingering fear. Their first class was scheduled to be "4th Block", which ended two weeks ago in carnage.
The reason for that particular return, as explained by Stoneman Principal Ty Thompson wrote on Twitter, was simple: Ours is not the story of the killer.
"Good morning Eagles: here is today's schedule," Mr Thompson wrote, referring to the school's mascot. "Everyone will start in 4th Block as we RECLAIM the NEST."
Join our new commenting forum
Join thought-provoking conversations, follow other Independent readers and see their replies