Florida shooting: Parkland students march on state capital to call for assault-style weapons ban
One student says: 'We know the issues, and we know who is with us and who isn't'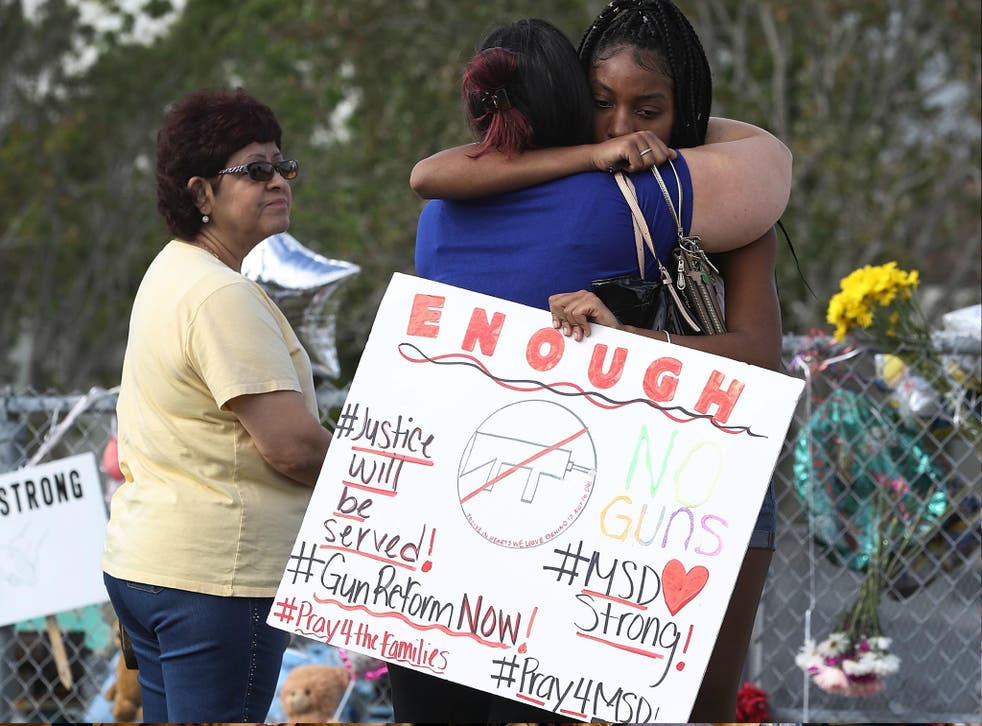 Students from the Parkland, Florida high school where 17 people were shot with an assault-style weapon last week have begun marching on the capitol Tallahassee to call for a ban on those guns.
It is another in a series of passionate on-camera media appearances, tweets, and protests the teenagers of Marjory Stoneman Douglas High School have participated since 14 of their peers and three adults were fatally shot.
"We're here to ask for change and we're confident change will happen," said Noah Kaufman, 16. "We know the issues, and we know who is with us and who isn't."
The students will be joined by several people who survived the 2016 Orlando Pulse Nightclub shooting during which 49 people were killed and 58 injured.
Local high schools have also said they will excuse their students to attend the Rally for Gun Safety Reform on the steps of the Capitol building.
Every mass shooting in the US has sparked the gun control debate, but this is the first time in the wake of a school shooting that the students themselves have organised and called for reform en masse.
About 100 students from Stoneman Douglas, some carrying signs that read #NeverAgain, are headed to the state legislature.
The Republican-controlled body rejected a bill proposal on 20 February that would ban sales of assault-style rifles, like the AR-15 which suspected gunman Nikolas Cruz used, in the state.
The rebuff was less than week after the Parkland mass shooting.
Florida student Emma Gonzalez passionately calls for gun control at rally after school shooting
But, signaling a possible shift, state Senator Bill Galvan, slated to be the chamber's next president, called for a bill to raise the legal age for purchasing assault rifles from 18 to 21, the same as it is for handguns.
Mr Cruz is 19 years old.
The legislature's current session ends on 9 March, however, leaving little time to vote.
The Tallahassee march is just one of many ongoing calls for gun control legislation reform by the students.
A group of students, known as Teens for Gun Reform, staged a lie-in on the square in front of the White House on 19 February.
Seventeen members of the group laid down outside the White House to symbolise the number of people who lost their lives last week.
Dozens more were involved in the protest as well, chanting "We want safe schools!" and carrying signs that read "Am I next?"
US President Donald Trump was at his Florida golf club Mar-a-Lago at the time.
In the wake of the tragedy, Mr Trump has been criticised for not discussing gun control reform but mentioning Mr Cruz's possible mental health issues as a cause of the mass shooting.
He also blamed Parkland community members for not recognising signs of trouble with Mr Cruz and the FBI for not following up on a tip that Mr Cruz was a danger.
The famous for and against US gun control

Show all 31
The President is scheduled to meet with high school students and teachers on 21 February to discuss school safety.
A group of Stoneman Douglas students is also on their way to Washington, DC and will likely also bring the issue to the steps of Congress.
Despite several Democratic members of Congress railing against their Republican colleagues for being in "the thrall" with the National Rifle Association, the powerful gun lobby, students note that the issue goes beyond politics.
"This isn't a Democrat or Republican issue, it's a life issue," said Noah.
"It really needs to be recognised that they need to stop fighting each other and starting working together,'' Jaclyn Corin, the student and junior class president who conceived of the trip, told the Tampa Bay Times.
"This has to be the last school this happens to," she said.
Many in the group said they had stayed up all night researching legislation and writing speeches.
Stoneman Douglas students have raised nearly $1.5m for their cause through a GoFundMe page but also received $500,000 each from celebrities like Amal and George Clooney, Oprah Winfrey, and Steven Spielberg.
Join our new commenting forum
Join thought-provoking conversations, follow other Independent readers and see their replies