Florida shooting survivors taunted by right-wing commentators and conspiracy theorists
Conservative commentator accuses children mourning their classmates of engaging in 'politically orchestrated grief'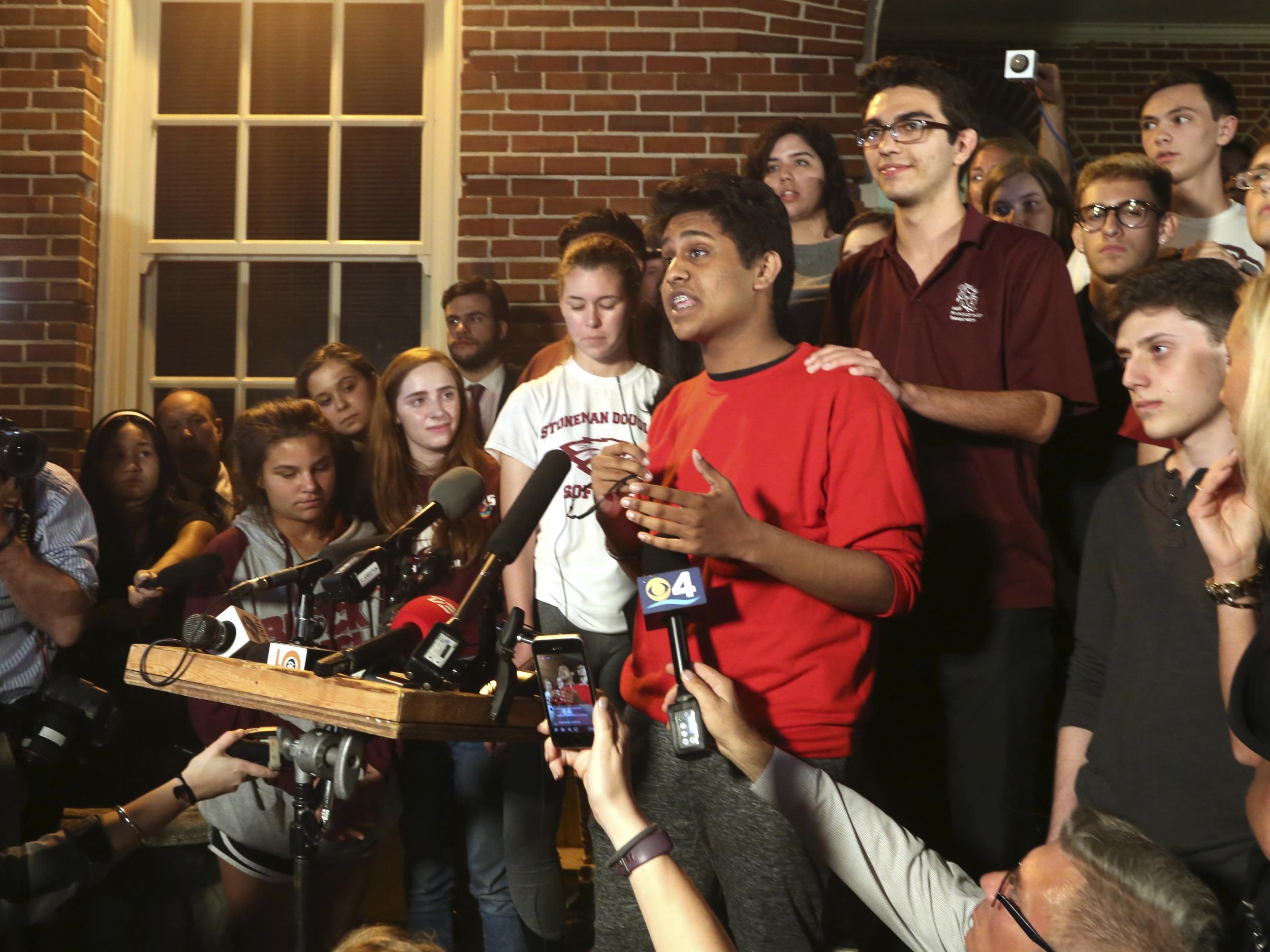 Students who survived the Florida school shooting have been mocked and targeted by conspiracy theorists who claimed they were "crisis actors" only pretending to have been caught up in the violence.
Conspiracy claims have spread across Facebook and Twitter in the week since 17 people were killed at Marjory Stoneman Douglas High School in Parkland, while commentators have cracked jokes and claimed students were being "used" by anti-Trump media.
An aide to a Florida politician was sacked for suggesting two teens were merely actors pretending to be students.
David Hogg struggles with interview questions in aftermath of Parkland school shooting
Benjamin Kelly, 61, district secretary for Republican state representative Shawn Harrison, had emailed the claim to a reporter at the Tampa Bay Times, referencing a picture of students David Hogg and Emma Gonzales, two of the most visible gun reform campaigners among the survivors.
Donald Trump Jr, the US President's eldest son, "liked" an innuendo-filled post on a far-right website about David, 17, which accused him of "running his mouth about how Donald Trump and the GOP are teaming to help murder high school kids by upholding the Second Amendment".
One student, Jaclyn Corin, tweeted in response to the "crisis actor" claims: "We are KIDS – not actors. We are KIDS that have grown up in Parkland all of our lives. We are KIDS who feared for our lives while someone shot up our school. We are KIDS working to prevent this from happening again. WE ARE KIDS."
And a right-wing commentator sparked outrage by saying, after Florida politicians refused to debate a proposed ban on assault rifles and high-capacity magazines on Tuesday: "Adults 1, kids 0".
Dinesh D'Souza also accused children mourning their classmates of engaging in "politically orchestrated grief" for the benefit of "the cameras", and tweeted that the legislative defeat was the "worst news since their parents told them to get summer jobs".
Florida's legislature has taken up at least two bills during its current session intended to provide broader access to guns.
But signalling a possible shift, state senator Bill Galvan, the chamber's next president, called for a bill to raise the legal age limit for purchasing assault rifles from 18 to 21, the same as it is for handguns. The legislature's current session ends on 9 March, however, leaving little time for a vote.
Pressure on lawmakers to enact tighter gun rules has increased in recent days as Stoneman Douglas students organised a national campaign.
They plan a "March for our Lives" in Washington DC and in cities across the US, and have won backing from celebrities including Oprah Winfrey and George and Amal Clooney.
About 100 Stoneman Douglas pupils travelled to Tallahassee, Florida's capital, to lobby politicians for a ban on AR-15 rifles like that used in last Wednesday's shooting.
Alfonso Calderon, a 16-year-old junior, told students at a school in the city: "We're what's making the change. We're going to talk to these politicians tomorrow. We're going to talk to them the day after that. We're going to keep talking, we're going to keep pushing until something is done because people are dying and this can't happen anymore."
Florida shooting – in pictures
Show all 10
Bill O'Reilly, the disgraced former Fox News host, claimed children's grief was being "used" by reporters to attack the President.
He wrote on Tuesday: "We are living in a media world where there are no longer any rules.
"The national press believes it is their job to destroy the Trump administration by any means necessary. So if the media has to use kids to do that, they'll use kids."
As the grieving Florida students demanded action on guns, Mr Trump directed the Justice Department to move to ban devices like the rapid-fire bump stocks used in last year's Las Vegas massacre. It was a small sign of movement on the gun violence issue that has long tied Washington in knots.
"We must do more to protect our children," said Mr Trump, a strong and vocal supporter of gun rights, on Tuesday.
Additional reporting by agencies
Join our commenting forum
Join thought-provoking conversations, follow other Independent readers and see their replies