Former Marine charged in Capitol riot once worked on Bush and Obama presidential helicopters
John Andries, who is charged with entering the Capitol through a broken window, was once a crew chief on the Marine One squadron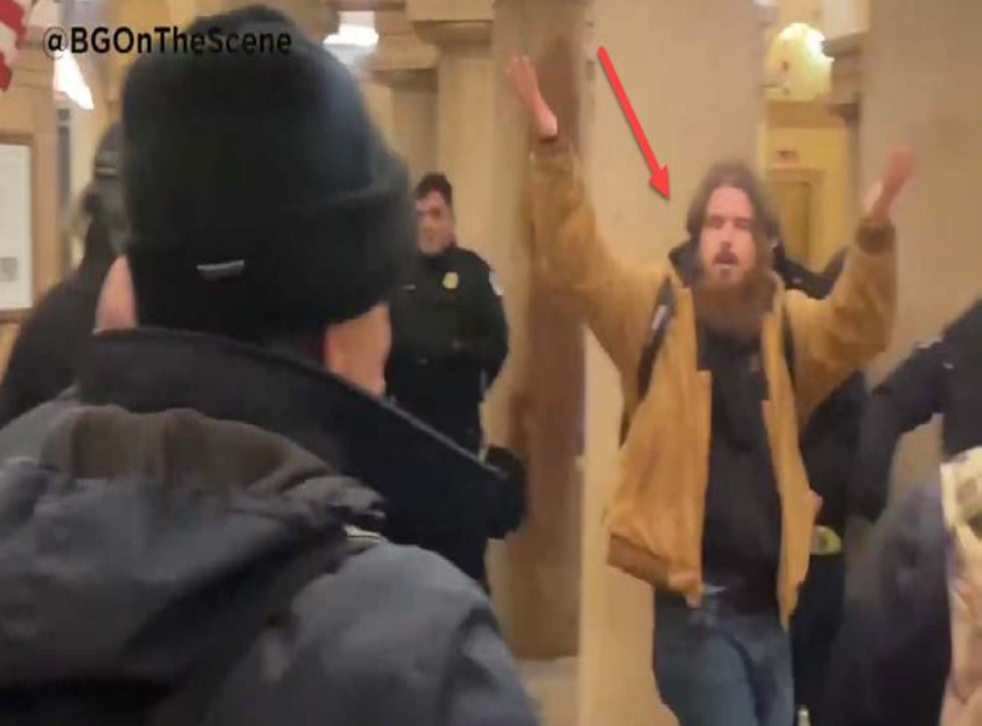 One of the accused Capitol rioters is a former Marine who served on the presidential helicopter squadron, the Washington Post reported.
John Daniel Andries, 35, was arrested last month and charged with two felonies related to violently entering the United States Capitol and remaining there unlawfully. He has pleaded not guilty.
But a little over a decade ago, Mr Andries was in Washington in a very different capacity. Mr Andries joined the Marines in 2004, and from 2006 to 2009, he was a crew chief in the squadron of Marine One – the helicopter used by the president of the United States.
Mr Andries' role involved helicopter maintenance, officials told the Post, and he required multiple high-level security clearances to get the position. He served under presidents George W. Bush and Barack Obama, and then left the Marines in 2009.
Twelve years later, the FBI is poring over footage of Mr Andries marauding through the US Capitol. The criminal complaint, compiled by an FBI agent, says videos show Mr Andries entering the building "through a broken window," taking part in a mob that pushed down barriers, and menacing Capitol Police officers.
"Once he was inside the building, Andries appears to be part of a crowd that is attempting to push past US Capitol Police officers," the charging document says. "The USCP video further shows Andries walk up to USCP officers several times and get within inches of them."
Several times, the complaint notes that Mr Andries moved his arms in an "up or down" or "back and forth" motion to the people behind him, possibly beckoning the crowd onward.
The FBI says a deputy sheriff from St. Mary, Maryland – where Mr Andries is from – was able to identify him in the videos by his "distinct shaggy hair and beard."
The complaint also notes that Mr Andries "has multiple arrests for DUI," or driving under the influence, on his record.
Dozens of veterans have been accused of taking part in the January 6 riot, including a retired Air Force lieutenant colonel, a former Navy SEAL, several former Marines, and many others. Even Jacob Chansley, who infamously wore a furry set of animal horns to the Senate chamber, is a former Navy supply clerk, according to ABC. 
"The large number of individuals with ties to law enforcement or the military already arrested or apparently now under investigation suggests a deeper level of far-right sympathizers in these fields," Javed Ali, a former terrorism expert at the National Security Council, told ABC.
Join our new commenting forum
Join thought-provoking conversations, follow other Independent readers and see their replies