Freed on bail – but US steps up efforts to charge Assange with conspiracy
Accused soldier offered plea bargain if he names WikiLeaks founder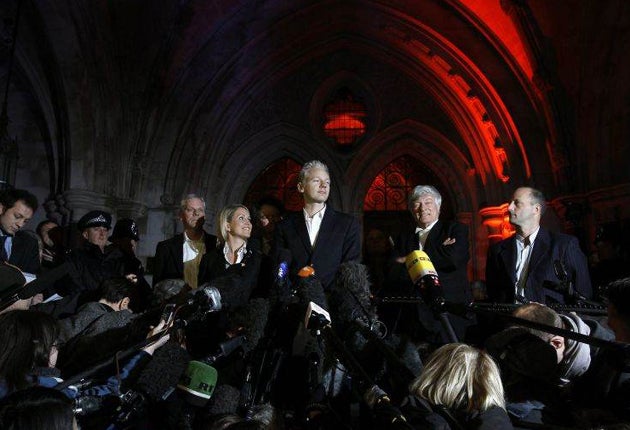 US authorities have stepped up their efforts to prosecute Julian Assange by offering Bradley Manning, the American soldier allegedly responsible for leaking hundreds of thousands of government documents, the possibility of a plea bargain if he names the Wiki-Leaks founder as a fellow conspirator.
The development follows claims by Mr Assange's supporters that a grand jury has been secretly empanelled in northern Virginia to consider indicting the WikiLeaks chief. But the US Justice Department has refused to comment on any grand jury activity.
As Mr Assange arrived last night at the East Anglia mansion after his release from a London prison on bail, he said he considered the threat of US legal action to be "extremely serious" even though "they have yet to be confirmed". He told Sky News: "We have heard today from one of my US lawyers that there may be a US indictment for espionage for me coming from a secret grand jury investigation. "There are obviously serious attempts to take down the content by taking us down as an organisation and taking me down as an individual."
American officials view persuading Pte Manning to give evidence that Mr Assange encouraged him to disseminate classified Pentagon and State Department files as crucial to any prospect of extraditing him for a successful prosecution. To facilitate that, Pte Manning may be moved from military to civilian custody, they say. Since being charged in July with disseminating a US military video showing a 2007 attack by Apache helicopters that killed 17 people in Iraq including two Reuters employees, the soldier has been held at the Quantico Marine Base in Virginia. But members of his support network insist that he has not co-operated with the authorities since his arrest in May.
The Justice Department views the chances of a prosecution as far slimmer if Mr Assange was merely the passive recipient of information. But Adrian Lamo, a former hacker who had been in contact with Pte Manning and eventually turned him in to the government, is said to have told the FBI that Mr Assange had given the young soldier an encrypted internet conferencing service as he was downloading government files and a dedicated server for uploading them to WikiLeaks. The US Attorney General, Eric Holder, said this week that he had "authorised significant steps" in the investigation into the leaks without going into details. However, US diplomats say that while the Espionage Act of 1917 and the Computer Fraud and Abuse Act of 1986 can be used against Pte Manning, extending it to Mr Assange would come up against the formidable defence of free speech and media freedom enshrined in the First Amendment of the US Constitution.
If Mr Assange is indicted under the Espionage or Computer Fraud acts when there is no evidence that he instigated Pte Manning's activities, it could follow that the New York Times, which disseminated the information in the US, could also face prosecution – something officials say the Justice Department simply would not countenance.
WikiLeaks appears to be aware of the danger if it is proved to be involved in a conspiracy to leak material. It has deleted from its website the claim that "Submitting confidential material to Wiki-Leaks is safe, easy and protected by law". The site now says: "Submitting documents to our journalists is protected by law in better democracies." It also now says: "WikiLeaks accepts a range of material, but we do not solicit it." Furthermore, it no longer says it welcomes "classified" material.
At a first hearing on the WikiLeaks affair by the House Judiciary Committee in Washington, John Conyers, a leading Democrat, cautioned against a rush towards prosecuting Mr Assange. He said: "Many feel that the WikiLeaks publication was offensive. But being unpopular is not a crime and publishing offensive information is not, either. And the repeated calls from politicians, journalists and other so-called experts crying out for criminal prosecutions or other extreme measures make me very uncomfortable."
Others, notably Joe Lieberman in the Senate and Peter King in the House of Representatives have pushed for new legislation to facilitate the prosecution of Mr Assange in the event that existing law proves insufficient. "Assange and his associates... have not only damaged US national security... but also placed at risk countless lives, including those of our intelligence sources," said Mr King.
Join our commenting forum
Join thought-provoking conversations, follow other Independent readers and see their replies