George Floyd: Derek Chauvin trial won't be moved or delayed after $27m settlement, judge rules
Mr Chauvin's lawyers have argued media saturation and the recent $27 million settlement with Mr Floyd's family would bias the trial in Minneapolis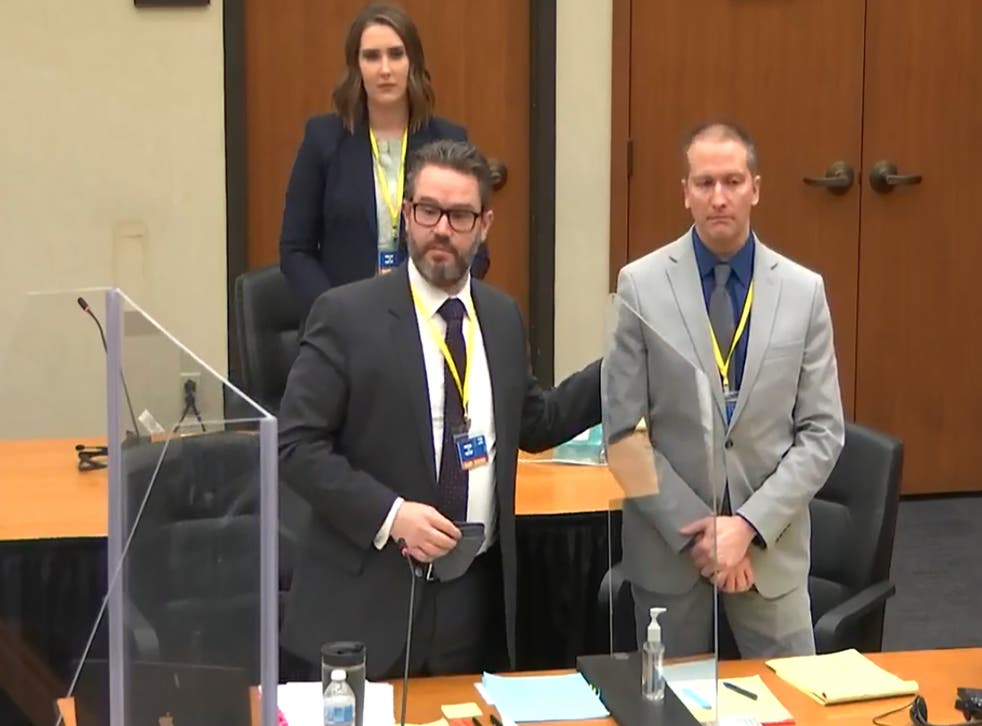 The trial of Derek Chauvin, the former Minneapolis police officer charged with murdering George Floyd, will not be moved to a new venue or delayed, a judge decided on Friday, overruling arguments from his lawyers that a recently announced $27m settlement with Mr Floyd's family and massive amounts of pre-trial publicity could skew the case. 
"I don't think there's any place in the state of Minnesota that has not been subjected to extreme amounts of publicity on this case," Hennepin County Judge Peter Cahill said of the decision, MPR News reported.
On 12 March, the city of Minneapolis settled with Mr Floyd's family for $27m, one of the largest settlements of its kind in Minneapolis and US history, which they argued reflected their commitment to racial justice and showing that black lives matter.
Mr Chauvin's lawyer, Eric Nelson, had argued the timing of the settlement, with jury selection is still ongoing, left him "gravely concerned" over whether a fair trial could continue.
Judge Cahill's ruling also will allow limited evidence from one of Mr Floyd's previous arrests in 2019 to be discussed in the case.
Mr Chauvin's lawyers had argued there were a number of similarities between Mr Floyd's behaviour in his 2019 and 2020 arrests—both included a physical struggle with officers, calling out for his mother, the presence of drugs, and medical authorities noting his pre-existing risk of heart problems—which would shed light on Mr Floyd's final moments as well as what caused his death.
State attorneys countered back that introducing this information showed "the desperation of the defense to smear Mr. Floyd's character, to show that what he struggled with an opiate addiction like so many Americans do, is really evidence of bad character," as prosecutor Matthew Frank put it in court earlier in the week.
Read more:
But Friday's ruling restrictions evidence from the previous encounter to focus on medical information. After the 2019 arrest, where Mr Floyd appeared to put pills into his mouth before being arrested, paramedics who examined him warned he had dangerously high blood pressure, putting him at heightened risk for a stroke or a heart attack. A county autopsy the summer after Mr Floyd's death suggested it was a homicide, but noted other "significant conditions" including fentanyl intoxication, recent methamphetamine use, and heart disease.
"Clearly there is a cause of death issue here, and it is highly contested," Mr Cahill said on Friday.
Outside of the cause of Mr Floyd's death, and the impact of the settlement, the third main issue in the trial has been the media itself.
Video of the arrest, where Mr Chauvin can be seen kneeling on Mr Floyd's neck for minutes as he pleads for air then eventually goes unconscious, soon went viral on social media. It inspired a wave of protests in Minneapolis and all around the globe for months, as well as an equal amount of media coverage.
Many of those considered to become jurors in the trial noted they'd encountered the protests or media coverage about them, or seen the shocking video of the arrest itself, though the first juror seated hadn't watched it.
Social media and widespread smartphone use proved integral to the rise of the Black Lives Matter movement, and videos of police brutality now regularly spread around the world in a matter of hours and days. Mr Chauvin's legal team has argued that this context essentially makes it impossible to try police brutality cases.
In a Thursday court filing, asking for a 2022 trial, they compared media coverage of Mr Floyd's death to a "bomb explosion" with Minneapolis at the epicenter, and suggested the popular hashtag #justiceforgeorgefloyd "may, in fact, indicate that a truly fair and impartial trial for Mr. Chauvin cannot be had anywhere."
Join our new commenting forum
Join thought-provoking conversations, follow other Independent readers and see their replies