Plane crashes and catches fire at Georgia airport, killing at least one
'The only information I have is that there is a confirmed plane down that resulted in a fire at PDK,' a captain at DeKalb County Fire Rescue says
Nathan Place
New York
Friday 08 October 2021 22:40 Comments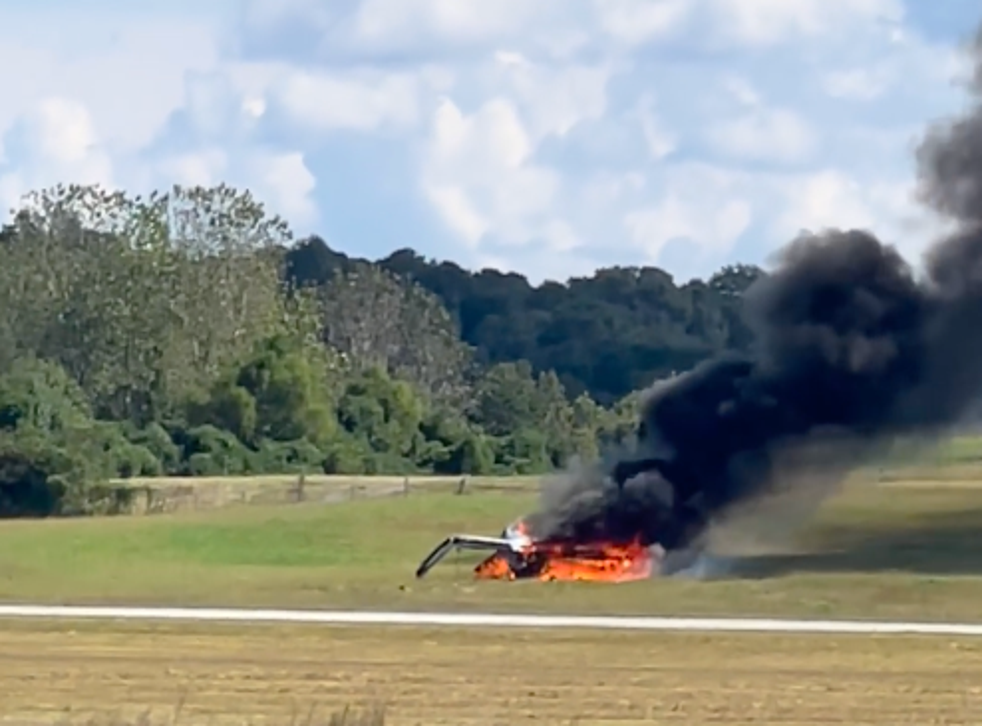 Leer en Español
At least one person is dead after a small airplane crashed and burst into flames at an airport in Georgia.
According to the Federal Aviation Administration, the single-engine Cessna 210 crashed at about 1.10pm at DeKalb Peachtree Airport in Chamblee, Georgia.
The FAA says four people were on board at the time of the crash. One death has been confirmed by local fire officials.
"We are confirming a fatality," Jaeson Daniels, captain of DeKalb County Fire Rescue, told the Atlanta Journal-Constitution. "We're not sure how many. We haven't received word on how many yet."
Mr Daniels added, however, that no one could have survived the crash.
"Whoever was on board – person or persons – are deceased," he said.
Video footage from WSB-TV shows what appears to be a plane wreckage engulfed in flames at the airport, letting off a long, dark trail of smoke.
Keith Berry, a photographer who witnessed the crash, told Fox 5 Atlanta how the tragedy unfolded.
"It happened pretty fast," Mr Berry said. "And the fire, it turned over and smoked for a second, and engulfed in flames … As you can see, it crashed, it landed, and I don't know if it was just a hard landing but it flipped and then it caught fire."
Another witness described what he saw to WSB-TV.
"It was taking off, went straight up, and it took a hard right and hit the ground," the unnamed person said. "The next thing we know we just saw a fireball. The whole plane went up in fire."
The National Transportation Safety Board says it is investigating the incident.
Register for free to continue reading
Registration is a free and easy way to support our truly independent journalism
By registering, you will also enjoy limited access to Premium articles, exclusive newsletters, commenting, and virtual events with our leading journalists
Already have an account? sign in
Join our new commenting forum
Join thought-provoking conversations, follow other Independent readers and see their replies