Young girl stares down Wall Street's charging bull on International Women's Day
Statue installed on International Women's Day as plea for US financial firms to employ more women at senior levels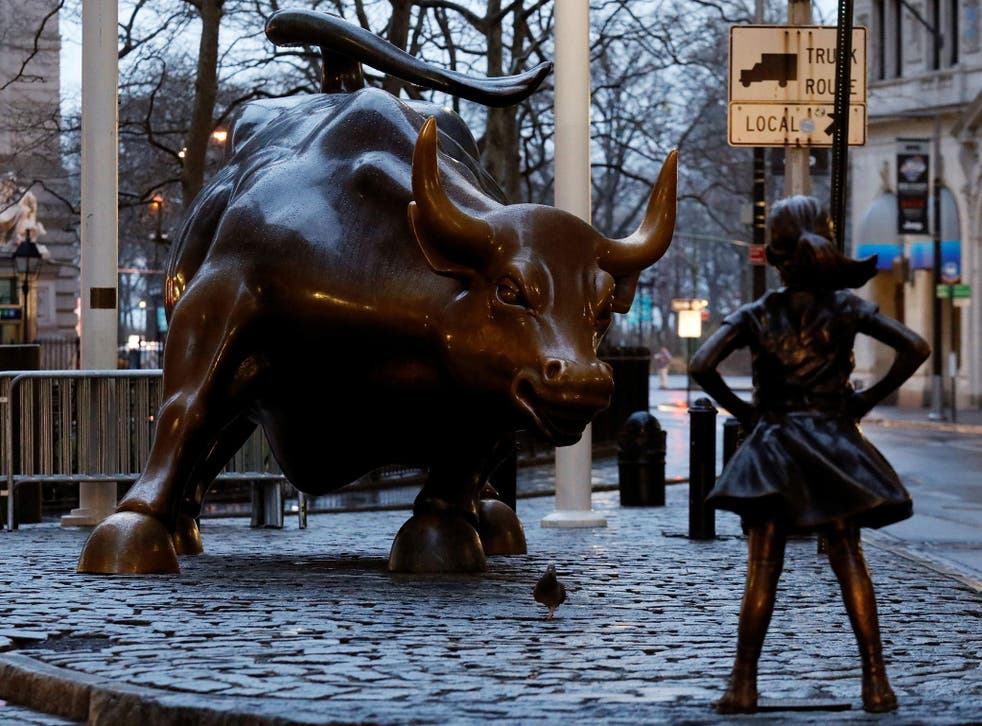 A Wall Street firm has fitted a statue of a girl in Lower Manhattan to stare down the well-known bronze charging bull on International Women's Day.
State Street Global Advisors placed the primary school-aged child squarely in the path of the rampaging beast in a plea to fellow companies for more gender diversity.
More than 85 per cent of financial advisors on Wall Street are said to be men, and State Street says 25 per cent of Russell 3,000 Index companies have no women on their boards.
However, a Morgan Stanley report found that since 2011, more diverse companies outperform less gender-diverse counterparts by an average of 1.5 per cent.
The small "guerrilla art" bronze statue, designed by artist Kristen Visbel, was fitted in the early hours of yesterday.
Unlike when the bull was put in place in 1989, in homage to America's strong reaction to the 1987 stock market crash, its installation was discussed with the city beforehand.
The bull, designed by Italian-born artist Arturo Di Modica, was initially taken down from its spot by the New York Stock Exchange but was placed permanently on Broadway.
State Street chief executive Ron O'Hanley said in a statement: "Today, we are calling on companies to take concrete steps to increase gender diversity on their boards, and have issued clear guidance to help them begin to take action."
"A lot of people talk about gender diversity, but we really felt we had to take it to a broader level," said Anne McNally, from the firm, which is an investment management subsidiary of State Street Corp.
"We're actively pursuing that the statue stays for a month. If the city decides that it should stay in perpetuity, we're absolutely on board with that."
Women across the globe are staying at home today from work, leading some schools to cancel classes, in a show of solidarity on International Women's Day.
Thousands are striking against abortion laws in Dublin.
University of Cambridge philosopher Sandy Grant said she was striking over "who gets to do to what kind of work".
Organisers have also asked women who cannot afford to miss work instead to limit their shopping to female-owned businesses and to wear red.
Register for free to continue reading
Registration is a free and easy way to support our truly independent journalism
By registering, you will also enjoy limited access to Premium articles, exclusive newsletters, commenting, and virtual events with our leading journalists
Already have an account? sign in
Register for free to continue reading
Registration is a free and easy way to support our truly independent journalism
By registering, you will also enjoy limited access to Premium articles, exclusive newsletters, commenting, and virtual events with our leading journalists
Already have an account? sign in
Join our new commenting forum
Join thought-provoking conversations, follow other Independent readers and see their replies