EU negotiator Guy Verhofstadt mocks Donald Trump over repeated 'fake news' claims
Belgian politician uses Twitter to poke fun at the US President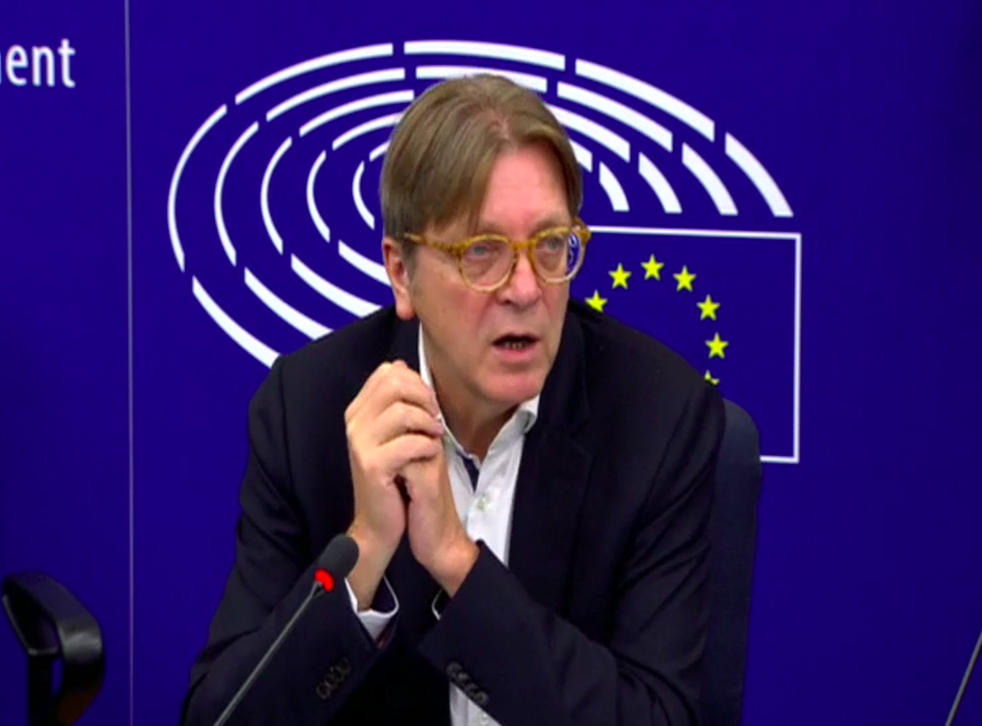 Donald Trump has been mocked by the European Parliament's chief Brexit negotiator over his repeated claims that US channel CNN puts out "fake news".
Taking to the US leader's favourite social media site, Twitter, Guy Verhofstadt posted a link to an interview he had given to the US broadcaster where he spoke about the progress of the negotiations between the UK and the EU.
"I told 'not fake news' channel @CNN's @richardquest that we will continue to fight for EU and UK citizens' rights. #Brexit", he wrote next to the link.
Mr Trump had repeatedly attacked the broadcaster, which he refers to as the "Clinton news network", a reference to his former presidential rival Hillary Clinton.
He has also repeatedly accused the outlet of airing "fake news".
Republican Senator John McCain again criticised the President this week for his repeated attacks against the media.
The former presidential candidate shared a new report from the Committee to Protect Journalists (CPJ) which found the number of journalists imprisoned around the world has reached 262 – a new record. This included 21 reporters being held on charges of "fake news".
The President "must understand his harmful rhetoric only empowers repressive regimes to jail reporters and silence the truth," the veteran Arizona senator wrote.
The CPJ's report was highly critical of Mr Trump's repeated criticism of journalism.
"President Donald Trump's nationalistic rhetoric, fixation on Islamic extremism, and insistence on labelling critical media 'fake news' serves to reinforce the framework of accusations and legal charges that allow [some foreign] leaders to preside over the jailing of journalists," it read.
Mr Trump has attacked coverage of the investigation probing his election campaign team's links to Russia as "fake news" more than a dozen times on Twitter as well as elsewhere – leading many commentators to claim the President's definition of "fake news" is any reporting not favourable to him.
Register for free to continue reading
Registration is a free and easy way to support our truly independent journalism
By registering, you will also enjoy limited access to Premium articles, exclusive newsletters, commenting, and virtual events with our leading journalists
Already have an account? sign in
Register for free to continue reading
Registration is a free and easy way to support our truly independent journalism
By registering, you will also enjoy limited access to Premium articles, exclusive newsletters, commenting, and virtual events with our leading journalists
Already have an account? sign in
Join our new commenting forum
Join thought-provoking conversations, follow other Independent readers and see their replies