Harvard rated Asian American applicants lower on personality scores than other students, study finds
University denies allegations of racial discrimination
Emily Shugerman
New York
Friday 15 June 2018 20:49 Comments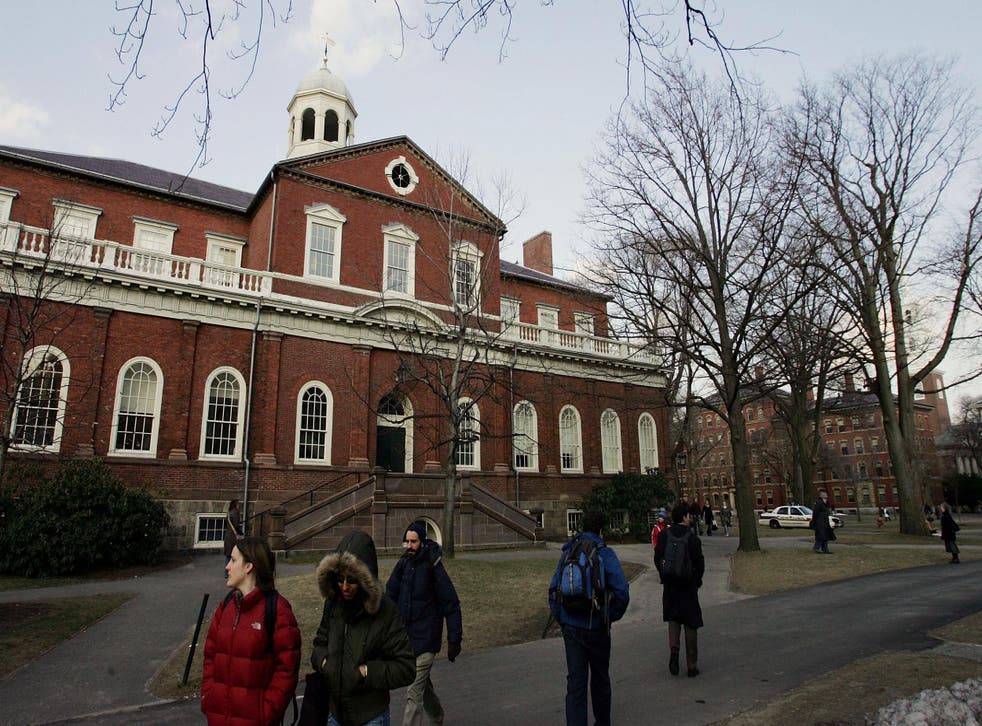 Harvard admissions officers consistently rated Asian American students lower on "personal qualities" than students of other races, according to admissions data analysed as part of a racial discrimination lawsuit against the prestigious university.
A study of 20 years' worth of admissions data shows Asian American applicants to Harvard scored much better than all other racial groups on measures of academic merit, but worse on subjective analyses of their personal qualities completed by Harvard admissions staff.
In fact, the study found Asian Americans had the lowest admission rate of any racial group between 2000 and 2019, despite having higher test scores than every other racial group over the two-decade period.
The study was conducted by Duke University economics professor Peter Arcidiacono, as part of an ongoing lawsuit against Harvard alleging racial discrimination against Asian American applicants. The suit was filed by Students for Fair Admissions (SFFA), a nonprofit group of college applicants, parents, and others who disagree with racial classifications and preferences in college admissions.
SFFA President Edward Blum said Friday's court filing "exposes the startling magnitude of Harvard's discrimination against Asian-American applicants".
"We believe that the rest of the evidence will be released in the next few weeks, and it will further confirm that Harvard is in deliberate violation of Title VI of the Civil Rights Act," he added.
World University Rankings 2018: The top 10

Show all 11
Harvard denied the allegations in court filings and in a statement, pointing out that the rate of admission for Asian American applicants had grown nearly 30 per cent in the last decade.
"Mr. Blum and his organisation's incomplete and misleading data analysis paint a dangerously inaccurate picture of Harvard College's whole-person admissions process by omitting critical data and information factors, such as personal essays and teacher recommendations, that directly counter his arguments," the university said.
Student finds out he got into Harvard and goes wild
The SFFA filing also cites a previously unreleased internal study conducted by Harvard's Office of Institutional Research in 2013. The study focused on several questions, including whether Harvard's admissions policy was discriminatory towards Asian Americans.
This internal study found that white students performed significantly better on the "personal qualities" section than Asian Americans, according to the lawsuit. This personality section, the study found, was "important in models of the admissions process and drive some of the demographic differences" in admissions. According to the lawsuit, Harvard failed to take measures to address these findings, and instead attempted to cover up the report.
Harvard claimed SFFA's characterization of the report was inaccurate, saying the study was understood within the university to be "preliminary and incomplete," was conducted with limited admissions data.
"The comprehensive work done by leading economist Dr David Card – who had access to the full admissions database – shows no evidence of discrimination," the university added.
Both sides have asked judges in the US District Court in Massachusetts for a summary judgement, or immediate ruling in their favour. The trial is scheduled to begin in October if no summary judgement is granted.
Register for free to continue reading
Registration is a free and easy way to support our truly independent journalism
By registering, you will also enjoy limited access to Premium articles, exclusive newsletters, commenting, and virtual events with our leading journalists
Already have an account? sign in
Join our new commenting forum
Join thought-provoking conversations, follow other Independent readers and see their replies